Do you love to use room freshener spray? It makes your house smell great, but can be bad for your health. Learn to make all-natural room freshener that will leave your home smelling like autumn PLUS free printable labels.
This post uses affiliate links. They don't cost you a thing and help us bring you green cleaning tutorials. Read more in Policies & Disclosures.
Full disclosure… I was addicted to store-bought room freshener for years!
I loved picking up the newest seasonal scents at the store and sprayed them all around the house after cooking a smelly meal, before company came over, or as a last step to housecleaning.
The room freshener made me feel like my home was clean and fresh…
UNTIL I began to learn more about the dangerous chemicals used in many household cleaners.
I checked out my favorite room fresheners' rating on the Environmental Working Group consumer guide and found out that they scored a D or F for "significant hazards to health or the environment."
WHAT?!?!
I thought my house clean and healthy… but I was spraying everything with a known health hazard.
I vowed to never use commercial air freshener again.
The All-Natural Room Freshener Formula
Homemade air freshener can be made with 3 simple ingredients: water, vodka, and essential oils.
The water allows you to disperse the scent around your home, the essential oils provide the wonderful smell, and the vodka is a great deodoraizer that helps the essential oils mix completely with the water.
Psst – Don't be afraid of using vodka to clean the house (I use it in my homemade Window Cleaner and natural Lemon Disinfectant Spray Cleaner). Vodka is a great cleaner because:
It leaves no scent behind.
It leaves no residue (unlike the baking soda residue from some homemade refresher sprays).
It's a natural deodorizer that also antibacterial and anti-fungal.
Alcohol emulsifies essential oils so cleaners do not need to be shaken before each use.
Cheap generic vodka works as well as expensive brands for cleaning.
How to Make Room Freshener at Home
Mix together in a glass spray bottle:
1 cup distilled water
½ cup vodka (use a cheap version)
20 – 50 drops.essential oil of your choice
Shake to combine.
Autumn Inspired Room Freshener Scent Combinations
You can use your choice of essential oils in my room freshener recipe. Need inspiration? These are my 6 favorite autumn scent blends:
Autumn Walk
25 drops orange essential oil
10 drops rosemary essential oil
5 drops clove essential oil
Fall Botanical
10 drops rosemary essential oil
10 drops eucalyptus essential oil
10 drops lavender essential oil
10 drops pine essential oil
Cold & Flue Season
10 drops rosemary essential oil
10 drops eucalyptus essential oil
10 drops orange essential oil
10 drops clove essential oil
10 drops cinnamon essential oil
Spiced Orange
25 drops orange essential oil
10 drops cinnamon essential oil
10 drops clove essential oil
Pumpkin Pie Spice
15 drops cinnamon essential oil
5 drops clove essential oil
10 drops ginger essential oil
10 drops orange essential oil
Rosy Ginger
20 drops rose absolute essential oil
10 drops frankincense essential oil
10 drops ginger essential oil
Free Printable Labels
Love pretty labels? Download the free PDF here, to dress up your bottles.  Print them on full sheet labels, cut them out, and apply them to your bottle.
How to Use Room Freshener
Spray the room freshener anywhere you feel comfortable spraying water. Avoid electronic and wooden surface. I spray my carpet, fabric furniture, pet beds, curtains, and throw pillows. (*Spot test on delicate fabrics before using.)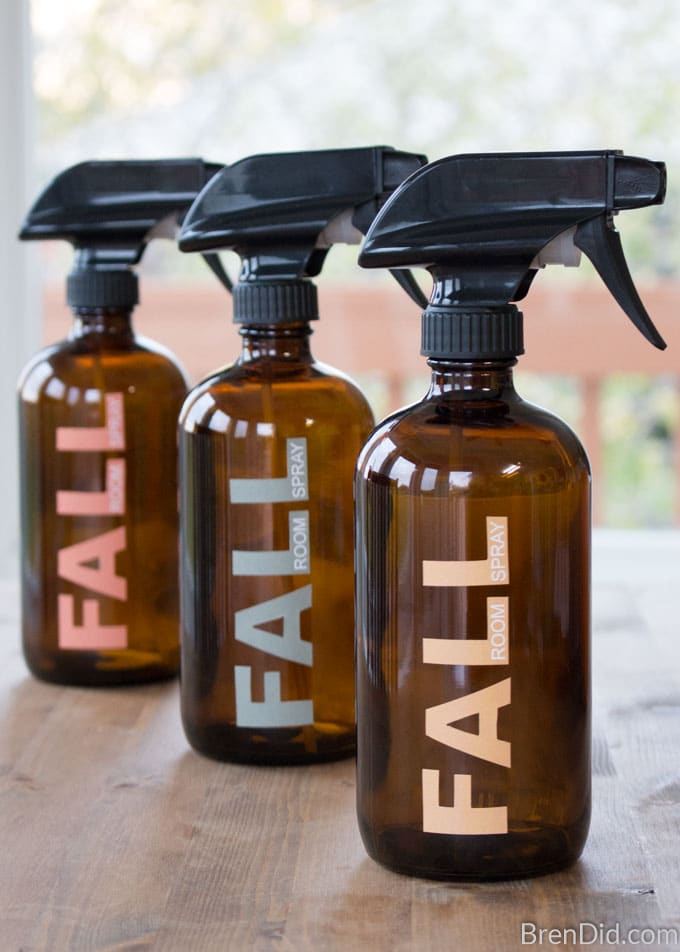 Room Freshener Notes
You're don't need to use expensive essential oils in this recipe. I love this affordable brand for my home cleaning recipes.
This recipe stores well. You can double or triple the batch if you find a scent you love.
Rubbing alcohol is not the same as vodka in this recipe. Rubbing alcohol is ethanol, water, acetone, methyl isobutyl ketone, flavoring to make it taste bad and/or artificial coloring and artificial fragrance. I prefer to avoid these additives. In addition, rubbing alcohol smells bad when sprayed and the vodka is almost odorless allowing the essential oils to be smelled.
More Essential Oil Uses
Love essential oils? Check out these 30 clever ways to scent your home with essential oils.
Like my green cleaning tips? Sign up for my newsletter below and never miss a thing!