You know that feeling you get when someone (or everyone) in your house has been sick? After the stomach flu has visited our house my skin begins to crawl and I want to take a flamethrower to the bathroom.
The bathroom is the number one place to clean and sanitize to prevent the spread of icky germs.
I used to reach for bleach or Lysol until I read about the health risks associated with some disinfectant cleaners. I found my cleaners on the EWG's Guide to Healthy Cleaning and what I saw shocked me.
My commercial cleaners were all given failing grades of D or F!
Was I Cleaning or Polluting My Home?
I did some more digging into commercial cleaners and what I found out made my skin crawl more than germs:
Manufacturers of cleaning products in the United States do not have to test their products to make sure they are safe for people or the environment.
Manufacturers do not have to list all ingredients on the label of cleaning products.
Overuse of antibacterial chemicals are causing bacteria to become antibiotic resistance.
The Truth About Commercial Disinfecting Cleaners
Bleach, my go-to bathroom disinfectant, and other commercial cleaning products can contain hazardous chemicals and indoor air pollutants (VOCs) that can cause both immediate and long term health problems.
We're talking asthma, hormone disruption, heart disease, cancer, headaches, eye irritation, congestion, and nausea.
The Natural Solution
Making you own DIY natural disinfectant cleaner from inexpensive household ingredients can reduce your chemical exposure and get your bathroom sparkling clean. .
This easy disinfecting bathroom cleaner use three basic, inexpensive ingredients:
Water
Vodka
Washing Soda
You can also add essential oils to boost cleaning power. I recommend tea tree oil for bathroom cleaning and also add eucalyptus, rosemary, and lavender.
The cleaner can be used for everything from scrubbing toilets and washing floors to removing soap scum from sinks and scouring counter tops.
Natural Cleaners Save Money
All-Natural Bathroom Disinfectant Cleaner costs less per use than many store-bought products, and does not contain harsh chemicals or artificial fragrance.
Saving money and eliminating dangerous chemicals? I call that a Win-Win!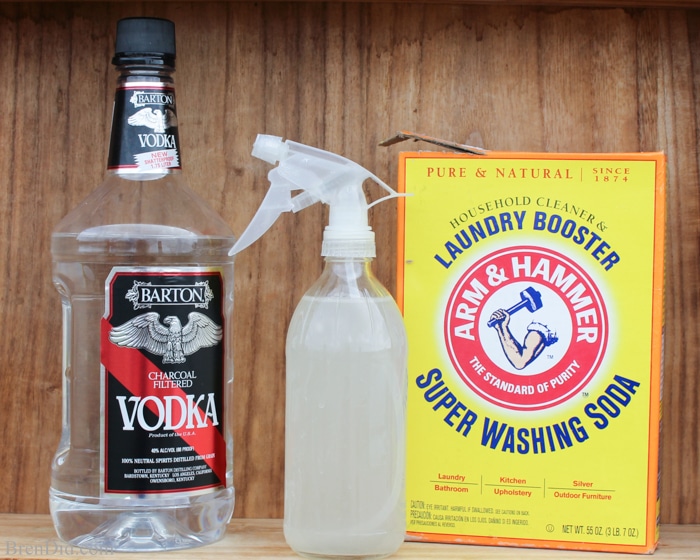 Ingredients
1 – 1 1/4 cup hot water
¼ cup washing soda/sodium carbonate (or baking soda/sodium bicarbonate)
1/2 cup vodka
10 drops tea tree oil
5 drops of eucalyptus essential oil (optional)
5 drops lavender essential oil (optional)
5 drops of rosemary essential oil (optional)
Directions
Combine hot water and soda in a glass bottle. Shake well to dissolve.
Pour vodka and essential oils into the bottle. Shake to combine.
Download and attach this free printable PDF label to the bottle.
To use: Wearing gloves, spray the area, and scrub until very clean. To disinfect you must mist again with cleanser and allow it to remain wet for a few minutes to kill all bacteria.
Note: You must rinse well or the cleaner will leave white streaks from the soda. If you want a non-rinse cleaner you can leave out the soda or try Lemon Infused Disinfectant Spray Cleaner.
Why These Ingredients Work
Sodium carbonate (washing soda) is a highly alkaline substance with a pH of almost 12 (on the pH scale that ranges from 0 to 14 ). This high alkalinity means that it is a powerful cleaning agent that can neutralize acidic fluids such as bile and urine in addition to effectively cleaning other substances such as oils, fats, greases and proteins.
Ethanol is commonly used as an active ingredient in hand disinfectants. Healthcare workers are advised to use alcohol-based hand disinfectants for routine hand disinfection. The vodka sold in the United States has a minimum ethanol content of 40%.
Tea tree essential oil has a deep herbal scent and is anti-viral, antibacterial and antifungal. learn more from the National Center for Biotechnology Information.
Eucalyptus essential oil has a fresh slightly, medicinal smell and was used in traditional medicine as an antiseptic, it has strong deodorizing properties.
Lavender essential oil has a relaxing floral scent with antibacterial and antiviral properties and has been used to treat fungal infections.
Rosemary has a fresh scent that is reminiscent of pine and mint. It has antimicrobial and antiseptic qualities.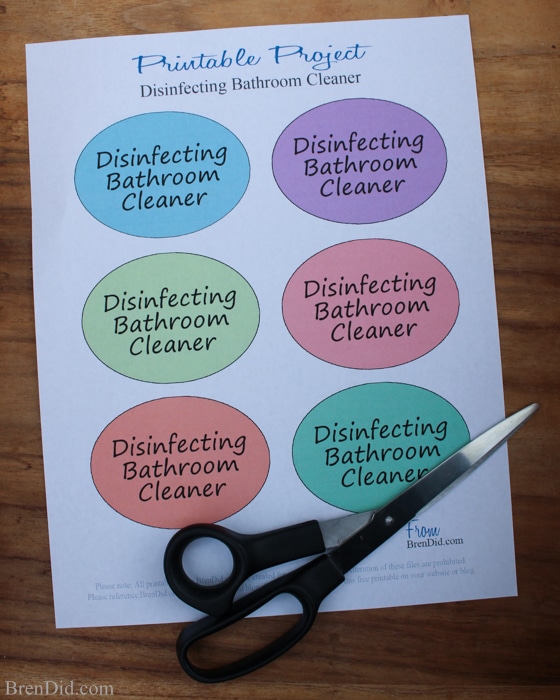 Green Cleaning Tips for Bathrooms
Use this cleaner on hard, non-porous surfaces, such as floors, walls, bathtubs, tile and grout. (Check natural stone surfaces with your manufacturer.)
Always clean bathroom surfaces and then disinfect. Cleaning vigorously with cleanser and a microfiber cloth can remove almost as many germs as chemical disinfectants.
Allow disinfected area to remain visibly wet for 5 minutes of dwell time. This allows the cleaner to kill germs.
Sodium carbonate is a skin irritant. Wear gloves when using this cleaning solution.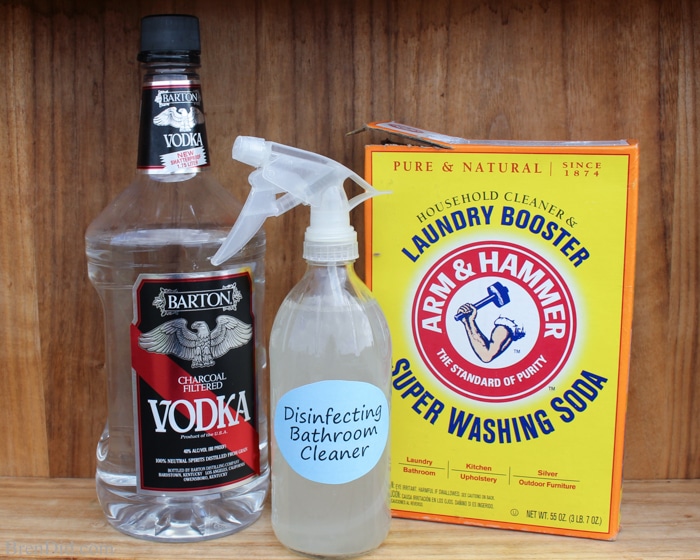 Try making this simple cleaner if you love to scrub your bathroom after an illness but are concerned about using dangerous chemicals. You can clean without dangerous chemicals (or a flamethrower).

Try making Lemon Infused Disinfectant Spray Cleaner for a non-rinse cleaner that stores well.