Coffee bean ornaments are the perfect customizable gift for all the coffee lovers on your gift list. This easy holiday craft idea is an affordable way to make the season merrier!
This shop has been compensated by Collective Bias, Inc. and its advertiser. All opinions are mine alone. This post uses affiliate links. They don't cost you a thing and help us bring you creative projects. Read more in Policies & Disclosures.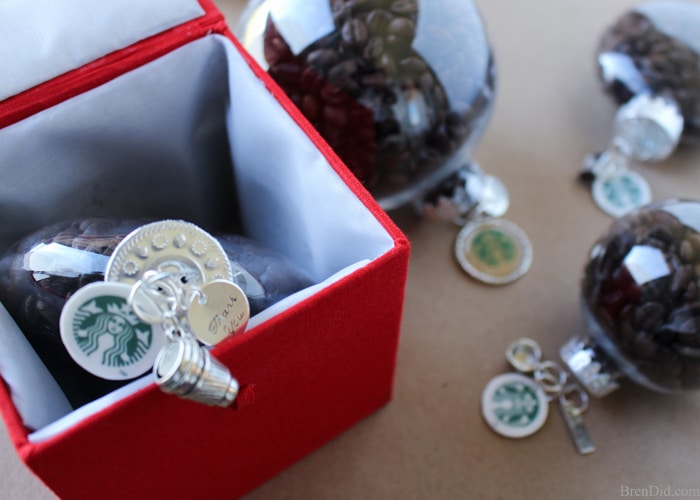 Custom Gifts
I love giving gifts, I especially love giving gifts to people who don't usually expect or demand a present. This could be a classroom teacher, our postman or even my hairdresser.
They are the hardworking people who make my life better. I love bringing a smile to their face, even if it is just a simple cup of coffee!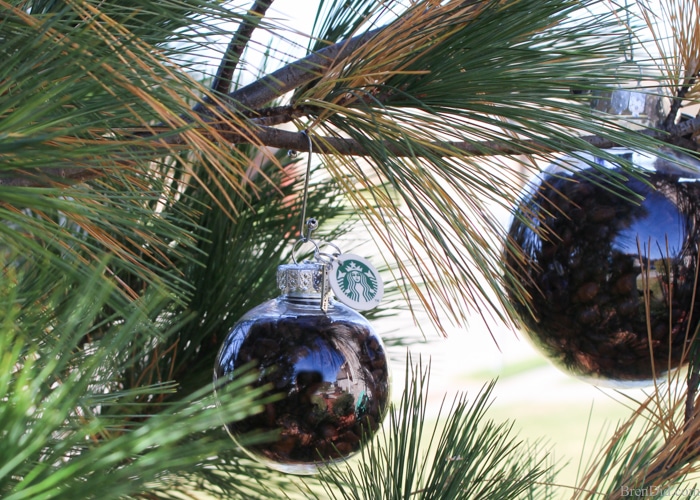 My Favorite Holiday Gift
Ornaments are one of my favorite holiday gifts to make and gift. I developed my love of Christmas ornaments by chance… I married into a family of ornament lovers! My husband and I received dozens of beautiful ornaments to decorate our very first Christmas tree and we had only been married a month!
Each year, I love opening our holiday gifts and adding a new ornament to our collection. My mother-in-law picks out a special ornament for everyone on her list. Decorating the tree brings back special memories of the year we received each ornament.
Coffee Lovers
When we lived in the Pacific Northwest, land of coffee lovers, I made coffee bean ornaments for a few of my friends who I met each week for coffee. The ornaments are simple to make and smell wonderful with an evergreen tree… there is nothing better than the smell of freshly roasted coffee and spruce!
The coffee ornaments were a big hit, and I love putting mine on the tree each Christmas.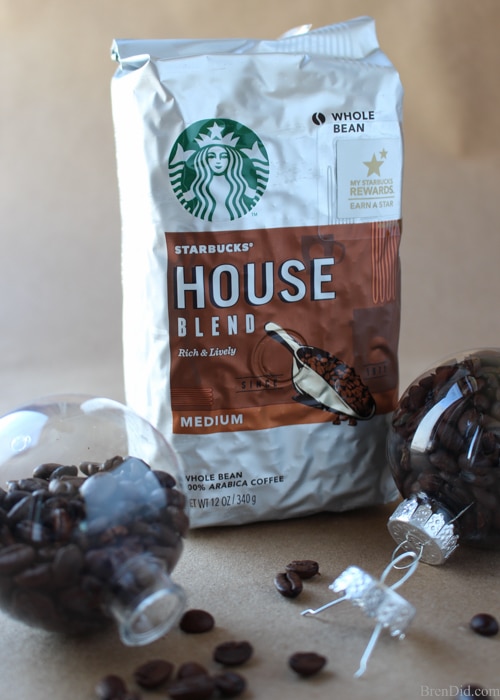 I hope you try making coffee ornaments. It's an easy holiday craft project that can be customized to each recipient. It is also easy to scale the present: make it big or small depending on how much you want to spend. I can give the ornament alone, add-on a bag of coffee, or even include a coffee gift card depending on the amount I have to spend.
I've included free printable coffee themed gift tags dress up all your coffee gifts, you can download them in the free printable library.
Customizable Ornament Supplies
Customizable Ornament Directions
1.Clean the plastic ornaments and remove tags.
2. Fill the ornaments with coffee beans and replace tops.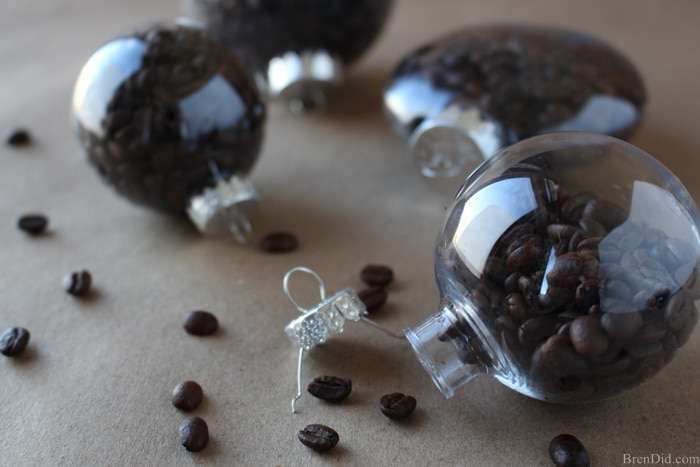 3. Prepare your charms.
Coffee cup charm tip: check the miniatures or fairy garden section of your craft store for tiny coffee cups, I found two kinds for less than $0.50 per piece.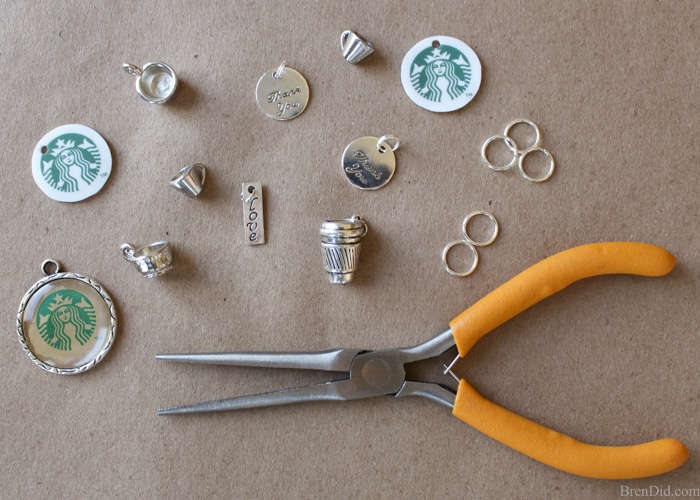 Thank you and love charm tip: Check the bridal section of your favorite craft store for thank you and love charms, I found mine for about $0.16 each.
I made my mini Starbucks logos from jet printer Shrinky Dinks and frame charms with upcycled items from my local Starbucks.
4. Attach jump rings to each charm and attach to the top of each ornament.
5. Print out the free printable coffee-themed gift tags on brown craft paper or scrapbook paper.
6. Give your Coffee Bean Customizable Ornaments with a bag of coffee and or a coffee gift card.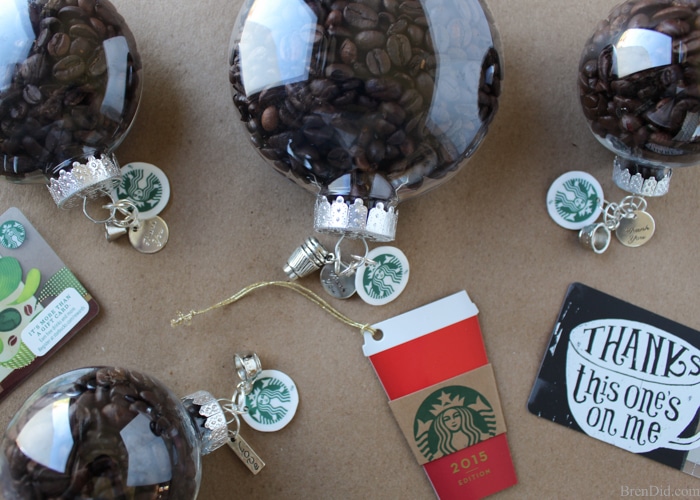 More Coffee Gift Ideas
Are you a coffee lover? Be sure to check out these coffee gift ideas.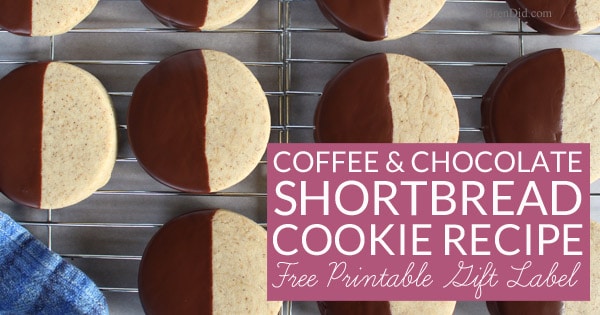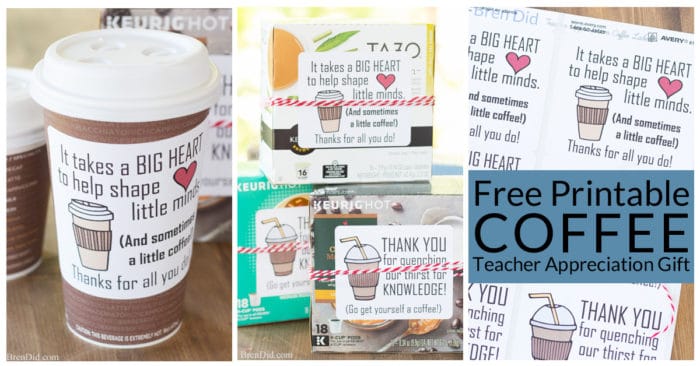 Like my easy craft ideas? Sign up for my newsletter below and never miss a thing!