Get kids to help with laundry and keep their drawers neat with this easy DIY T-Shirt Folding Device. All you need is five minutes and a cardboard box!
Work Yourself Out of a Job
As a parent I firmly believe in the adage "work yourself out of a job."  This means getting my kids to help around the house so that I am not left with all the chores! I also believe in requiring kids to do household tasks correctly, for my benefit and their own. I want them to be independent individuals who can cook a meal, run a washing machine, and keep their home clean by the time they leave the nest.
The correct tools can make household tasks easier for little people. For example, a written label on the laundry detergent helps kids remember how much detergent to use, a lighter vacuum can make the chore possible for smaller kids, and homemade non-toxic cleaners can be used safely by children.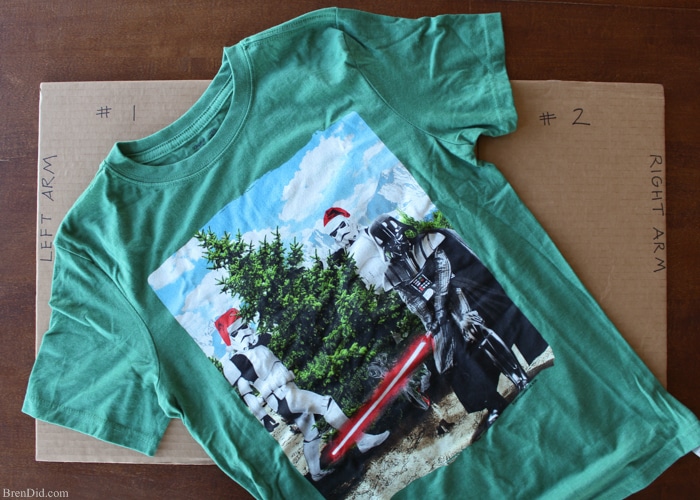 DIY T-shirt Folding Device
My favorite laundry tool is an easy DIY t-shirt folding device that I created for each child out of a cardboard box. It helps my school age kids get their clothes folded and put away neatly. I love storing t-shirts in a way that they can easy see all the designs when they open the drawer. It results in less digging around in the search for their favorite tee and allows you to store 30-40 shirts in a single dresser drawer.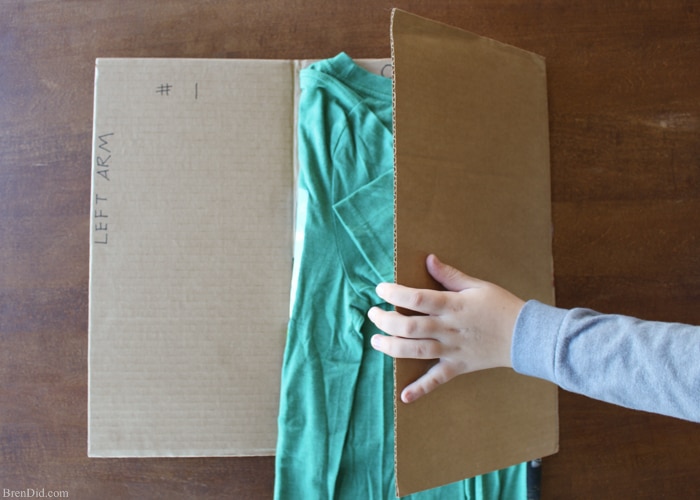 Today I'll show you how to make your own t-shirt folder and the best way to fold a t-shirt so your drawers can go from messy to neat as a pin. The folder works on all sizes of shirts and can be used by all ages!

T-Shirt Folding Device Supplies
Large Cardboard Box or Large Pieces of Corrugated Cardboard
Scissors
Permanent Market
Ruler
Duct Tape (if using piece of cardboard)
T-Shirt Folding Device Instructions
Step 1 
If using a cardboard box → Unfold the box and cut apart at corners. Use one piece of the box with side flaps attached.
The center panel of your cardboard should be 8-10 inches wide and at least 16 inches long. The flaps should be approximately the same size.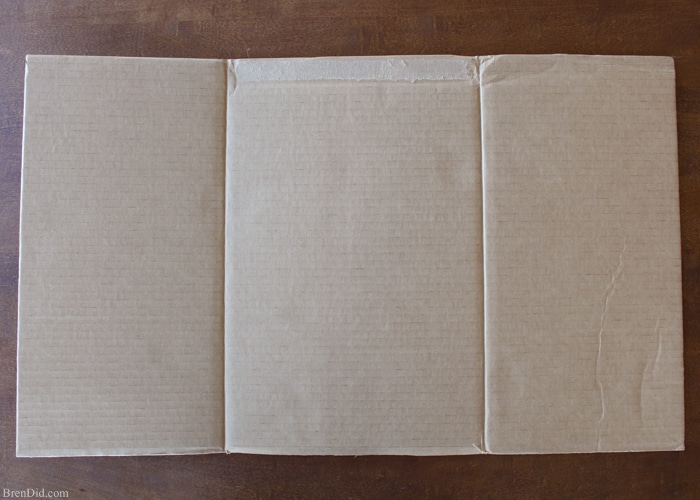 If using pieces of cardboard → Cut a piece of cardboard as wide as you desire your t-shirt to be when folded. (Mine is 8.5 inches wide and 17 inches long.) Cut two more identical pieces. Tape the pieces together on the front and back, leaving a bit of folding room between the cardboard pieces.
Step 2
Measure halfway up the center panel and draw a line across. Cut the side folds up to the line on each side of the middle panel (cut the tape if you are using taped panels). Label the cardboard as shown.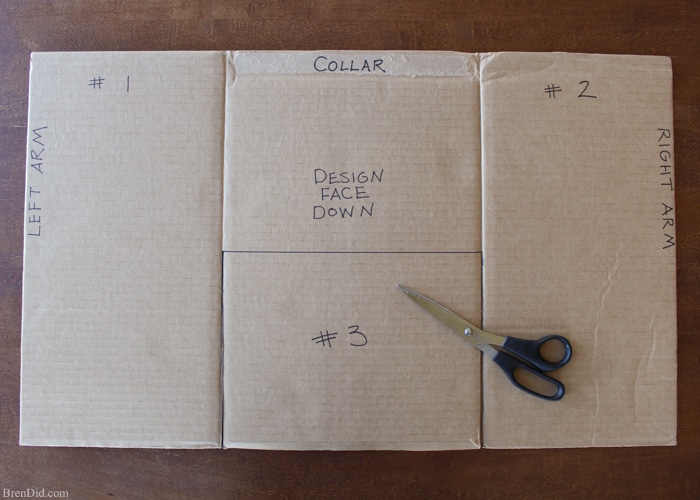 Step 3
Use a table knife or scissors to score across the center flap line, do not cut through the cardboard.
Step 4
Fold the center bottom flap up.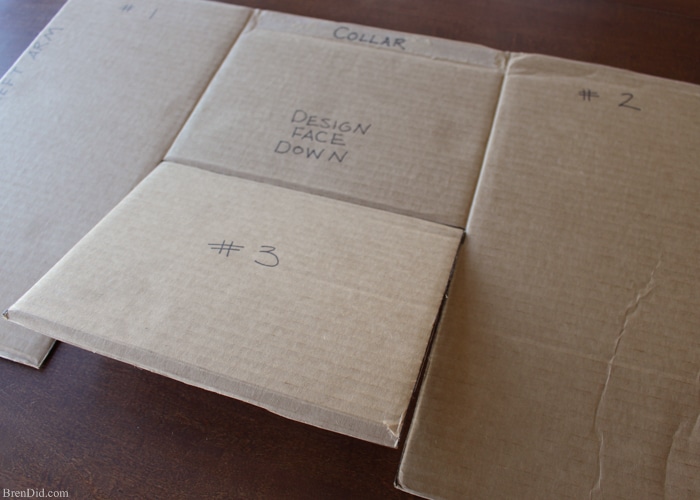 Your device is complete! Make one the perfect size for each child and size them to their drawers.
How to Fold a T-Shirt
Place the t-shirt face down on the folding device.
Flip up the left flap to fold the left sleeve.
Flip up the right flap to fold the right sleeve.
Fold the bottom on the shirt up to the collar.
Flip up the bottom flap to fold the shirt in half.
Store the tee in a drawer with the design facing up.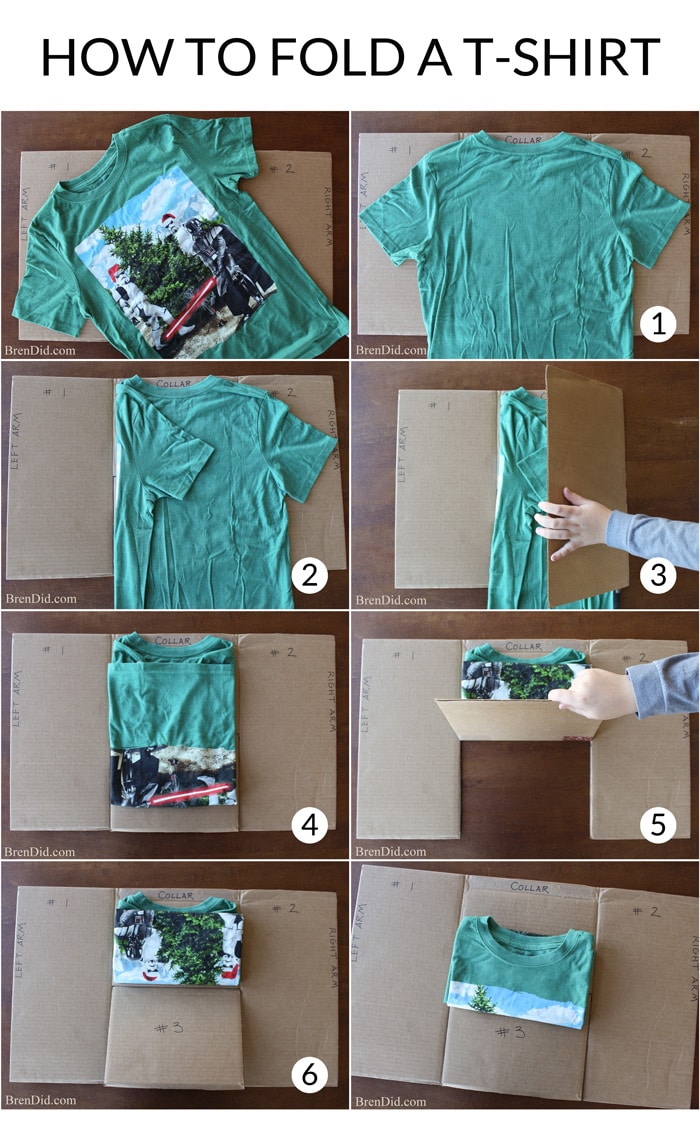 Neat T-shirt Drawers
This is the easiest way to fold a t-shirt! I learned this method during many LONG hours of working in retail clothing stores in high school and college. The folding device makes it easy for kids to perfectly fold their own clothes.
I love t-shirts that are neatly folded with the design displayed, they can be neatly filed in a drawer for easy access. No more digging through piles of t-shirts!
More Cardboard Box Organization Ideas
Did you know that a simple cardboard box can help you organize and declutter? Learn how!
Like my easy cleaning ideas? Sign up for my newsletter and never miss a thing!