Kids experience a wide range of emotions – anger, sadness, joy, fear, and disgust to name a few – but they do not always have the words or abilities to express these feelings. Help your child learn to talk about emotions by watching the movie Inside Out and by playing my free printable emotions game for kids.
This post was sponsored by Collective Bias, Inc. and its advertiser. All opinions are mine.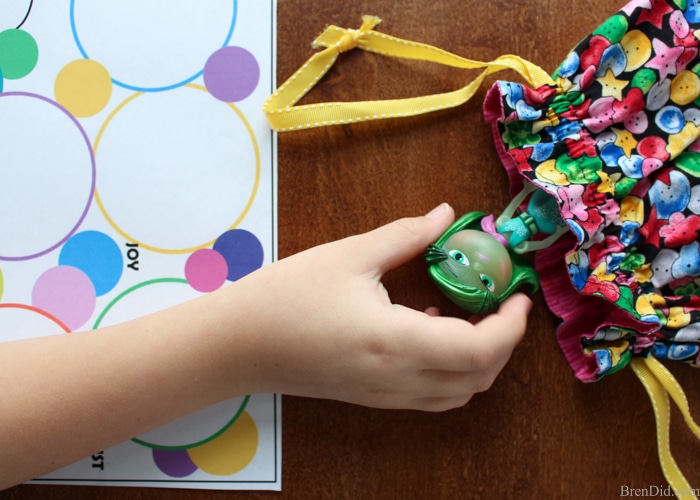 Little People Intense Emotions
My kids have dealt with a lot of intense emotions in their short lives.
They are part of a military family so they have moved more than six times in their short lives.
They have attended five different schools and have lived through long deployments missing their father.
These experiences, while difficult, have helped them to grow into emotionally intelligent, compassionate humans. They are the first to volunteer to help the "new kid" in class or to partner with a kid who has been left out of a group.
Talking About Emotions with Kids
I spend a lot of time talking about emotions and feeling to help my kids adjust to difficult situations and new life experiences.
Three of my favorite ways to discuss emotions with young kids are:
Using toys or puppets to tell stories.
Drawing pictures or writing down memories on paper.
Playing and spending time together while listening to their thoughts and feelings.
Tools for Discussing Emotions
The movie Inside Out is a great tool for discussing emotions with kids. It was developed with help from UC Berkeley psychologist Dacher Keltner, an expert on the science of emotions.
The movie shows the emotions of Riley, a young girl who is learning to deal her emotions about moving. The emotions fear, anger, disgust, sadness and joy are seen as animated characters living Riley's brain or "headquarters."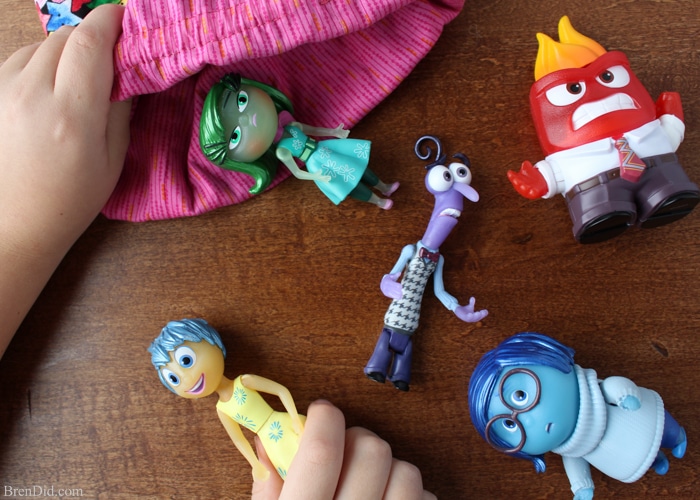 Getting Kids Talking
After seeing the movie my kiddos were eager to discuss their feelings about moving and adjusting to a new city. They love quoting lines from the movie and acting like the different emotions.
I wish the movie had existed years ago! We will be watching it MANY more time with my kiddos to help navigate tricky emotions.
Free Printable Emotions Game for Kids
I developed a free printable emotions game based on the movie Inside Out to help parents talk to their kids.
It uses a free printable game board and the fun toy characters from Inside Out to help spur discussions.
Kids draw a character or memory sphere from a bag or pillow case and then draw or write about a time they experienced that emotion in their life. It may take some brainstorming at first, but kids quickly get the hang of expressing their emotions on paper.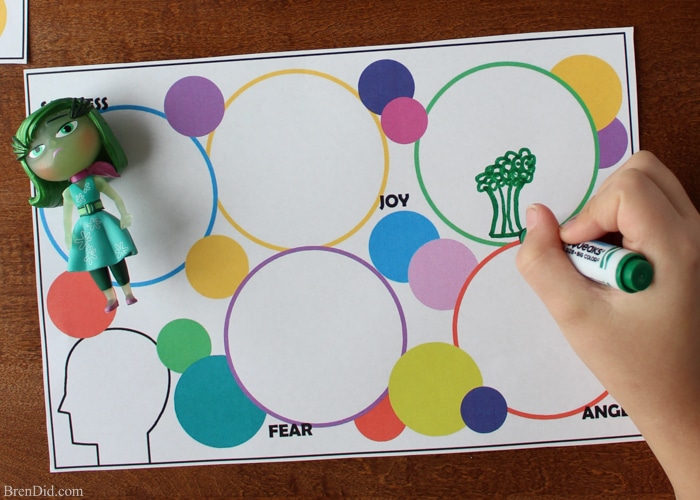 Emotions Game for Kids Supplies
A bag or small pillowcase
Inside Out Characters or Memory Spheres*
Crayons, markers or colored pencils
Free printable game board in your choice of sizes:
8.5 x 11 PDF (Standard letter size for most players.)
11 x 17 PDF (Great for younger players who need more room to draw.)
How to Play the Emotions Game
Give each player a game board and a few crayons, colored pencils, or markers.
Select a player to start. We usually start with the youngest person playing.
The player draws a character from the bag and then draws a memory associated with that emotion onto the corresponding sport on the board. Other players can help brainstorm, this gets everyone talking about emotions!
The character is returned to the bag and the next player takes the bag and draws.
Continue drawing characters and drawing until all memory orbs are filled. If you draw the same character again, you lose a turn but still have to name a memory associated with that character.
*Tip: Use the marbles or memory spheres in the draw bag instead of characters to make the game more challenging for older players. Use colors that correspond to the colors of the emotions on the game boards. (
(If you don't have any Inside Out characters you can download a free printable Inside Out dice from Disney Movie Rewards, use it to roll the emotion the player must draw.)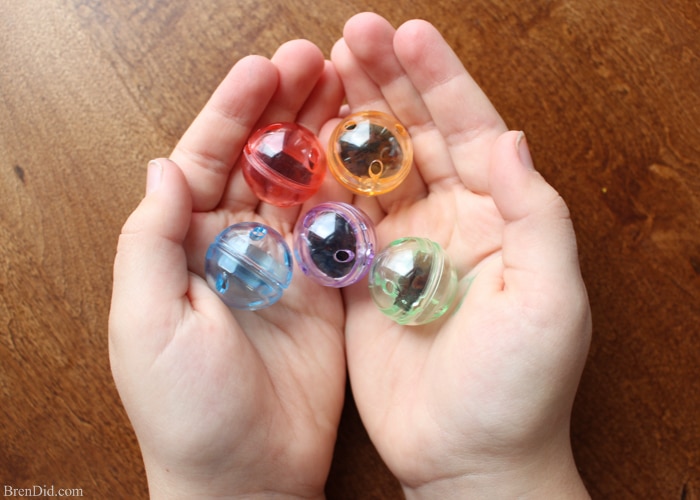 More Resources for Discussing Emotions
For more information about discussing emotions with your kids check out these websites:
Like my free printables? Sign up for my newsletter below and never miss a thing!