Need to declutter and organize? These easy tips use nothing but a cardboard box to keep your home organized and clutter free.
This post brought to you by CORT. The content and opinions expressed below are that of Bren Did.

Our military family moves from place to place a lot. And when I say a lot… I mean A LOT!
I mean eight homes in 16 years
I mean two international moves, two coast-to-coast moves, and six interstate moves.
I mean living in homes for as little as 11 months and as long as three years.
It's safe to say that I have a lot of experience getting our belonging to fit into many different places:
Our homes have ranged from a 600-square-foot apartment in Japan to a 3,000-square-foot walkout overlooking the Puget Sound.
We've had nothing for storage but a closet then an amazing full basement, nothing to store boxes but a tiny spider filled crawl space then a huge garage.
That's a lot of variation in homes and storage space!
You Must Stay Organized
Through all of these home moves one thing stays the same… the absolutely necessity to stay organized and clutter free.
Living without clutter allows us to move into a new home, quickly unpack, and enjoy our new city even if we only live there for a year. It also allows us to quickly pack up and move to a new location.
Easy Ways to Declutter
While I realize that moving it not in everyone's future, living without clutter can benefit us all. These 6 easy ways to declutter can help you stay organize with just a simple cardboard box:
Out of Sight Out of Mind – It's hard for kids to emotionally part with toys they have developmentally outgrown. They might never play with Thomas the Train or the unicorn stuffed animal but the moment they see it in the donate pile it becomes their most prized possession.
Put outgrown toys in a box, date it 60 days in the future, and put the box on an out-of-the-way shelf (in the garage or a shed is best). If no one asks about the toy before the date on the box, donate it.
 I Like You More Than Stuff– Adults can also have a hard time parting with belongings.  Declutter your house by sending  items to a friend you love. They will appreciate the items and you will be able to make the break.
I feel terrible when I donate my kids' expensive outgrown clothes, especially the matching outfits that I coordinated from the perfect bow to the matching tights. I send our outgrown clothes to a dear friend who lives 1,100 miles away. I know it will be loved and appreciated.
Clothing Categorization – Clothing clutter can be a nightmare. Wearable items get lost in a sea of out-of-season clothes or outgrown favorites.  Only items that fit and are in season should be hanging or in drawers. Keep clothes neat and tidy by dividing them into three boxes or plastic bins:
• A box for items that are out of season but will still fit next year (think snow pants and clothing that is too big).
• A box for storing keepsake items of clothing (think team jerseys or a special hand knit sweater).
• A box for clothes that are outgrown, out of season, damaged, or no longer in style. When this box gets full donate any useable items.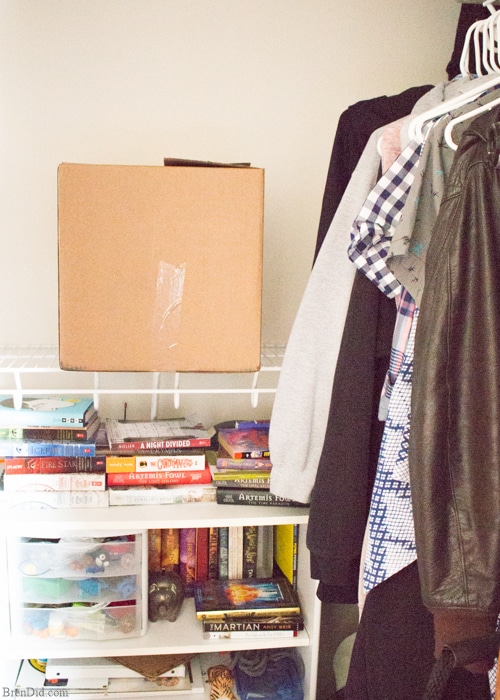 Drive By Donations – It's easy to fill a donate bag and then forget it in a closet or basement until the items are musty or out of style. Keep a "donate" box in the car to slowly fill with items you want to donate. Drop it off when full or when you see a donation center. This keeps unneeded bags and boxes from piling up in the house.
The Hide and Seek Toy Swap – Kids have unplayed with toys that many never get any attention. Rotate toys with a cardboard box to make them "new" again. Box up items that are rarely played with for a few weeks and then swap them out for other toys. Everything old is new (and exciting) again! This works especially well with toy sets and seasonal toys.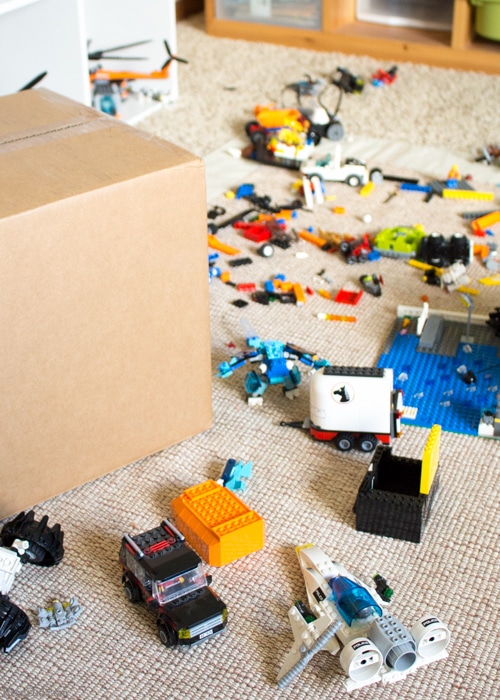 Seasonal Swap Out – Store decorations for each season or holiday in a separate box. Decorate for the holiday then put leftover décor items back in the box. After the holiday or season is over try to remember what was in the unused box. If you can't remember the exact items donate them. Do this each season to keep décor clutter free.
More Moving Tips
Moving frequently has forced me to declutter and learn many other moving tips. One tip I wish I knew about many years ago? Furniture rental!
I have bought and later disposed of SOOOOO many pieces of furniture over the years. Each house seems to need a different bookcase or a new nightstand. A desk works in one house but not in the next. It's a frustrating waste of money!
CORT Furniture Rental has an easy solution. Rent the pieces you need and return them when they are no longer needed.
CORT is also an easy solution when moving overseas. We "camped" in our house for months on the way to and from Japan. With CORT you can rent furniture while yours in transit for less than the cost of living in a hotel.
It's easy to accumulate stuff, but it's not so easy to get rid of it.  I hope these easy tips can help you declutter and stay organized, no moving needed.
Like my organization tips? Sign up for my free weekly newsletter below and never miss a thing.