Bring the beauty of nature to your holiday party with an ice wine cooler. It takes just a few minutes and a few simple ingredients to turn your favorite wine into a showpiece for your friends and family.
This shop has been compensated by Collective Bias, Inc. and Sutter Home Family Vineyards. All opinions are mine alone. The following content is intended for readers who are 21 or older.  This post uses affiliate links. They don't cost you a thing and help us bring you creative projects. Read more in Policies & Disclosures.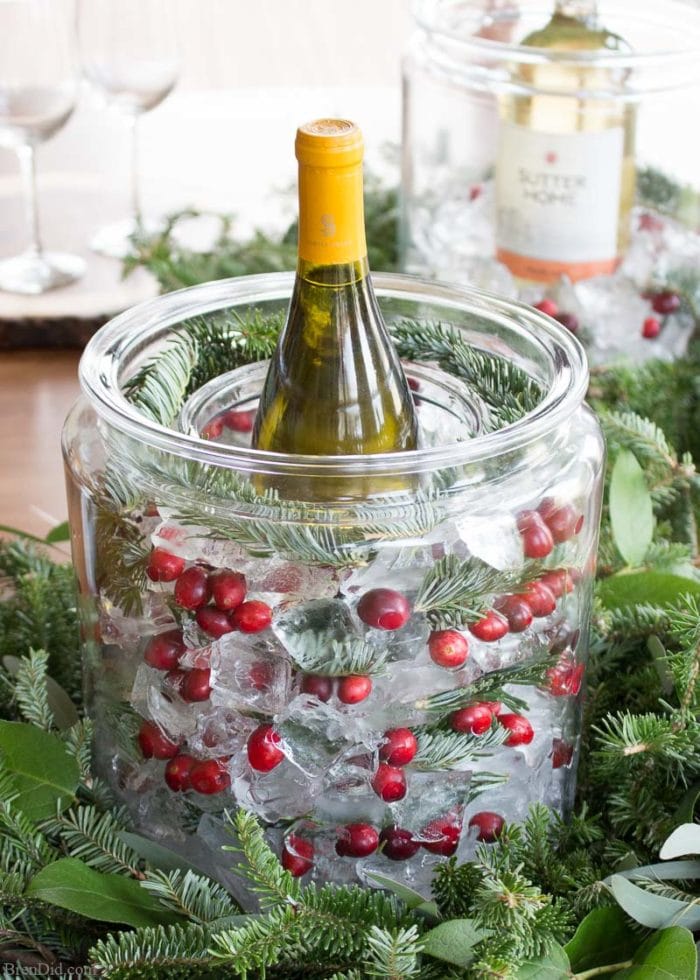 The Beauty of Nature
Evergreen trees are beautiful after a winter storm. The icy branches glitter and gleam against the peaceful white landscape. It's nature's artwork at it's finest.
I love using natural elements in my holiday decoration. Pine cones, evergreen limbs, and cranberries are affordable craft supplies that can be used all over your home.
How to Make an Ice Wine Cooler
Have you see the ice wine coolers made by freezing an empty bucket inside of a lager bucket of water? These ice lanterns and wine coolers are gorgeous, but they take a lot of patience to make. It can also be hard to keep the berries and branches from floating to the top of the mold and they can take up to 48 hours to freeze solid.
I knew I wouldn't have time to freeze a solid ice cooler for my Christmas party so I created an easy ice wine cooler tutorial using glass containers , ice, and natural elements. It can be completed in less than 5 minutes and is perfect for any celebration.

Ice Wine Cooler Supplies
Large glass container (approximately 11 inches high with a 9 inch diameter) – I used this one
Small glass container (approximately 7 inches high with a 6 inch diameter) – I used this one
Ice (approximately 7 lbs, smaller pieces work well)
Fresh Cranberries
Evergreen Wreath (optional)
Evergreen Clippings
 Wine
Ice Wine Cooler Directions
Place large glass container on top of the evergreen wreath. Adjust until it is level.
Add 2-3 inches of ice in the bottom of the container, cover with a few evergreen sprigs and some cranberries. Place the small glass container on top of the ice.
Layer ice, evergreens and cranberries in the space between the outer container and center glass container ending with evergreen sprigs.
Place your favorite pre-chilled wine into the cooler.
If desired, add a few battery operated tea lights into the bottom of the small container. It add lovely flickering light to the cooler for evening events.
Wine Cooler Tips
The ice wine cooler make a beautiful additional to any holiday celebration with family and friends. Some tips for use:
Place the cooler on a folded towel to protect your table from moisture. The wreath will hide the towel.
Don't have two glass containers? Layer ice, cranberries and evergreens in a large container and simply place the wine bottles directly into the ice.
If you live in a cold area the cooler looks beautiful placed on an outdoor porch or deck table. Decorate the table and use the area to attractively store extra wine and other beverages until they are needed. The cold weather keeps them chilled and frees up valuable refrigerator space.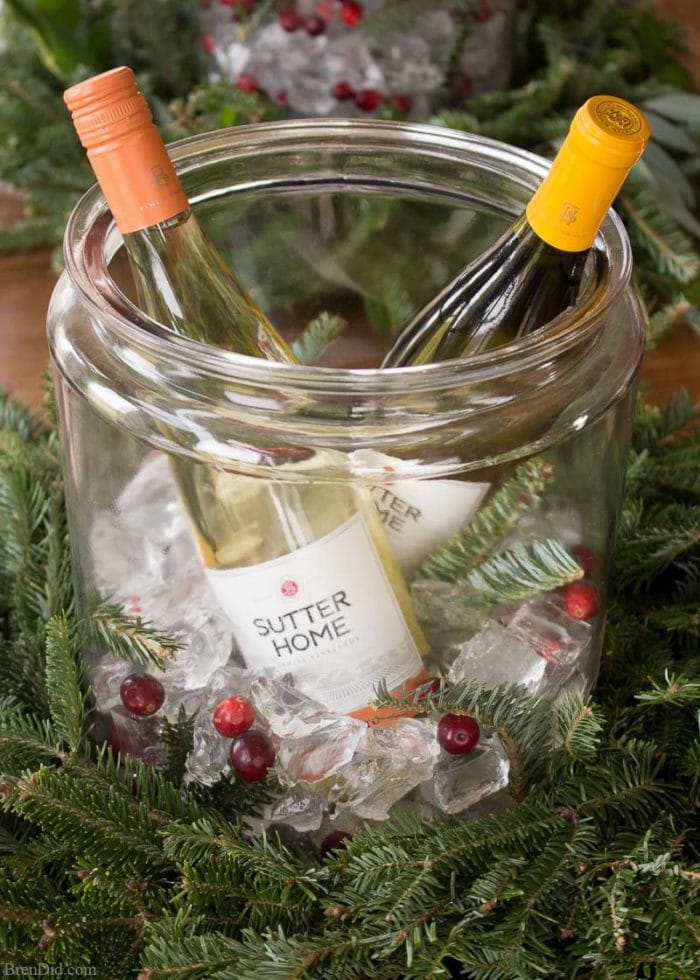 Sutter Home Family Vineyards
Planning a holiday celebration? Sutter Home Family Vineyards is the perfect wine choice with a wide variety of flavors. The family-owned company makes award winning wines you can share with your friends and family for an affordable price.
Like my easy crafts? Sign up for my newsletter below and never miss a thing!