Ready for some story time fun? These 12 hilarious picture books for kids are perfect for reading aloud. The laughter and giggles these stories produce will put a smile on your face and make reading time a blast for parents and kids.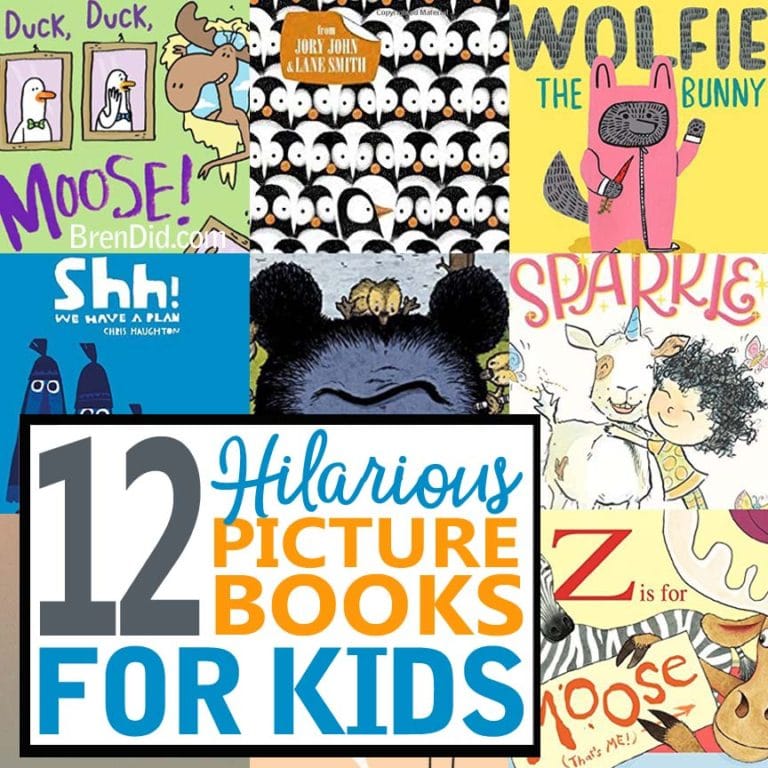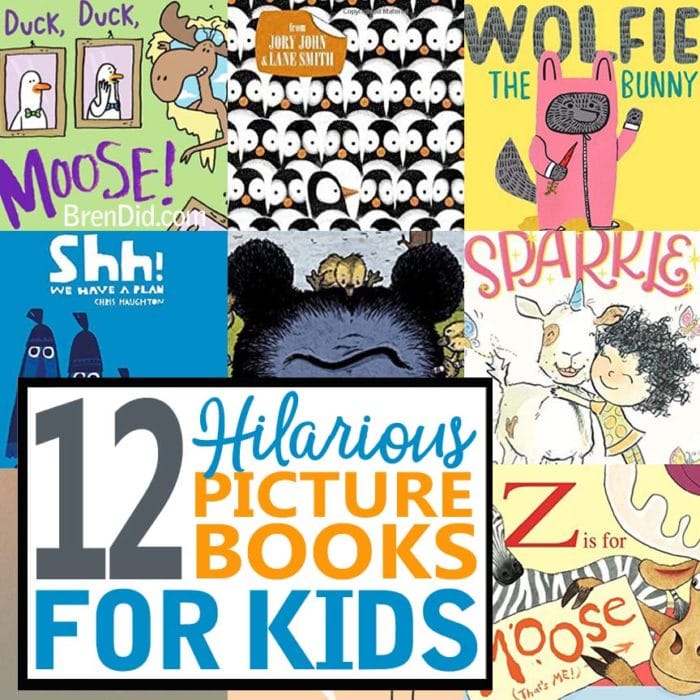 This post contains affiliate links. They don't cost you a thing, but help us bring you creative projects. Read more at Policies & Disclosures.
Selecting the Perfect Picture Books
Books are one of my favorite gifts to give, but picking out "just the right" book can be a daunting task! Theses funny picture books are sure to please every kid (ages 0-8) on your list. (Pssst… Even adults will want to read these hilarious stories over and over again!)
| | |
| --- | --- |
| | Mother Bruce and Hotel Bruce by Ryan Higgins: These books about a grumpy bear who reluctantly adopts the baby geese he almost ate as eggs will have the whole family laughing out loud. Buy both books, one will not be enough! |
| | Polar Bear's Underwear by Tupera Tupera: What 3 year old can resist a book about underwear? Kids will love the colorful pictures, repetitive text, and surprise ending as they try to guess which pair belongs to which animal. |
| | A Unicorn Named Sparkle by Amy Young: When a young girl orders a unicorn, she is surprised to discover he is not what she expected (he smells funny, has fleas, and eats tutus!). This charming book teaches kids about unconditional love and acceptance. |
| | We Found a Hat by Jon Klassen: Two turtles find one hat. What will they do? The third of Jon Klassen's "Hat" books has the same subtle humor as his other stories but is paired with an unexpectedly sweet ending. Buy all three (I Want My Hat Back and This Is Not My Hat) for the book lover in your life. |
| | Stuck by Oliver Jeffers: When Floyd's kite gets stuck in a tree, he throws something else up there to knock it down. But that gets stuck too. Kids will roar with laughter through the entire book and then ask you to read it again. You won't mind at all! |
| | Z is for Moose by Kelly Bingham: A laugh out loud alphabet book about patience, disappointment, and friendship. This silly book about a moose who can't wait his turn will lead to giggles galore. |
| | Don't Let the Pigeon Drive the Bus by Mo Willems: All Mo Willems books are pure gold, but this is one of my favorites. Children will love feeling like they are the boss and will erupt into giggles when Pigeon throws a huge tantrum. |
| | Shh! We Have a Plan by Chris Haughton: Four little hunters have a plan to catch a bird, but things don't always go as planned. Kids will catch on quickly to the repetitive text and will not be able to resist reading along. |
| | Penguin Problems by Jory John: Penguin has a lot of problems. His beak is cold, he doesn't like snow, and he sinks like a rock. Penguin remind kids that sometimes it's hard to be positive (no matter what a wise, old walrus might say). |
| | Duck Duck Moose by Sudipta Bardhan-Quallen: Two neat and tidy ducks are planning a party for their messy friend Moose, and chaos abounds. This book only has two words, but there's plenty of humor packed in the pictures. It's the perfect book for young kids who want to read all by themselves but aren't quite there yet. |
| | Wolfie the Bunny by Ame Dyckman: When a bunny family adopts a wolf baby, sister Dot is convinced "He's going to eat us all up!" In the end, Dot learns that family is family no matter where you come from or what you look like. |
| | Dragon Was Terrible by Kelly DiPucchio: Kids will love this hilarious story about a terrible dragon (who spits on cupcakes and steals candy from baby unicorns) and an unlikely hero. |
I love reading aloud to my kiddos, but even the best stories can get dull after they have been read 100 times! These hilarious books make reading more fun and interesting for everyone. I hope they bring a smile to story time at your house!
Like my kids crafts and free printables? Sign up for my newsletter below and never miss a thing!