Hardwood floors can get dingy and damaged in high traffic areas and homes with kids and pets. All natural restorer for hardwood floors is the easy way to eliminate scratches and scuffs. Bring hardwood floors back life with this non-toxic, DIY cleaner that will make your floors shine like new.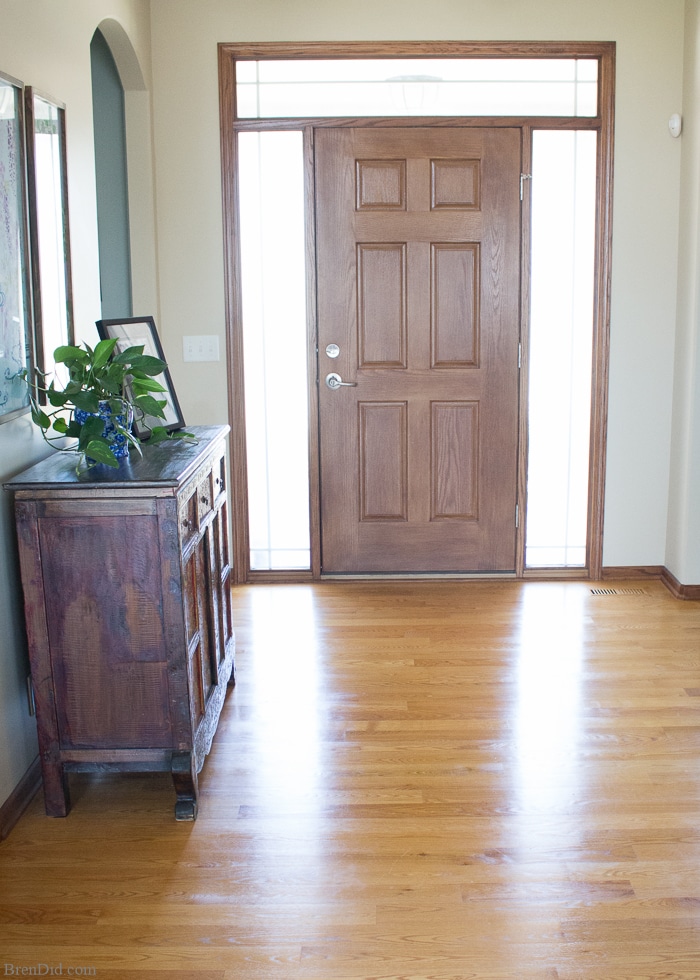 This post uses affiliate links.They don't cost you a thing and help us bring you all natural cleaning tutorials. Read more in Policies & Disclosures.
Dingy Hardwood Floors
Our rental house has beautiful hardwood floors in the entryway and kitchen. Unfortunately, the last tenant had five children who were very rough on the house. The floors lack the luster and shine of natural hardwood even when they are freshly swept and mopped.
I was tired of cleaning my floors and getting less than beautiful results!  I investigated my options:
Ignore it. My personality would not allow this to happen.
Refinish the floors. Not going to happen, this is a rental house!
Use a hardwood floor restoring product.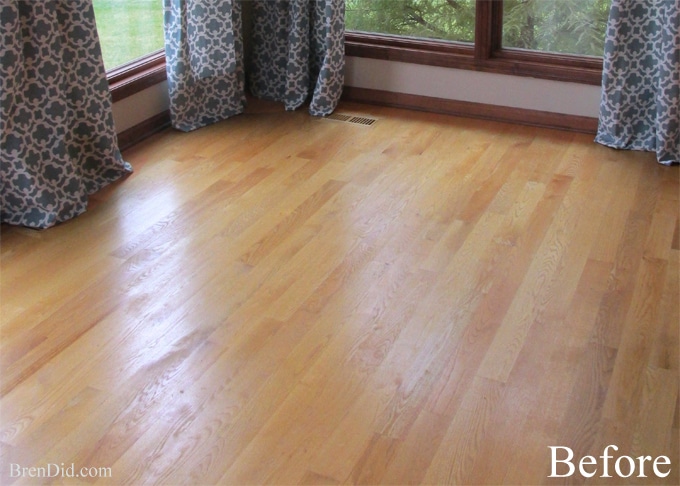 Commercial Hardwood Floor Restorers
The best solution was a hardwood floor restoring product.  But, after examining the commercial versions at several home improvement stores,  I realized that I did not want to use any of the restorers on my floors.
Why?
Toxic Ingredients!
The commercial floor restorers did not list ingredients or had very vague labels. This sets off alarm bells in my mind because without specific labels there is no way to know what you are cleaning with, touching, and inhaling.
It's shocking! Household cleaners in the US can contain dangerous toxins, but they do not have to be listed because specific ingredients are considered trade secrets.
Buyer Beware
One thing the floor restorer labels did contain… WARNINGS… lot of warnings! The labels state, KEEP OUT OF REACH OF CHILDREN and then list warnings such as:
May cause stomach irritation. If swallowed, drink 1 or 2 glasses of water to dilute.
In case of eye contact, flush with water.
If comes into contact with skin wash affected areas with large amount of soap and water.
The commercial hardwood restorers I found scored an F on the Environmental Working Group's Consumer Guide.  The ingredients (if listed) include:
Polymers –Synthetic materials used as plastics and resins.

They can cause skin irritation/ allergies, vision damage, and negative effects on aquatic life.

Plasticizer – Additives to plastic to increase flexibility.

These can cause respiratory damage,  developmental, endocrine, or reproductive effects (including breast cancer risks and reduced sperm counts in men), and negative effects on aquatic life.

Surfactants – Compounds that lower the surface tension between two liquids.

Surfactants may cause skin irritation, allergies, skin damage, respiratory damage, and negative effects on aquatic life..

Solvents – Liquids or gases that dissolve other substances.

According to OSHA, exposure to solvents can cause damage to the nervous system, reproductive system, liver and kidneys, respiratory systems as well as risks for cancer and dermatitis.
I still wanted shiny hardwoods, but did not want those dangerous substances on my floor! 
My dog lies on that floor all day (and occasionally licks it).
My children have been know to drop a snack on the floor then pick it up and eat it.
Neighborhood kids sit on the floor to play with toy cars and Legos.

All Natural Restorer for Hardwood Floors
I made up my own all natural solution that uses simple kitchen ingredients.
Ingredients
You can mix Hardwood Floor Restorer in a larger batch if you have a large area to cover. I used two batches to restore 620 square feet. (Yes, it's true… it take very little to polish a large area! You do not want to use too much or you will have greasy floors!)

Natural Restorer Instructions
Vacuum and dust floors.
Mop floors using a deep cleaning mixture of 2 cups warm water and ½ cup white vinegar. Allow to dry.
Mix floor restorer in a small spray bottle with a mister top.
Lightly spray floor restorer on a small area (about 2 feet by 3 feet) and spread using a microfiber mop pad. Do not leave any pools of restorer, the floor should be evenly coated.
Continue step 4 until the entire floor is thinly coated.
Return to the area where you started and buff the floors by rubbing with a clean, dry microfiber mop pad.
Enjoy your beautiful floors!
I loved the results on my floors so much that I kept going and polished all the wooden window sills and wooden kitchen cabinets. The house is gleaming and smells terrific!
Hardwood Floor Cleaning vs. Restoring
This restorer is for extremely dull hardwood floors and should not be used frequently. Try my All-Natural Homemade Floor Cleaner for everyday cleaning. It does a great job on all type of floors and it gentle enough to use everyday.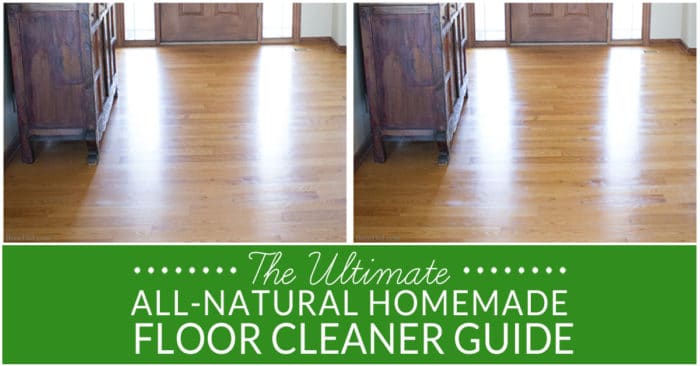 Furniture Polish – If you are looking for a non-toxic furniture polish try my Wonder Dressing.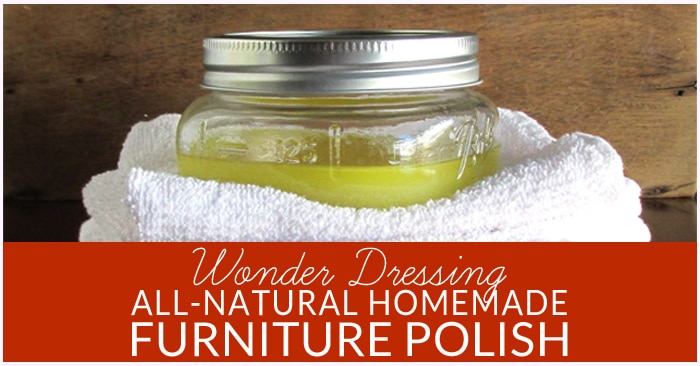 Floor Follow Up
P.S. It has been about a month since I "restored" our hardwood floors. I have dusted and vacuumed the floors several times (we have a large hairy dog) but have not needed to mop or "restore" the floors again… they still look beautiful and shiny!
P.S.S. It's been more than a year since I originally restored" our hardwood floors. I regularly sweep the floors and spot clean any spills. Once a month I clean the floors with All-Natural Homemade Floor Cleaner.  When I did my spring cleaning I restored the floors again and will continue to do it yearly.
Like my natural cleaning tutorials? Sign up for my newsletter below and never miss a thing!