Do you love the look of Pottery Barn?  Each catalog is full of tempting pieces just asking me to blow my budget. If you love high end style on a low end budget these gorgeous DIY Wishbone Napkin Rings are the perfect way to get the Pottery Barn look for less!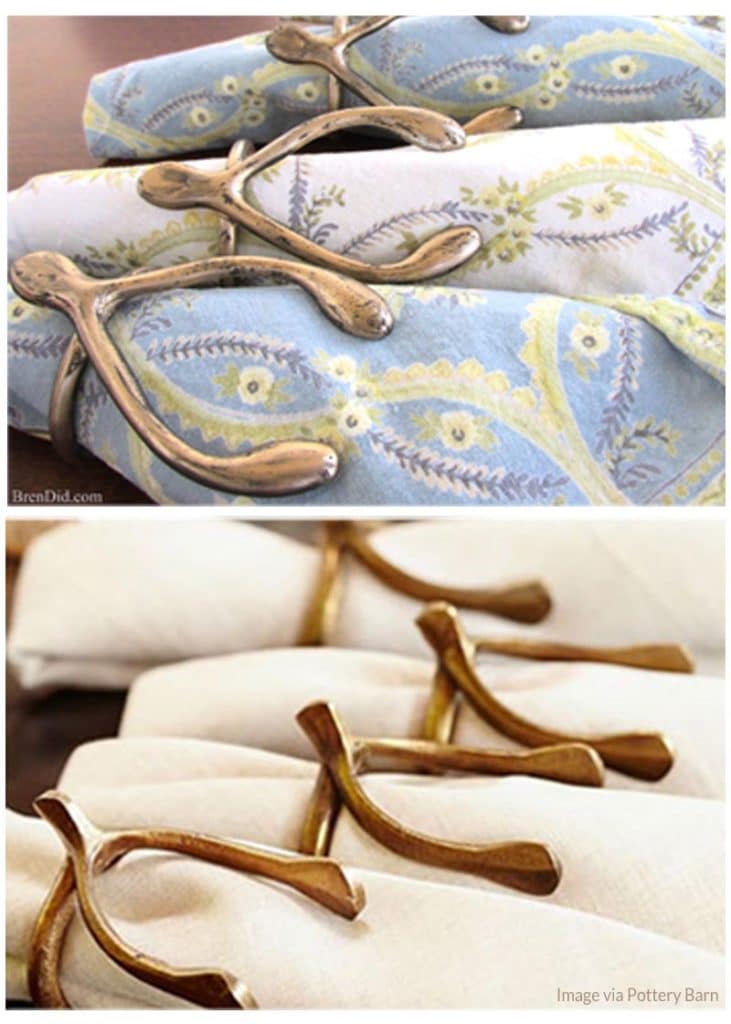 This post contains affiliate links. They don't cost you a thing, but help us bring you creative projects. Read more at Policies & Disclosures.
The antique bronze wishbone napkin rings in the fall Pottery Barn catalog had me wishin' and hopin' for a bigger decor budget! Fortunately, my practical side won out.
I mean really, how much use does one get out of Thanksgiving themed napkin rings? Surely not enough to justify the $10/each cost.  (I host Thanksgiving dinner for 12-15 people… that's $120-$150 of napkin rings! )
Knock Off Decor
I decide to make my own  DIY Wishbone Napkin Rings so I could enjoy the Pottery Barn look at my Thanksgiving table with none of the budget regret!
While I do my fair share of Pottery Barn shopping (some – aka my husband-  may say I do MORE than my share), there are always a few items in the holiday catalogs that I know I can recreate to save money. It's a fun challenge to see how well I can reproduce their ideas.
(You should check out my knockoff Christmas, Easter and Halloween decor too!)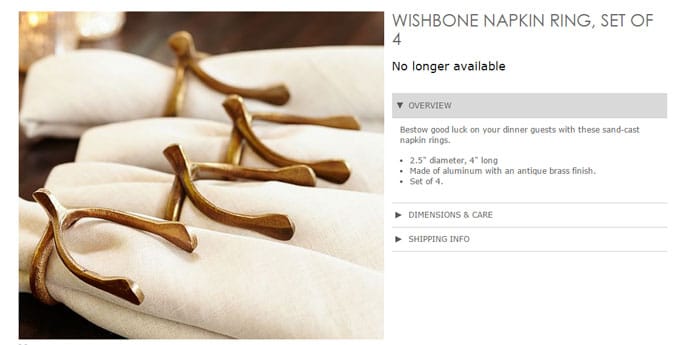 The Thanksgiving napkin rings were a creative challenge!
Issue #1  – The napkin rings are made of metal and I am not a welder! So I though it was going to be a BIG challenge to recreate these little lovelies… until, I did some brainstorming and found a few basic parts online and some premo glue!
The rest of the project is SIMPLE project, it takes a little online shopping, a little gluing and a little painting to transform two cheap metal items into beautiful bronze wishbone napkin rings.
DIY Wishbone Napkin Rings Supplies
Metal Wishbones (12)- These beauties are available at Oriental Trading Company. They are Christmas ornaments, but wok perfectly for the napkin rings. ($12.99 a dozen or $1.08 each.)
2″ Welded Metal Rings (12) – 2 inch rings are the perfect size for holding napkins. You can get these metal rings from Amazon or in he chain section of your local hardware store. (About $1.09 each.)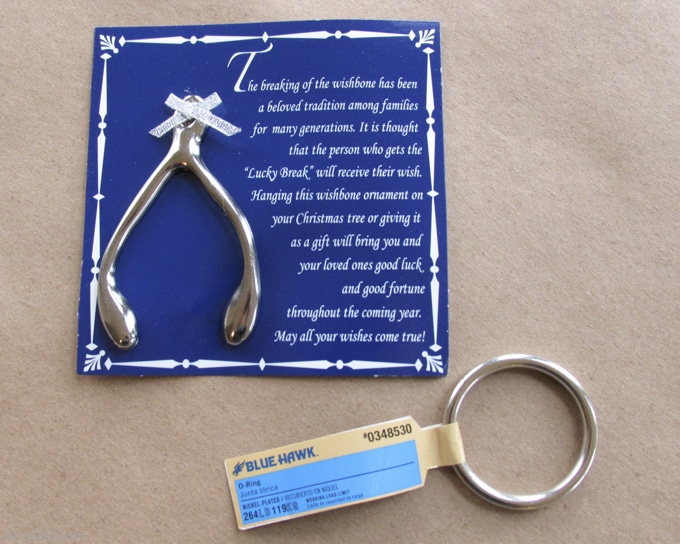 KwikWeld Metal Glue – This epoxy adhesive is sold as an alternative to welding. It worked well for me and cost $5.27. I used about 1/2 of a tube.
150 Grit Sandpaper – Use sandpaper to rough up metal surfaces before gluing and painting. (About $0.30  worth of sandpaper.)
Gold Spray Paint – Use paint appropriate for metal, I used Rust-Oleum Metallic Gold Spray Paint. (About 1/4 of a can or about $2.00.)
Black Acrylic Paint – It took about 1 tsp of black paint to antique the surface of the napkin rings.
DIY Wishbone Napkin Rings Directions
1) Remove the packaging from the wishbones and O rings. Remove bows.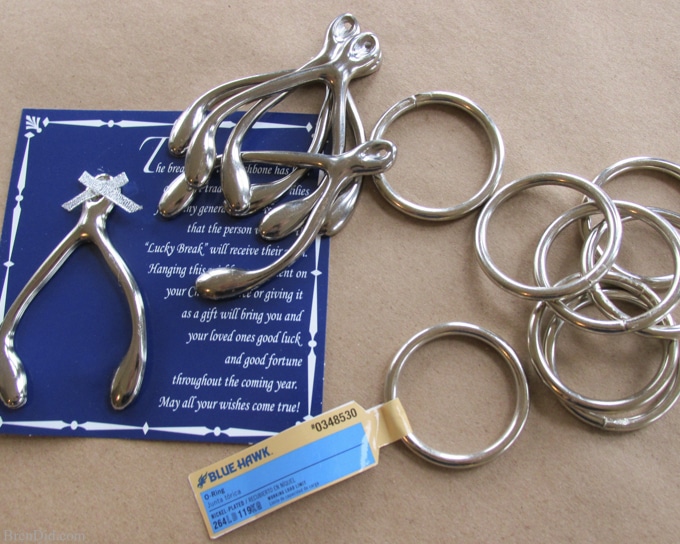 2) The wishbones have a hole in the center where they are meant to hang as ornaments. Fill this hole with a dab of the glue/epoxy and let it dry.
3) After the glue/epoxy is dry, lightly sand the surface with the 150 grit sandpaper to smooth it.
4) Use sandpaper to rough up the ring around the seam for better glue adhesion. Mix the epoxy thoroughly. then attach the rings to the back of the wishbones using about 1/8 of a teaspoon of  glue.  It dries fast so mix in small batches.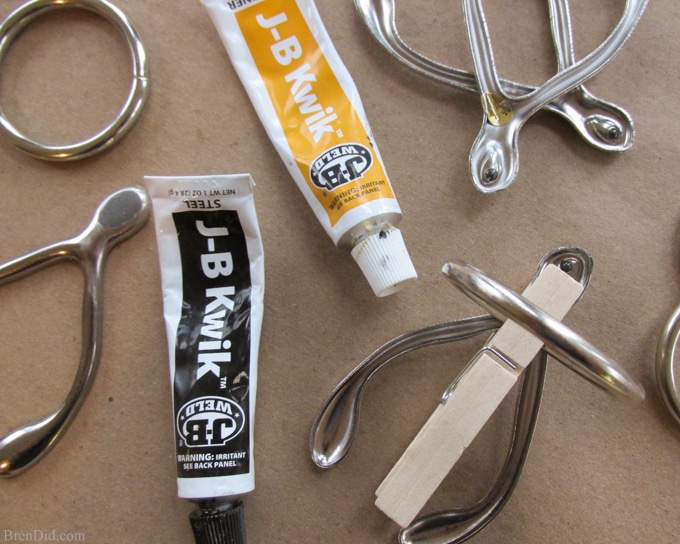 5) Use tape or wooden clothes pins to hold the rings in place while they dry. Allow rings to cure overnight.
5) Rough up the surface of the rings and wishbones to help the paint stick. Spray with gold spray paint. Let paint dry for a few minutes then flip over and paint the other side.
6) Allow spray paint to dry then use a small piece of sponge or paper towel to dab black paint on the edges of the wishbones and rings.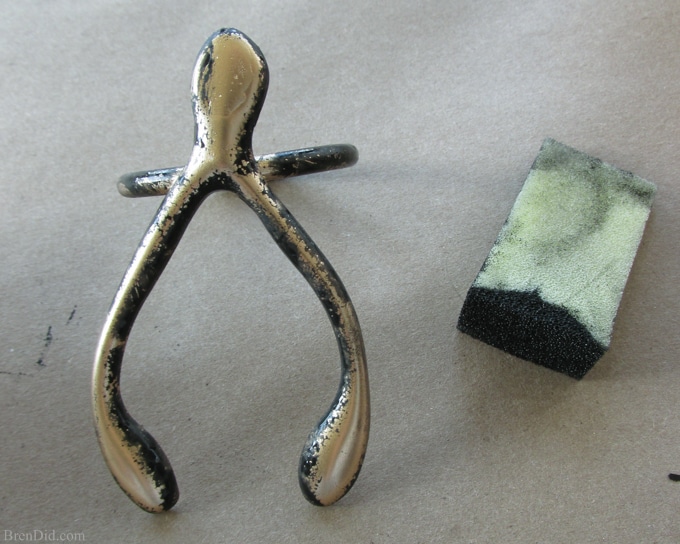 7) Working quickly, use your fingers or a clean paper towel to smudge and wipe the black paint until you achieve the antique look you desire.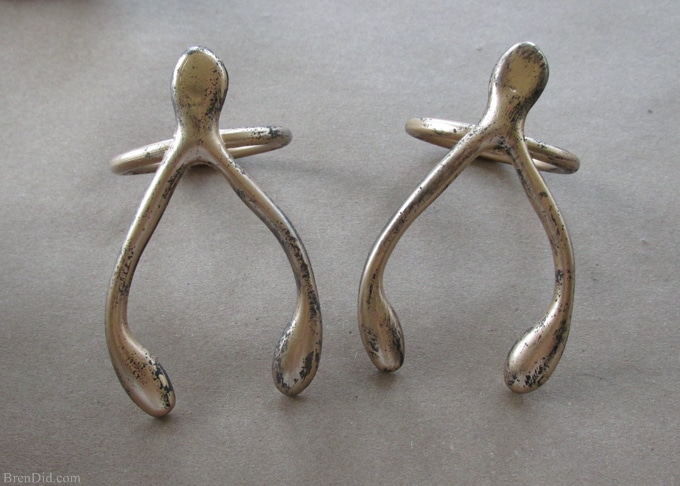 8) Allow the paint to dry completely before using your napkin rings.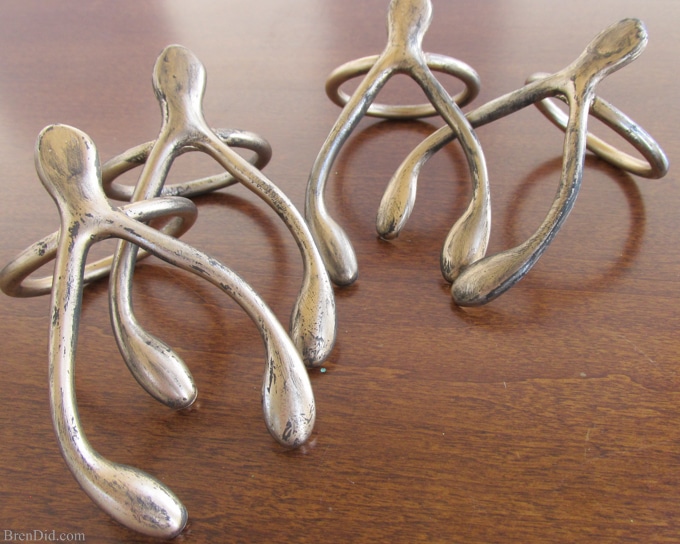 DIY Wishbone Napkin Rings Cost
These napkin rings add the perfect touch to my Thanksgiving decorations. The best part? I didn't have to part with $10.00  per napkin ring to add them to my table!
The Pottery Barn napkin rings are $39.50 for a set of four. I needed 12 napkin rings or three sets for $118.50. YIKES!
Here's my knockoff  DIY Wishbone Napkin Rings cost breakdown:
Supplies
12 metal wishbones – $12.99
12 metal O rings – $13.08
Metal Glue – $2.60
Sandpaper – $0.30
Gold Spray – $2.00
Black paint – $0.50
Total price= cost $31.47 for 12 or about $2.62 each.
That's a $87.00 savings (75% off). You can buy a whole lot of pumpkin pie for that cost savings!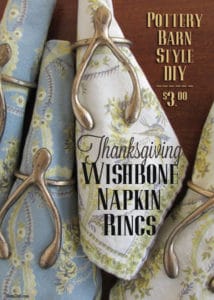 More Knock Off Thanksgiving Decor and Crafts
I hope you try making my DIY Wishbone Napkin Rings or one of my other Thanksgiving crafts:
Like my easy craft projects? Subscribe to my free weekly email below and never miss a thing!