Pear sauce and pear leather are easy pear recipes to make with fresh pears. Pear sauce freezes and cans well. Pear leather is a great sugar free snack. They are the perfect use for extra pears… lots of extra pears! 
Pear Overload
I recently ordered Washington state Bartlett pears with my food co-operative order.  They arrived fresh and delicious…. all 38 lbs of them!
Seriously, 38 pounds of pears! I was delighted with the bargain, they only cost $21.00, but a bit intimidated by the volume.
Have you ever participated in a food co-operative? A food co-operative might take the form of a local co-op store or may be a less structured food delivery service run by volunteers. Both options are a great way to access fresh, delicious produce without breaking the bank.
It's a little like Christmas! You never know exactly what is going to be in your primary food box and the add-ons are fabulous deals.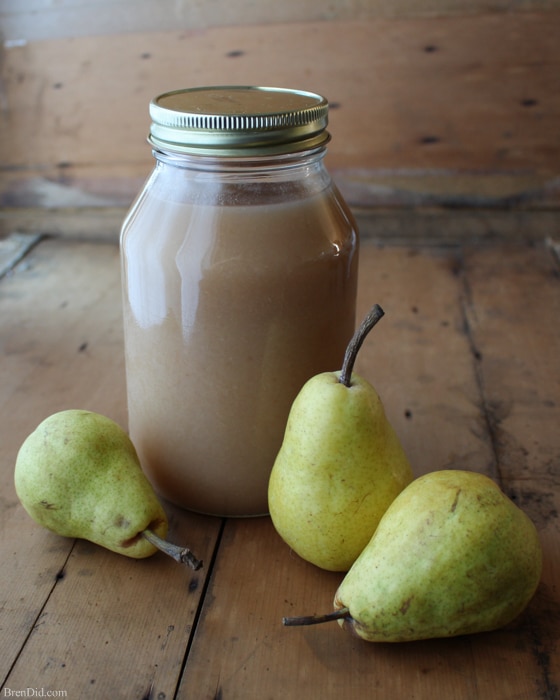 Which leads me back to my 38 pound glorious overabundance of pears. They were an add-on item.
Seriously people, 38 pounds of pears!
We ate tons of pears, enjoyed pear cobbler, and gave some away to neighbors. Pears galore!
Easy Pear Recipes
I decided to make pear sauce and pear leather with the remaining pears. Pear sauce is delicious and easy to make, it freezes or cans well. It's the perfect solution to a pear overload!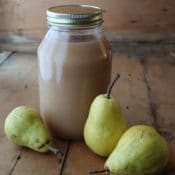 Pear Recipes: Easy Pear Sauce and Fruit Leather
Pear sauce is a delicious alternative to apple sauce. This easy sugar-free version is perfect for the whole family.
Ingredients
16

cups

pear

peeled and cored

1

cup

apple cider or apple juice

ground cinnamon

optional
Instructions
Peel and core 16 cups of pears, place in a crock pot add 1 cup of apple juice or apple cider.

Cook pears on low for 6-8 hours until they are easy to mash.

Mash with a potato mashed or puree with a handheld immersion blender.</span>

Add cinnamon to taste, if desired.

Store in the refrigerator for up to a week or freeze.
Nutrition Facts
Pear Recipes: Easy Pear Sauce and Fruit Leather
Amount Per Serving
Calories 174
* Percent Daily Values are based on a 2000 calorie diet.
Another great use for extra pears in fruit leather. Fruit leather is easy to make in the oven or a food dehydrator. It tastes great and is a great snack. I love making my own fruit leather with no sugar.
Pear Recipes: Easy Pear Fruit Leather
Fruit leather is an easy snack to make at home with no artificial ingredients. This pear version has no added sugar.
Ingredients
8

cups

pears

(peeled and cored)

1/2

cup

apple juice or apple cider
Instructions
If pears are very ripe peel, core and puree in a blender. If pears are firm, make pear sauce then proceed with recipe.

Line two baking sheets with parchment paper. Pour 4 cups of pureed pears onto each tray.

Spread the puree evenly aound the sheet, about ¼ inch thick.

Place baking sheet in a 180 degree oven for 8-10 hours. The fruit leather is finished when it is no longer sticky to the touch.


Cut into pieces and store in an air tight container.
Nutrition Facts
Pear Recipes: Easy Pear Fruit Leather
Amount Per Serving (2 pieces)
Calories 29
* Percent Daily Values are based on a 2000 calorie diet.
U.S. raised Bartlett pears are available in late summer thru fall. They are a delicious treat! I hope you get some and try making pear sauce or pear leather.
Like my easy recipes? Sign up for my newsletter below and never miss a thing! 

Bren Did Newsletter Subscribers Get Access!