You can make easy edible chocolate eyeballs using just white chocolate, mini chocolate chips and Cheerios. They're adorable and make a great addition to Halloween treats. Try making some today!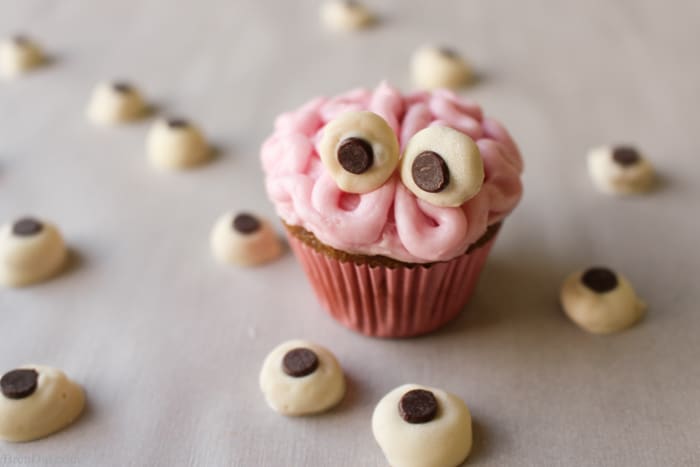 Adorable Candy Eyes
Have you seen all the adorable candy eyes taking over the internet? Okay, okay the candy eyes are not literally floating around online but they are showing up all over recipes and treats on Pinterest and Instagram.
I love the adorable look that candy eyes can give to any treat from cupcakes to granola clusters. Even fruit looks ready to take on any holiday party with candy eyes!
What I Don't Love
The only thing I don't love about candy eyes? All the versions I have seen for sale are made out of refined sugar and artificial color.
They are cute, but bad for you… and basically as yummy as sucking on a sugar cube.
FUN!
(Can you sense my sarcasm?)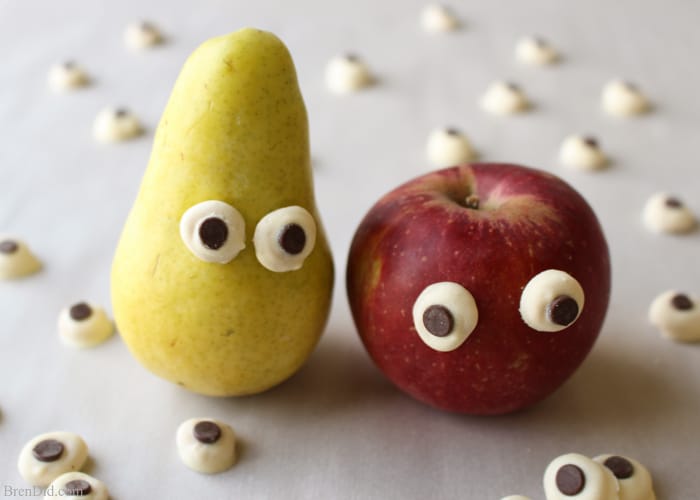 This post uses affiliate links. They don't cost you a thing and help us bring you creative projects. Read more in Policies & Disclosures.
Edible Chocolate Eyeball Ingredients
I decided that I could make some delightful and tasty edible candy eyeballs to dress up my favorite treats.  Mine are made with just white chocolate, mini chocolate chips and Cheerios.
Select limited ingredient white chocolate and mini chocolate chips for the best flavor and nutritional value. (I used this white chocolate and these mini chocolate chips.
4 oz white chocolate
1 cup plain Cheerios
½ cup mini chocolate chips
How to Make Edible Chocolate Eyeballs
Chop the white chocolate and place it in a microwave safe bowl. Microwave the white chocolate at 15 second intervals stirring well between each heating. Heat and stir until the white chocolate is nearly melted then stir, stir, stir until completely smooth.
Dip plain Cheerios into the white chocolate and use a toothpick to fully cover.
Place the Cheerios on a parchment paper lined tray.  Gently press a mini chocolate chip upside down into the center of each Cheerio (you want the flat bottom of the chocolate chip to show). Allow the Cheerios to dry in a cool, non-humid location. I left mine on the kitchen counter overnight.
How to Use Edible Chocolate Eyeballs
Use a small dab of melted chocolate or icing to attach your candy eyeballs to your favorite foods: add a pair to a bowl or cereal or sandwich, stick some onto yogurt or pudding, glue a pair to your pretzels…. They sky is the limit!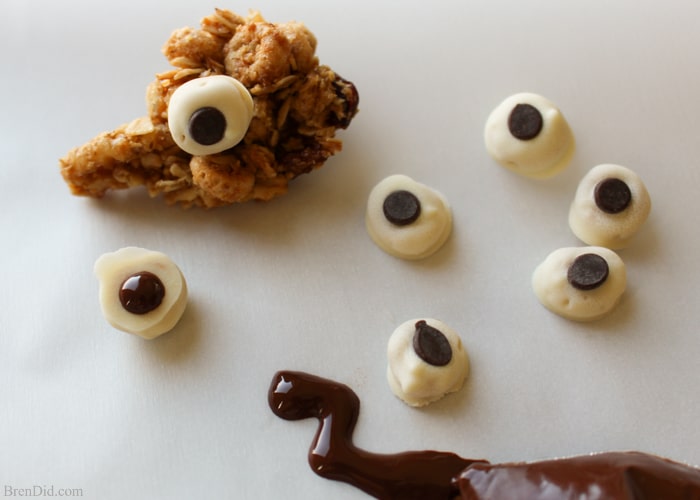 More Easy Halloween Treats
Check out my free printable Halloween goodie bag toppers. They look great filled with eyeball covered snacks! Mine are filled with Cheerios Maple Nut Granola Clusters.
Like my easy projects? Sign up for my free newsletter below and never miss a thing!