I freeze many ingredients to made food preparation easier and prolong shelf life. Grated cheese is one on my favorite foods to freeze. When my friends hear this they often find it odd and incredulously ask, "can you freeze cheese?" Today I'll explain when I freeze cheese and explain how you can do it as well!
I gave up buying grated bags of cheese several years ago for three reasons:
Shredded cheese is usually more costly, ounce for ounce, than larger blocks of cheese.
Shredded cheese has powdered cellulose added to keep the grated cheese from sticking together. Powdered cellulose is made by treating wood and other plant fibers with chemicals to separate out the cellulose. GROSS, gross, gross! Be aware, even organic shredded cheese has powdered cellulose added to it. (You can read all about the use of cellulose in food products in this Wall Street Journal article.) Food nutritionists say wood pulp cellulose is the same as cellulose from other plants and is safe for human consumption, BUT I still dislike any unnecessary ingredients in my food!
The powdered cellulose that keeps the cheese from sticking and clumping in the bag, also keeps the cheese from melting into that lovely, stringy, creamy goodness that is delicious in recipes. Have you ever made a pizza with bagged shredded cheese and one with a block of mozzarella and observed the differences? Okay, I know not everyone is as obsessive as me, but trust me the results from the block of cheese are the ones you want in your recipes. The cellulose coated cheese does not melt or spread as uniformly. I addition, it takes longer to brown and does not produce the "strings" of cheese that come when biting into a fresh slice of pizza.
I stopped buying shredded cheese, but I missed the convenience of having shredded cheese on hand to top our Healthy Crockpot Chicken Tacos on busy nights, to whip up a quick quesadilla for the kids or even to make our favorite quick Homemade Mac and Cheese.
The easy solution I found? I grate blocks of cheese and freeze them until I need shredded cheese. I buy big blocks of cheese at a warehouse store or on sale at the grocery store and then use a food processor with the grater attachment to easy grate large quantities of cheese quickly. I grate from mildest cheese to most flavorful so there is no need to wash the food processor between blocks of cheese (for example: mozzarella, cheddar, and then parmesan). I seal the cheese in large freezer bags, label them with the date and type of cheese, and freeze them!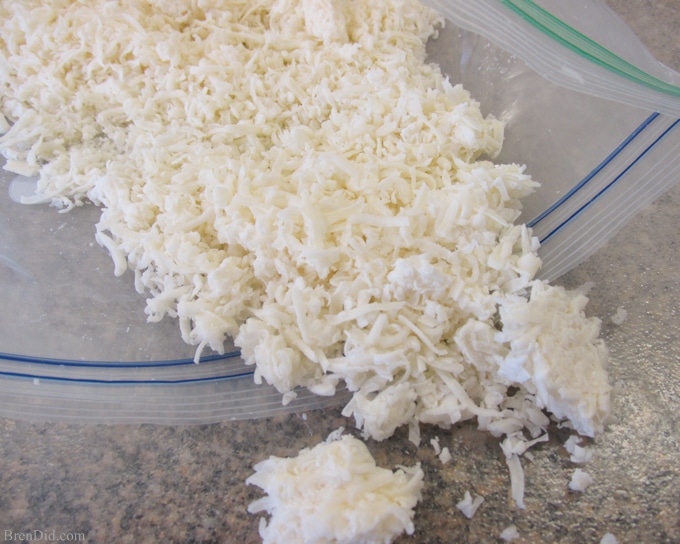 When I need shredded cheese I simply get the bag out of the freezer and use it as is. Recipes such as homemade pizza can be made with frozen cheese right out of the bag. If I want unfrozen cheese to serve to top recipes such as Southwest Ranch Style Beans or Tortellini Tomato Soup I simple take the desired amount out of the bag and place it in a bowl while I cook dinner. In about 10 minutes it will be defrosted and ready to use.
The cheese sometimes clumps and freezes in a large bunch. I simple bang the bag against the counter or whack it with a meat cleaver to break up the cheese. I think it's a small price to pay for the cost savings and convenience… without added cellulose!
Have you ever tried freezing cheese? What other ingredients do you freeze?