Ever After High is the perfect theme for a modern fairy tale party! These easy party ideas, fanciful decorations, and enchanting activities will make your party storybook perfect.
Disclosure: Netflix provided me with a streaming device and service in return for writing about their service. The opinions and free printables in this post are my own. This post uses affiliate links. Read more in Policies & Disclosures.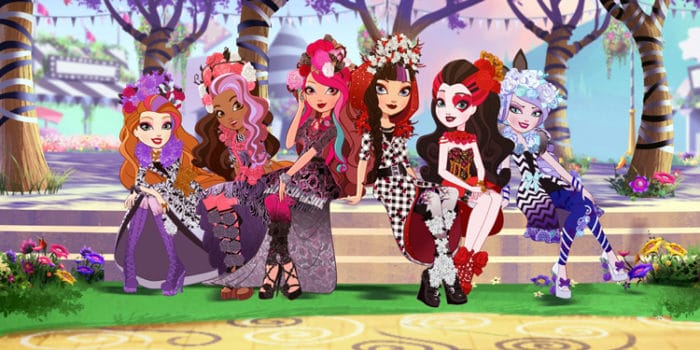 Ever After High
Ever wonder what happened to the storybook characters we grew up with including the Mad Hatter, Snow White, and the Evil Queen? It turns out they are parents now too, and their children are studying at an enchanted boarding school for teens, Ever After High.
While Ever After High students were once destined to follow in their famous parents' fairy tale footsteps, today's Royal and Rebels bravely decided that they had the power to create their own destiny. It's a story theme both parents and kids can appreciate!
Ever After High Party Themes
My daughter and I decided to host a fairy tale party to celebrate the arrival of spring. (I love planning a theme party!)
There are lots of great Ever After High party ideas to choose from including:
a Hat-tastic Tea Party
a Sleeping Beauty Slumber Party
a charming Thronecoming Dance
a Spectacular Spring Fair theme (the carnival-like setting of Ever After High: Spring Unsprung)
Creative Ever After High Party Invitations
Since out party was not a birthday party we used the Mad Hatter's favorite party as inspiration and created simple "Unbirthday" Party Invitations from card stock and metallic Sharpies.
We made giant tea bags from tissue paper to use as our invitation envelopes (another nod to the Mad Hatter).
You can learn to create your own tea bag invitations and gift bags here
Giant tea bags are are a cute way to package all kinds of treats, not just t-invitations!
We included an Ever After High t-shirt for guest to wear with out invitations. (Remember the days when dressing the same as your friends was delightful?)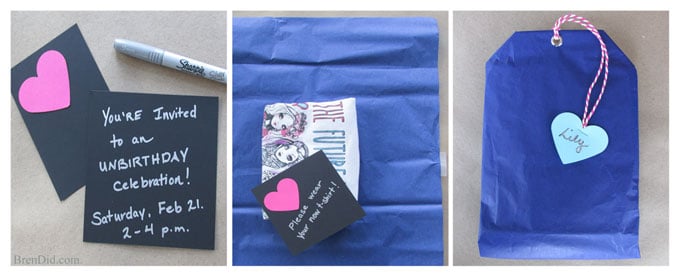 I got a great deal on the shirts at Children's Place (around $6 each). We then hand delivered the tea bag invitations to the home of each party guest with a request for them to wear the t-shirt to our party.
Affordable Party Décor
Creating enchanting Spring Has Sprung decorations was so much fun! Don't worry, they don't cost a fortune, you can create an enchanting space with some tissue paper, a few rolls of wrapping paper, and some sheets of card stock.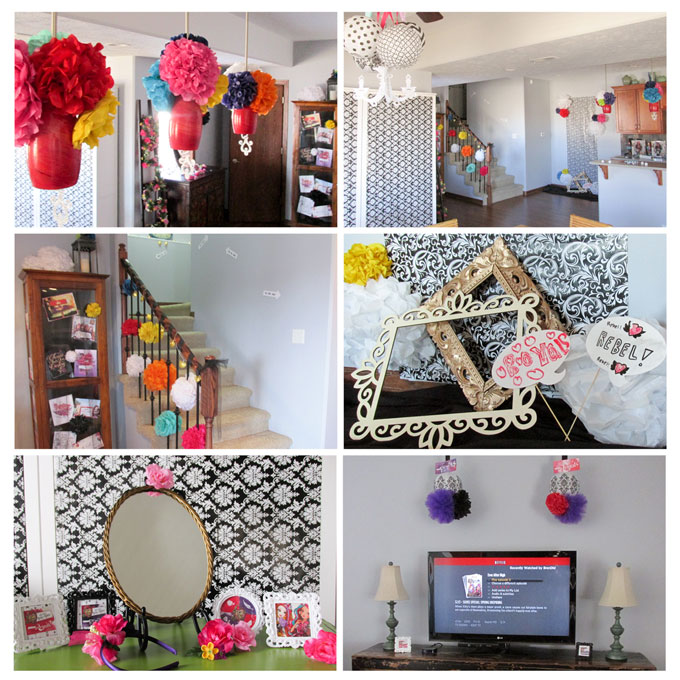 Easy Decorating Ideas
Wrapping paper and tissue paper adds tons of flair for less than $10!
Black and white lanterns and wrapping paper cost about $1.50 each and make great party decorations.
Rolls of tulle ribbon from the wedding section of the craft store make fun reusable streamers.
Covered bookcases ad picture frames with the wrapping paper to turn a family room into a royal suite.
Use tissue paper to make GIANT pom-pom flowers (easy tutorial from House on the Way) then hang them ALL over the party area.
Cheap fabric is reusable and make great decor
You can also spot some tulle pom-poms and garlands in my pictures, I snagged these on clearance in the wedding section.
You can make your own tulle pom-poms by follow the same steps as the tissue paper pom-poms.
Tulle is one of my favorite party décor fabrics as it is usually around $1.00 a yard and comes in tons of great colors.
Check online for free printables and party images.
We added FREE Ever After High details to our party by printing images and word art from the Ever After High Facebook page. There are hundreds of adorable images available for free from Mattel!
Print some (for personal use only) and hang them around your party area. I recommend printing the images on matte photo paper for the best results.
To make the images even more special, I picked up a few $1 photo frames in black and white and filled them with Ever After High images.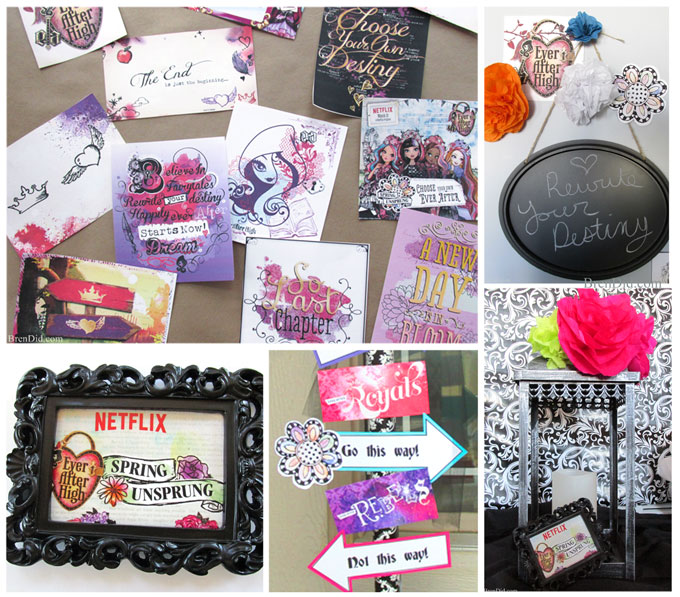 Make A Royal Entrance
Ever party needs a grand entrance so we created a Wonderland-worthy street sign for our front porch.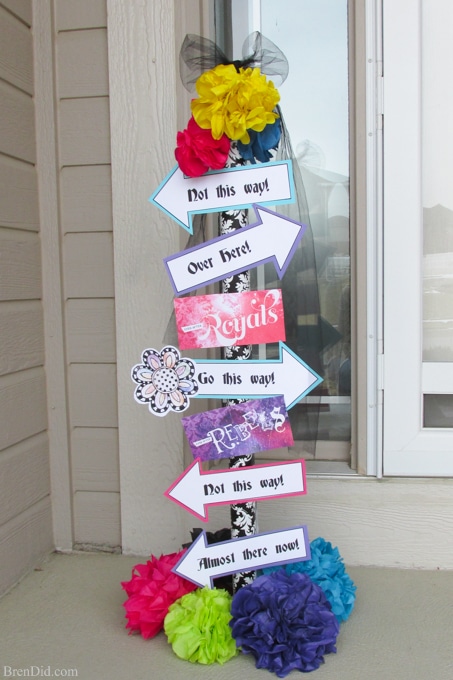 Down the Rabbit Hole
Bunny Blanc (daughter of the White Rabbit) and Alistair Wonderland (son of Alice) arrive at Ever After High from Wonderland through the Well of Wonders. Our party took place in our downstairs family room; guests were transported to the party area via our very own rabbit hole!
Make a huge craft paper tree by crumpling and folding brown craft paper. (I used painters tape to secure the tree to the walls.)
You can buy huge rolls of brown craft paper for only a few dollars in the painting supplies section of your local home improvement store (There are a few rolls in my closet, I love the stuff!).
The tree was decorated with a few tissue paper leaves and tissue paper flowers to make it look more spring-like. I found the free "Down the Rabbit Hole" printable sign online.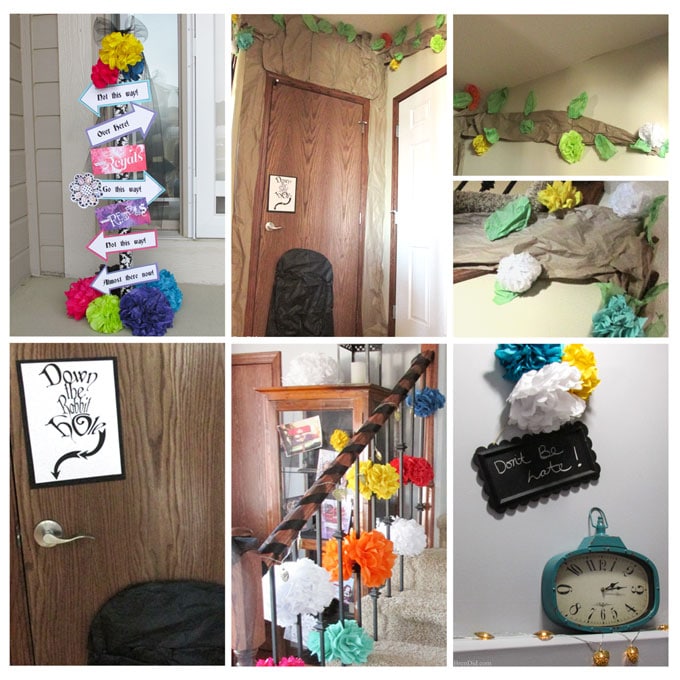 We continued the tissue paper flowers and branches down the staircase. I also added some strings of battery-operated, heart-shaped fairy lights and chalkboard signs with reminders worthy of the white rabbit (Don't be late!). I found an adorable clock that looks like a giant pocket watch at Michaels'.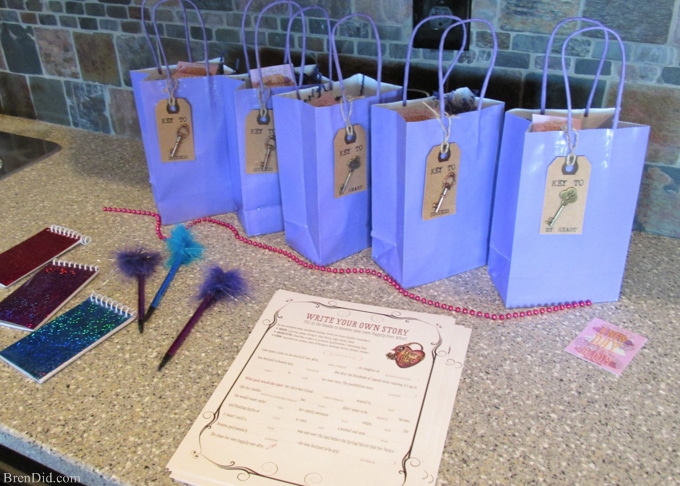 Goodie Bags and Party Favors
Keys play a big part in Ever After High as the students hold "the key" to their own destiny. Luckily keys are also popular in crafts and décor right now!
I found lots of affordable options for adding keys to our party décor: I added key gift tags to our party favor bags from the Michaels' $1 section (they were 2 for $1) and added key charms to our craft project.
You could also cut keys and chandeliers out of glitter cardstock to add to your party decorations.
Party tip: Our gift bags contained a thank you note, metallic note pads, and fluffy pom-pom pens. We added our arts and crafts activities to guests' bags as each activity was completed. It's a great way to keep everyone's party treats organized to transport home while also creating a fun gift.
Another "free" way to add fairy tale style to your party décor is with your own Ever After High toys and books.We rounded up our collection of dolls and books and placed them around the party area.
Enchanting Party Activities
No fairy tale party is complete without arts and crafts! We had several activities to keep our young guests entertained.
Custom Ever After High Jewelry
I found "shoelace" bracelet making kits on clearance then upgraded them with extra fairy tale inspired beads and charms from the Michaels' jewelry making section.
We placed each set of beads in a charming key stenciled bag (3 for $1.00 at Michaels') and attached a felt flower clip to each bag.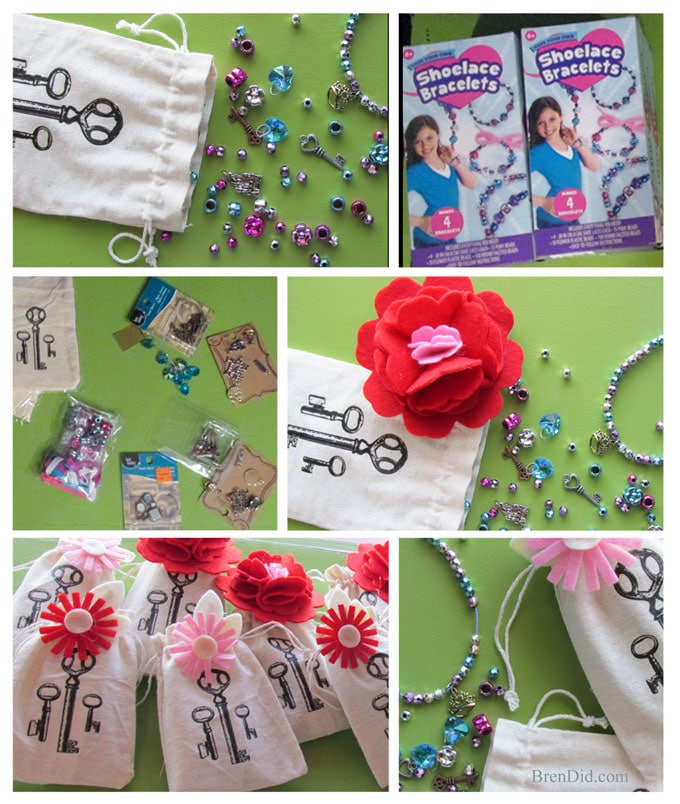 Ever After High Paper Crafts
Other FREE Ever After High crafts used be found on the Mattel Ever After High website, but it has since been deleted. I used the Internet Archive Wayback Machine to find the free printable bookmarks, magic cube answer predictors, fortune tellers, and locker notes. You can download them here (all rights belong to Mattel, these are not my creations)!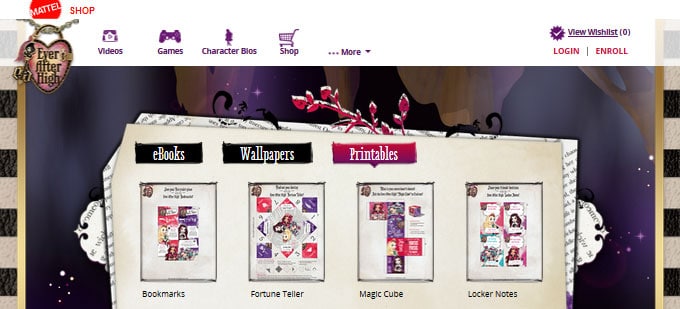 Print the craft sheets on cardstock so your guests can make their own charming party crafts. (I recommend using matte photo paper for the best color results). When our guests arrived they set to work making paper crafts (and playing with them) while waiting for all the attendees.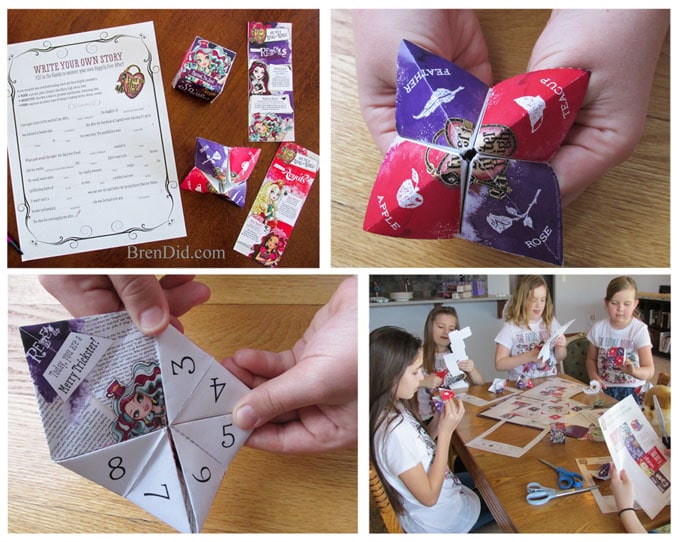 Ever After High Party Hats
Our final arts and crafts activity was based on the floral dresses with gorgeous floral hats that Lizzie Hearts designs for her friends in Ever After High: Spring Unsprung.
We made spring "fascinators" inspired by the fairest five (Lizzie Hearts, Briar Beauty, Holly O'Hair, Cerise Hood, and Cedar Wood).
A fascinator is a type of decorative headpiece attached to a headband or hairclip and worn as an alternative to a hat. (They became quite famous in 2011, around the time of a certain real life royal wedding.)
I purchased the headbands in pink and purple satin on clearance for $1.60 each . These became the base of our floral crowns. At Michaels' I purchased a long rose chain garland for $6.50. I hung the garland on my DIY PB inspired advent ladder to turn it into a beautiful flower trellis.
While party guests made paper crafts and worked on beading bracelets I took one guest at a time to the "flower garden" where they choose a headband and "picked" flowers to create a custom headpiece. I used a hot glue gun to attach the flowers and sparkle ribbon to each headband.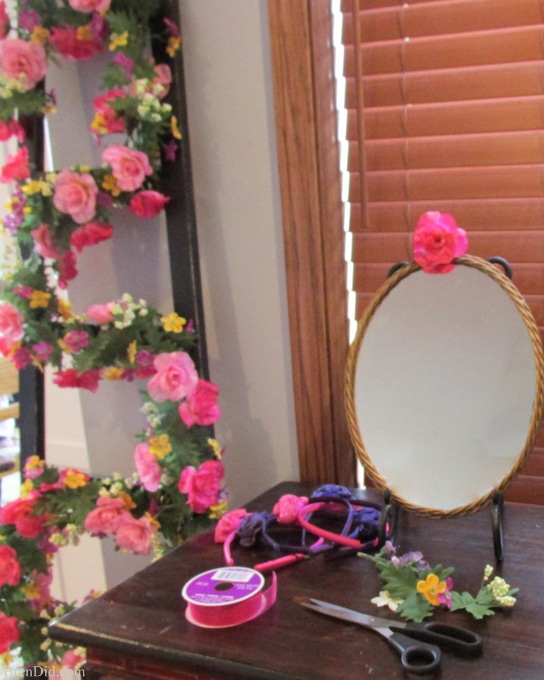 The floral headpiece results were adorable and customized to each guest. (Make sure you have a mirror ready for your guests, they'll have fun trying on and judging the crowns as they are created!)
Ever After High Refreshments
What party would be complete without some magical must-eats? We served refreshments that would make Ginger Breadhouse (daughter of the Candy Witch from Hansel and Gretel) proud:
wonderland pink lemonade (in DIY custom milk bottles, check out this tutorial to make your own.)
a tower of mini teacakes worthy of Holly O'Hair (cupcakes from Small Cakes)
fruit skewers that would rival Raven Queen's wicked watermelon pops
a veggies tray
popcorn for our viewing of Ever After High: Spring Unsprung.
I made Wonderland-inspired "Eat Me" and "Drink Me" signs for our cupcakes and milk bottles from cardstock, tape, and toothpicks. (Download the food labels here.)
Like my creative ideas? Sign up for my free newsletter below and never miss a thing!