Are you a fan of the miniature glass milk bottle drinkware that is currently popular at children's' parties? I love the vintage, homey look and appreciate the functionality of covered beverage containers for youngsters. This easy tutorial shows you how to make your own upcycled DIY glass milk bottles drinkware for a fraction of their retail price.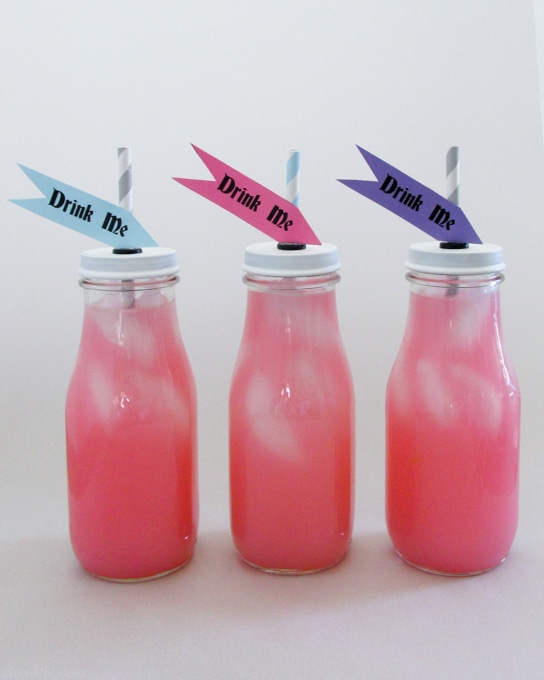 I love planning kids parties and appreciate all the sweet details that go into the decor. One of my favorite items is the old-time milk bottles that can be paired with paper straws for beverage service. They are a sweet throwback to school lunches and simpler times! I also appreciate the fact that glass milk bottles are a great non-plastic alternative for kid's drinkware. They are made of thick glass, they are just the right size for little hands and they are chemical free!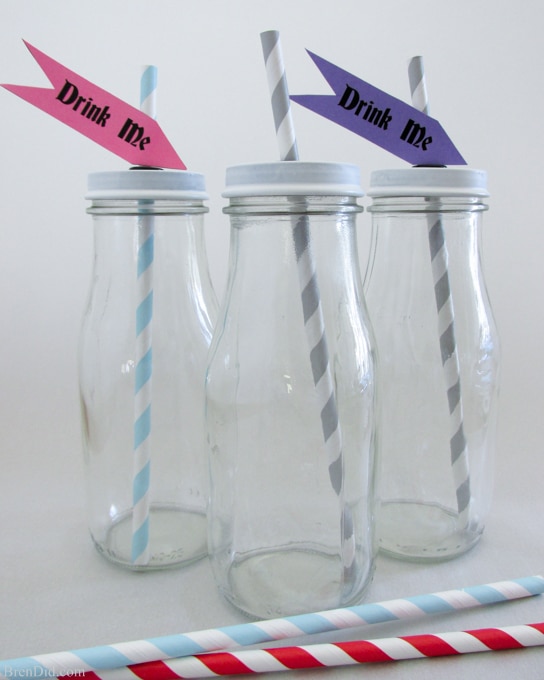 As much as I love drooling over the adorable available choices at Sweet Lulu, my frugal side has never allowed me to order drink glasses that can cost more than $4 per guest. While planning a recent party I discovered an affordable (and tasty) way to add milk bottles to my party decor for about $1 each. Plus they are easy to customize to any party decor! Want to know my secret…
…the secret is Starbucks Frappuccino,! I bet you didn't see that one coming?!?! To be honest the secret is actually pre-bottled Starbucks Frappuccino Coffee Drinks (they come in a 9.5 oz size that is packaged in the cutest little glass milk bottles), an electric drill, and a grommet. I picked up a 12 count package of coffee drinks for about $10 at Costco. You will need a 9/32 inch grommet. These can be found in the hardware section of your local home improvement or hardware store for about $0.90.

Glass Milk Bottle Drinkware Supplies
1-

9.5 oz (or larger)

empty glass bottle with lid
1 – 9/32 inch rubber grommet per bottle
1 – 3/8 inch paddle drill bit and drill
1 – nail and hammer
Glass Milk Bottle Drinkware Instructions
1) Clean the Bottles: Drink the Frappuccino. (I find this step to be quite enjoyable as I love Frappuccino  but don't usually keep it around the house.) Save the lids and remove the labels from the bottles. You can use nail polish to remove ink expiration date printed on the back of the bottle, if desired. Wash and dry the bottles.

2) Make the Lids: Place the lids upside down on top of a piece of scrap lumber and use a hammer and nail to make a hole in the center of your lid. This makes a pattern for your drill bit. Use a 3/8 inch paddle drill bit to make hole in the center of each lid. Paint the outside of each lid using your desired color of spray paint. Once the lids are dry pop in the grommet.
3) Decorate (if desired): You can decorate the outsides of the bottles using glass paint or Sharpie oil based markers. Learn how I use Sharpie markers on glass here.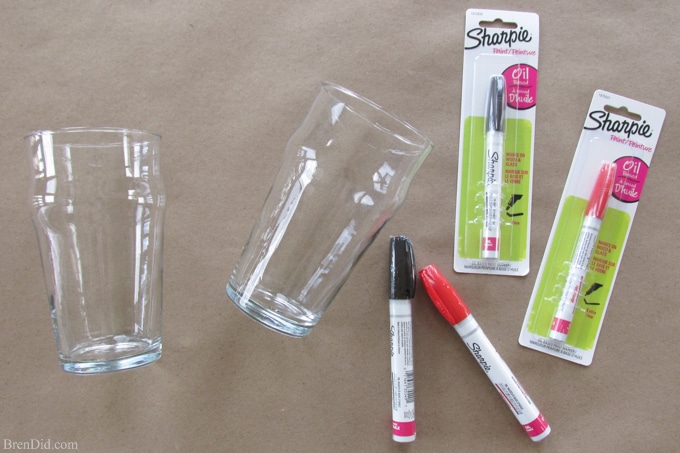 Enjoy your new DIY milk bottles! The 9/32 inch grommet fits standard size paper straws. I used mine for a fairytale themed "unbirthday party." Get my free Drink Me labels.

Tip: This technique can be used to transform a Mason jar lid or any glass bottle with a metal lid into a drink container. Imagine the possibilities!
Bren Did Newsletter Subscribers Get Access!