Make Mother's Day even sweeter with this easy Mother's Day Fortune Teller craft for kids. This free printable fortune teller is full of small activities that kids can do to show their love. Grab the free printables available in full color and back & white!
Don't have a Mother's Day gift? Don't panic. This last-minute easy Mother's Day gift is perfect for kids of all ages and is sure to be loved by moms everywhere!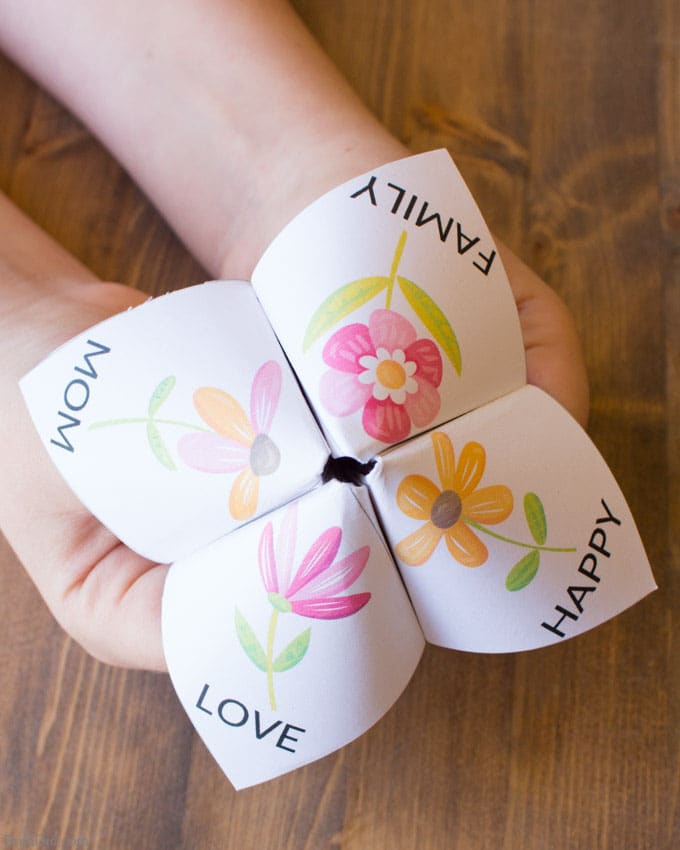 This site is reader-supported. When you buy through my links, I may earn an affiliate commission. Read more at Policies & Disclosures.
Favorite Mother's Day Gifts
Mother's Day is meant to be a celebration honoring motherhood and all that moms do, however, the mass commercialization of the holiday sometimes turns it into just another occasion for buying presents.
Flowers, candy, store-bought cards, and brunch are all delightful Mother's Day gifts… but they come from my husband and usually have little to do with my children.
Homemade Gifts for Mother's Day
I appreciate the effort my husband puts into the holiday, but I love a handmade gift the most — the paint-smeared hand prints, the carefully lettered cards, and the pottery creations that my kids have made with their own two hands — they are mom gold!
It's the thought and effort that I love more than the actual gift!
I'd rather spend time with my kiddos and enjoy a bit of pampering from my family than receive an expensive bouquet or a box of chocolates.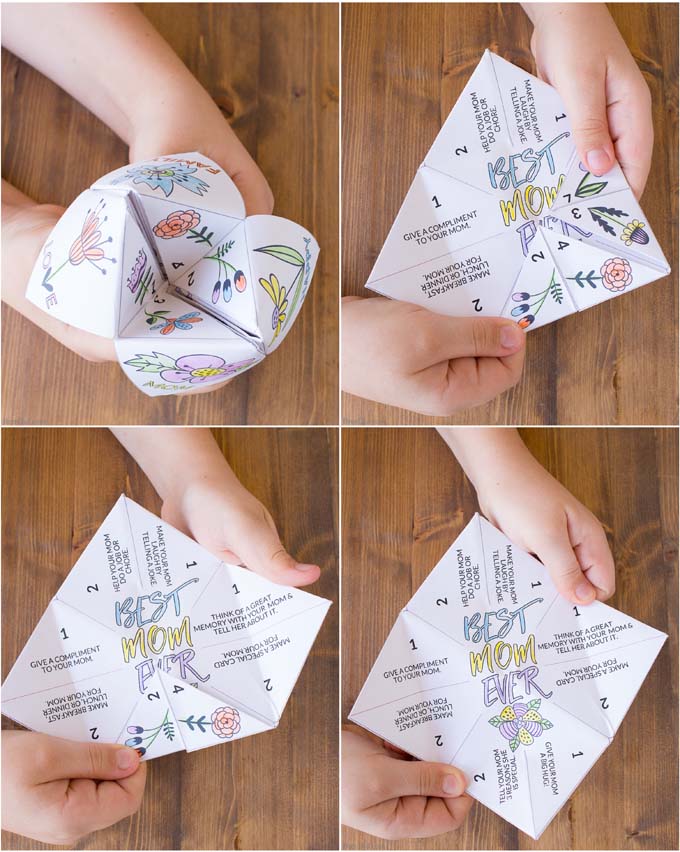 Easy Mother's Day Fortune Teller Craft
Are you looking for easy Mother's Day crafts for kids? I've got a free printable for you!
Spoil your favorite mom with this easy papercraft. It's perfect for kids to color, fold and give. Plus, you'll find a list of loving acts for moms that can be accomplished by kids inside!
Fortune Tellers, Cottie Catchers, and Chatterboxes
Using a fortune teller for this craft activity makes it even more fun for kids! Do you remember making paper cootie catchers or origami fortune tellers? They're still popular with elementary school students!
Get the free Mother's Day Fortune Teller here. (PDF format.)
Supplies needed to make a fortune teller:
Cootie Catcher printable (see how to download below)
Scissors
Printer
Copy paper (I recommend 28lb)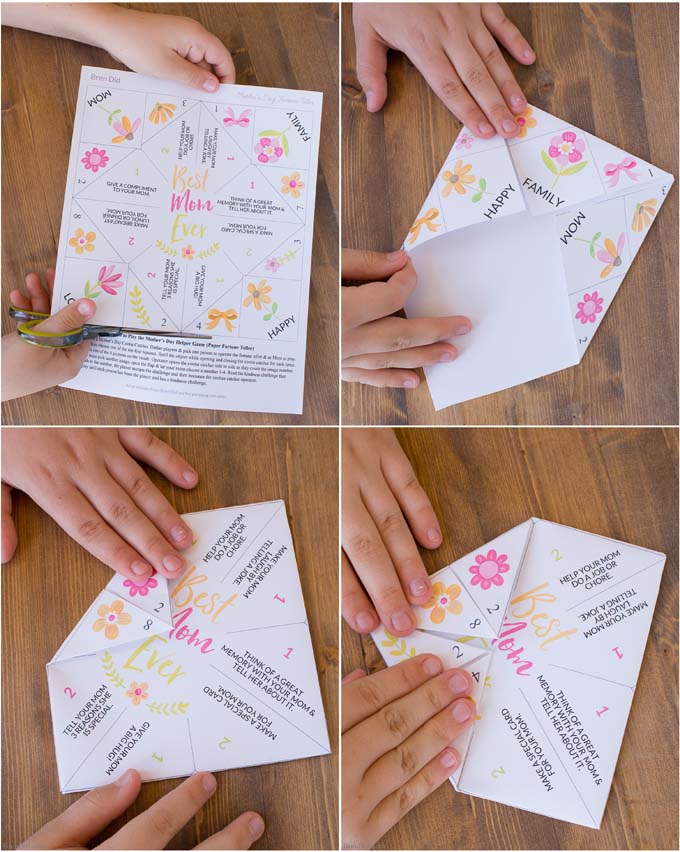 Full Color Fortune Teller for Mother's Day
No time to spare? Use the full-color version! (Download the full-color PDF, B&W version for coloring, with folding instructions HERE.)
Craft Tip: I print my fortune tellers on 28lb copy paper or  matte photo paper  – they are thicker than standard copy paper and print with extra bright colors. This makes a sturdy paper cootie catcher that can stand up to little hands!
Black & White Mother's Day Fortune Teller For Coloring
This easy Mother's Day activity is popular with teachers who don't always have the budget for full-color copies. The black-and-white version is perfect for kids to color and give.
You can color them with crayons, colored pencils, or fine-tipped markers.
Download the full color PDF, B&W version for coloring, and the folding instructions HERE.
Loving Acts for Mom
What is a simple activity for Mother's Day? Make her breakfast in bed and add a homemade card or fortune teller to the tray. (Be sure to clean up the kitchen and dishes!)
What do kids do on Mother's Day? Kids can do lots of things to celebrate Mother's Day. They can complete simple chores, tell Mom three reasons she is special, or just give her a big hug and tell her Happy Mother's Day.
The fortune teller is full of great ideas! Let the kids use the fortune teller to choose simple activities to complete while mom enjoys an extra cup of coffee and some pampering!
Kids will love completing the jobs and mom will love all the extra attention.
More Free Cootie Catchers for Kids
I've designed lots of fun holiday cootie catchers for kids. Check out these fun versions that are all FREE for personal use: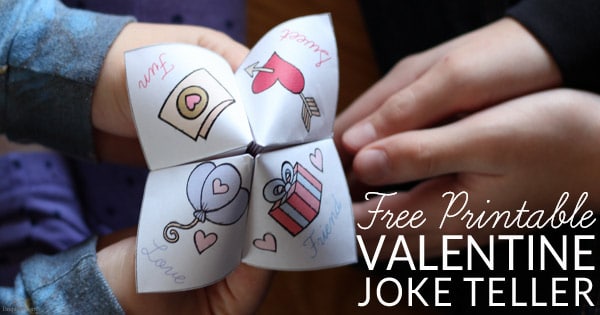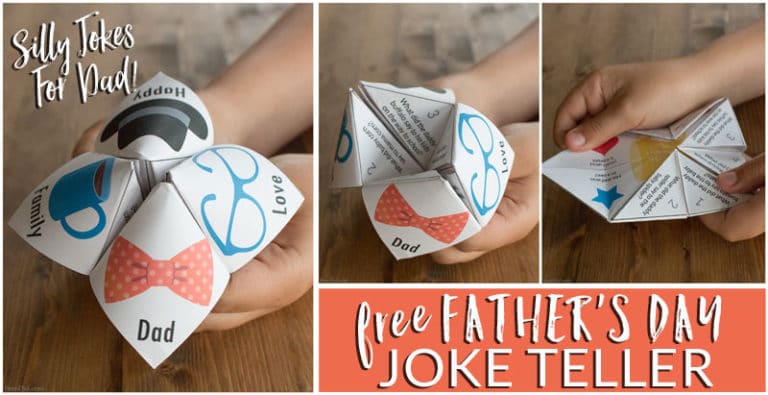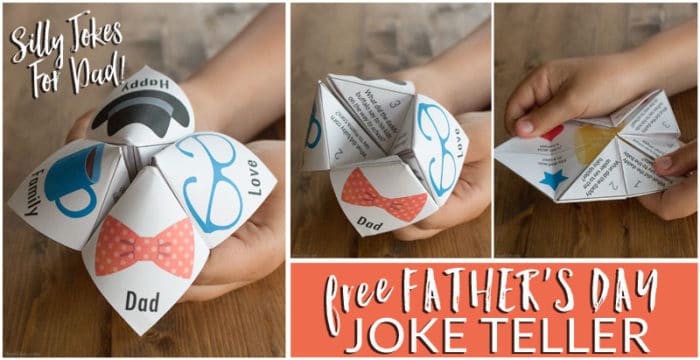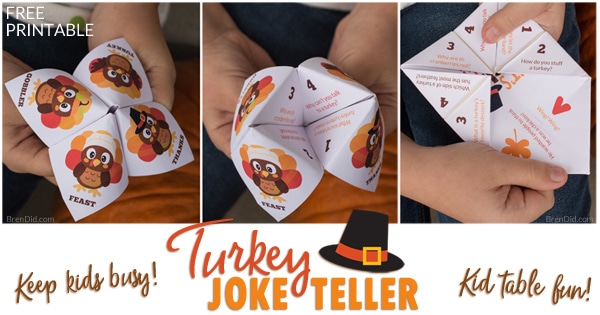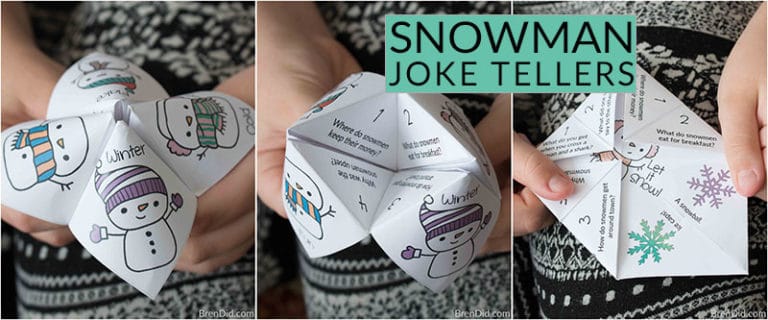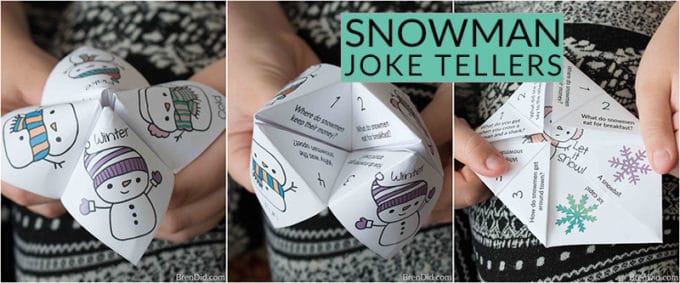 Like my easy crafts? Sign up for my free newsletter below and never miss a thing!