This easy recipe for Coconut Caramel Homemade Coffee Creamer makes delicious, non-dairy creamer with no artificial ingredients. It tastes even better than store purchased creamers that can be bad for your health.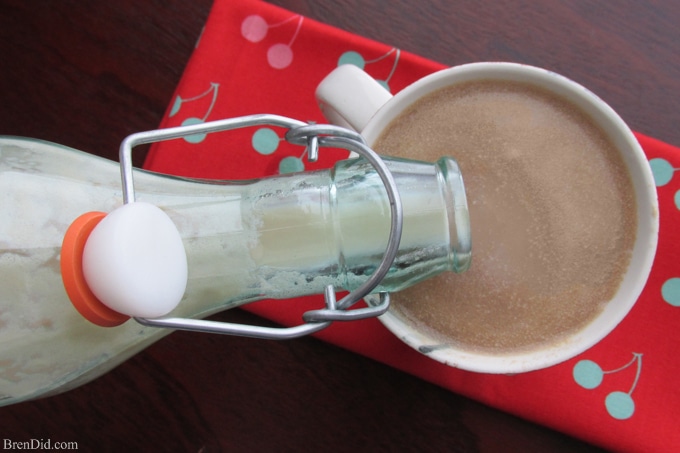 This post uses affiliate links. They don't cost you a thing and help us bring you delicious recipes.Read more in Policies & Disclosures.
Sweet Coffee Creamers
Are you a coffee lover? Adding flavored coffee creamer makes afternoon coffee into a special treat. I especially love creamers that mimic the flavors of desserts such as Girl Scout cookies. Have you see the creamer that tastes like coconut and caramel Samoas (Caramel deLites in some parts of the U.S.)?
You can purchase the Girl Scout flavored coffee creamer at your local grocery store but be warned, most of these coffee "creamers" don't contain any cream.
Artificial Ingredients Galore
They DO contain a host of bad for you ingredients including (in order listed on label): partially hydrogenated soybean and/or cottonseed oil, sodium caseinate, artificial flavors, mono- and diglycerides, dipotassium phosphate, cellulose gel, color added*, cellulose gum, carrageenan.
Here's the ingredient report card for the store-bought version:
F – Partially hydrogenated oils – Artificial trans fat created by heating and hydrogenating liquid oils to a more solid (and more saturated) form to increase shelf life and produces a more desirable consistency. Considered one of the worst additives in processed foods because they cause chronic inflammation, heart attacks, coronary disease, and weight gain.
B – Sodium caseinate – A white powdered protein that is a milk derivative Oddly enough, Coffeemate is considered "non-dairy." This claim can be made because the sodium caseinate has been so processed the FDA is no longer considers it dairy (read more at Vegetarian Paradise).
D – Artificial flavors – Artificial flavors, not from natural sources.
C – Mono and diglycerides – Synthetic fats used to bind water and oil in products making them last longer on the shelf.
C – Dipotassium Phosphate or DKP is a thickener and acid controller used to prevent coagulation. It is also used as fertilizer (Yup, fertilizer, just like on a farm!).
C – Cellulose gel or gum – A hydrated (or wet) form of cellulose often from wood or cotton (read more about it in Can You Freeze Cheese).
C (or D) – Color Added – Artificial coloring not made from natural sources.
C – Carrageenan a gel made from seaweed, used to thicken and emulsifies products. The seaweed is not concerning (seaweed is good for you), the problem is how heavily it is processed to use as a food additive. (Read more at ChrisKresser.com.)
That's an overall grade of C-. (Learn more about food additives at BeFoodSmart.com. They have a handy tool for decoding ingredient lists.)
Homemade Coffee Creamer
Coffee is the perfect afternoon pick me up on  a cold winter day, but I'm it is worth consuming all those highly processed and/or laboratory produced  ingredients. Luckily you can make an easy, non-dairy coffee cream at home to avoid these artificial ingredients!
Coconut Caramel Homemade Coffee Creamer is made with coconut milk (I use homemade and canned), brown sugar,  and coconut oil . That's it, four simple ingredients… AND it's easy to make.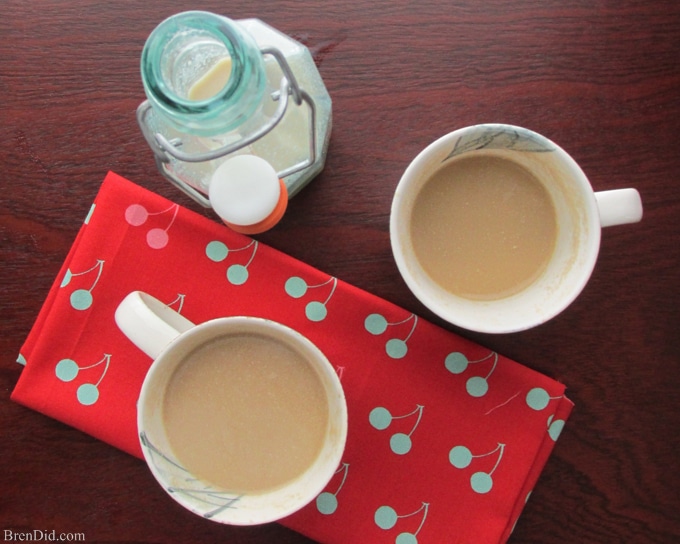 How to Make Homemade Coffee Creamer
Ingredients
Print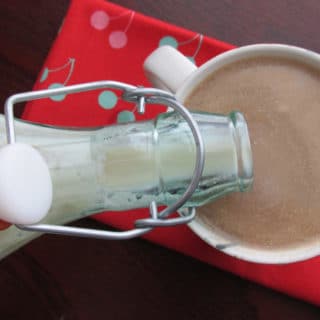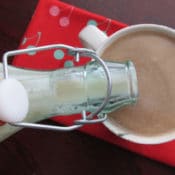 Coconut Caramel Homemade Coffee Creamer (Non-Dairy)
Author:

Prep Time:

10 minutes

Cook Time:

5 minutes

Total Time:

15 minutes

Yield:

16

(1.5 Tbsp per serving)

1

x

Category:

Beverage

Method:

Stove top

Cuisine:

American
---
Description
Easy Homemade Coffee Creamer recipe makes delicious non-dairy creamer with no artificial ingredients. It tastes like coconut caramel Girl Scout cookies and it is better for your health.
---
2 Tbsp

coconut oil

1/4 cup

brown sugar

1/4 cup

coconut milk, full fat

2 cups

coconut milk, reduced fat
---
Instructions
Melt the coconut oil, brown sugar and 1/4 cup full fat coconut milk together over medium heat and bring to a boil. Stir constantly to keep the mixture from sticking or burning. A wooden spoon works well.
Bring the mixture to a rapid boil and allow to boil for 30 seconds. Stir constantly. Remove from heat. (You have just made a simple caramel sauce!)
Slowly stir the reduced-fat coconut milk, about 1/8 of a cup at a time, to the caramel. Allow the milk to fully incorporate before adding the next 1/8 cup.
Replace the pan on the heat to warm the milk and help the caramel combine with the coconut milk. You may whisk once you have about 1 cup of milk stirred into the caramel.
Serve immediately or cool to room temperature and store  in the refrigerator, consume within 5-7 days.
---
---
Nutrition
Serving Size:

1.5 tbsp

Calories:

86
Keywords: Homemade coconut caramel creamer, homemade non-dairy coffee creamer, non-dairy cremer
Recipe Card powered by
Cost
The store-bought creamer costs $2.00 for 16 ounces. This Homemade Coffee Creamer makes approximately 18 ounces for $2.00.
Coconut oil, $0.78
Brown sugar, $0.35
Coconut milk, canned, $0.37
Coconut milk, homemade, $0.50
*Note:Cost breakdown uses organic, non-BPA, non-GMO ingredients. It would be less costly with non-organic ingredients.
Tip: The creamer is delicious with a pinch of cinnamon!
Tip #2: Harry Potter fans?
Turn this recipe into Vegan Butterbeer by increasing the milk to 4 cups. Heat to cocoa temperature then stir in 1/16-1/8 tsp of cinnamon and 2 tsp vanilla before serving.
Make a Vegan Butterbeer Latte by increasing the coconut milk to 3 cups. Heat to cocoa temperature then stir in 1/16-1/8 tsp of cinnamon, 2 tsp vanilla, and espresso or strong coffee to taste before serving. (We're Harry Potter enthusiasts and have a Butterbeer latte and Butterbeer smoothie addiction at the Bren Did homestead!)
I love making creamer I feel good about using for the same price as the artificial store-bought version!
Like my easy recipes? Sign up for my newsletter below and never miss a thing!