Laundry supplies are some of the most important cleaners in the home, but they can also be some of the most toxic. This All-Natural Homemade Stain Remover for Laundry makes a powerful stain fighter and laundry pre-treater that you can feel safe using in your home. PLUS it only cost pennies!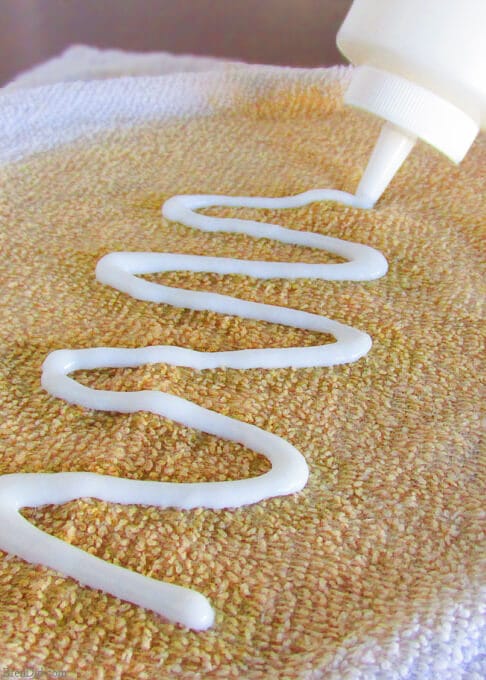 This post uses affiliate links, see Policies & Disclosures for more information. 
I've been using my homemade Laundry Detergent for several years and I love the way it cleans and the fact that it is non-toxic. However, I still wanted a non-toxic stain remover to use as a pre-treater for difficult laundry stains. 'Cause you know, kids… dogs…. and my love of chocolate.
Why I Make Homemade Laundry Supplies
A few years ago I read an article about hazardous chemicals in household products and began investigating the cleaning/household products I used on the Environmental Working Group's Consumer Guide.
I found some pretty shocking information!
For years I had been using a commercial stain treated that did a great job and cost about $5.00 for 60 ounces. But, my trusty stain remover scores a F for problems such as skin irritation and development toxicity.
Yuck! I decided I could do better.
Non-Toxic Stain Remover DIY
I adapted a recipe for liquid laundry detergent into Non-Toxic Stain Remover. I used this basic recipe from Budget 101 and replaced the ingredients that scored high in toxicity with ones that scored better.
Non-Toxic Stain Remover Cost
My new homemade stain remover rates an "A" on the EWG scale and is cost effective. I make 64 ounces for $1.11! Here's the breakdown:
Washing Soda, $0.47
 Castile Soap, $0.64
Total cost = $1.11 for 64 ounces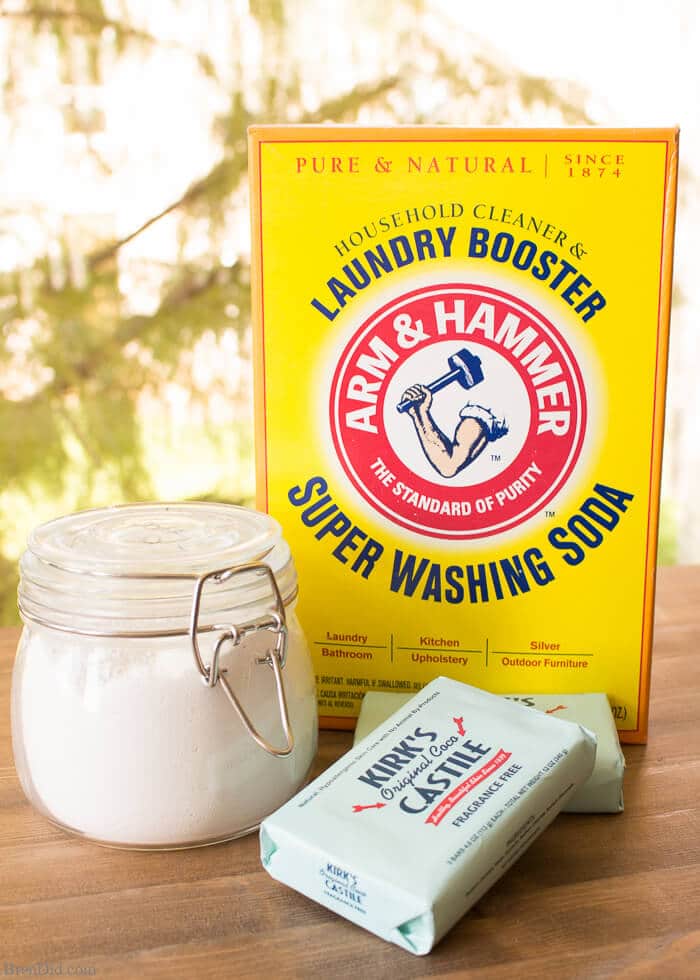 How to Make Non-Toxic Laundry Stain Remover
Ingredients
Directions
Grate or finely chop soap (1/2 bar).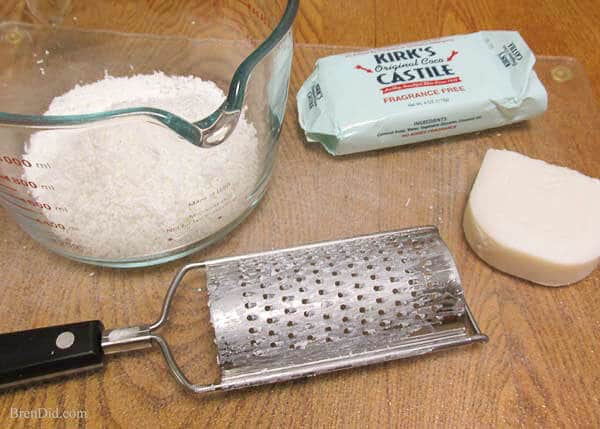 Heat 4 cups of water to boiling in 2 quart saucepan.

Add grated soap to boiling water and stir until melted (this happens quickly, about 30 seconds).
Add 1 cup washing soda and stir until fully dissolved (this takes about 2 minutes).

Pour 2 cups of soap and washing soda mixture into each quart jar or the 2 quart bowl.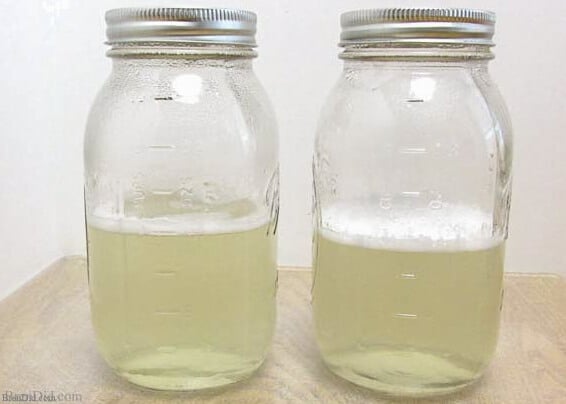 Add 2 cups of water to each jar, leaving room for blender top (or four cups to a bowl). Seal jars, shake lightly to combine and place upside down to cool. (if using bowl, stir lightly to combine and cover.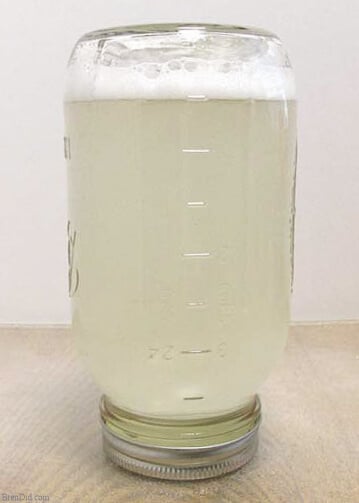 Let mixture cool until it is gelatinous and white. This takes from 4-6 hours (go do something fun).
Blend each jar to combine by attaching blender bottom to mason jar. If using bowl use a hand mixer or immersion blender to blend into a creamy mayonnaise-like sauce.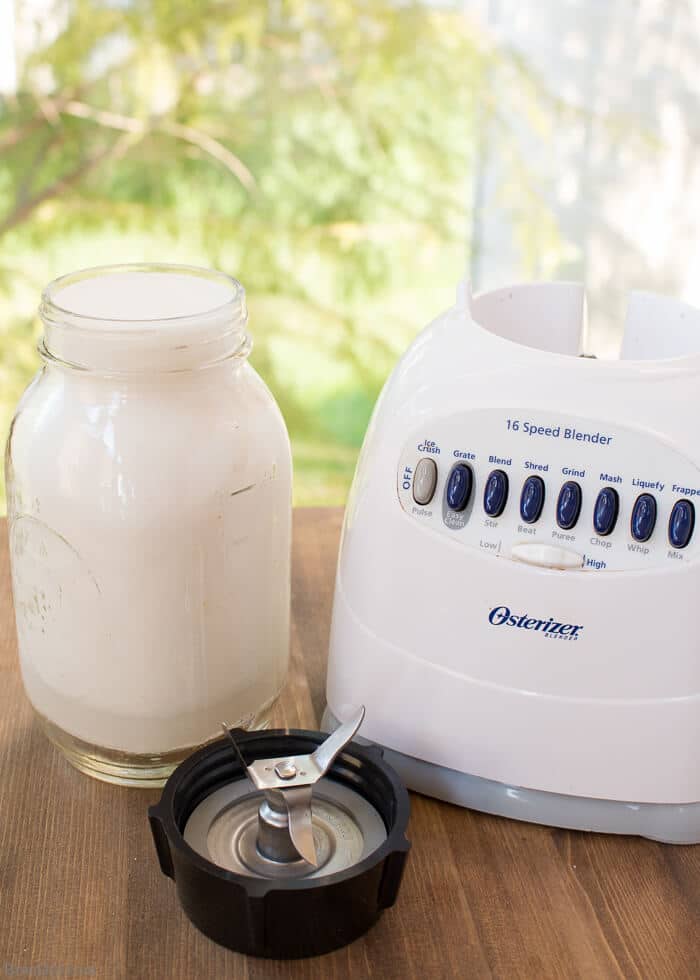 Store in a recycled soap pump or squeeze bottle for easy laundry application.
Non-Toxic Laundry Routine
Use this stain fighter on tough stains then wash you laundry with Borax Free Grade A Laundry Detergent. Fill the washer's fabric softener dispenser with Homemade Fabric Softener or white vinegar for softening.
This laundry routine is cheap and healthy plus it is keeps clothes in top shape AND you can feel good about using it in your home.
Like my all-natural laundry routine? Sign up for my newsletter below and never miss a tutorial!