I am always on the lookout for new Easter decorations and Easter party ideas. It's not always easy to find ideas for Easter decorations that are cute without being over cheesy. As you may know from ready some of my other knock off crafts and banners, I love Pottery Barn holiday decorations! (check out my PB Inspired Valentine Tea Towel and Happy Halloween Banner.)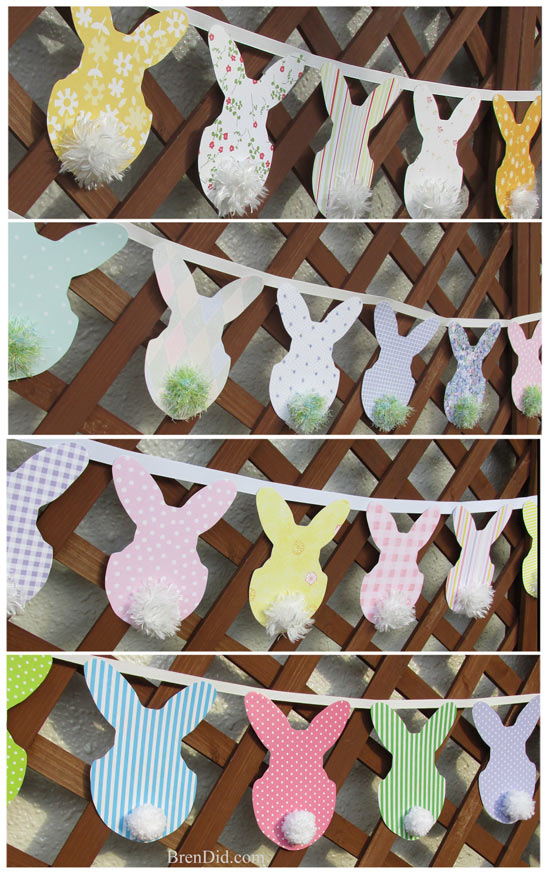 This post uses affiliate links. They don't cost you a thing and help us bring you creative projects. Read more in Policies & Disclosures.
Easter Garland
Pottery Barn's 2014 Easter decorations featured an adorable Easter bunnies garland. I saw it online as I was searching for ideas for an Easter brunch that I was helping to plan. Unfortunately, the $26.00 price tag was WAY out of the price range for decorations. We would need yards and yards of bunnies!
I knew I could make a similar garland for a much lower price when I read the product description. Their banner was made our of fabric covered card stock. The words "card stock" made me very happy, I love DIY paper crafts because they are simple and affordable.
For this project I used printed card stock from my scrapbook stash, white grosgrain ribbon and minky faux fur trim or yarn to make pom pom tails. It was an easy project and it is adorable – all for the bargain price of $5.30.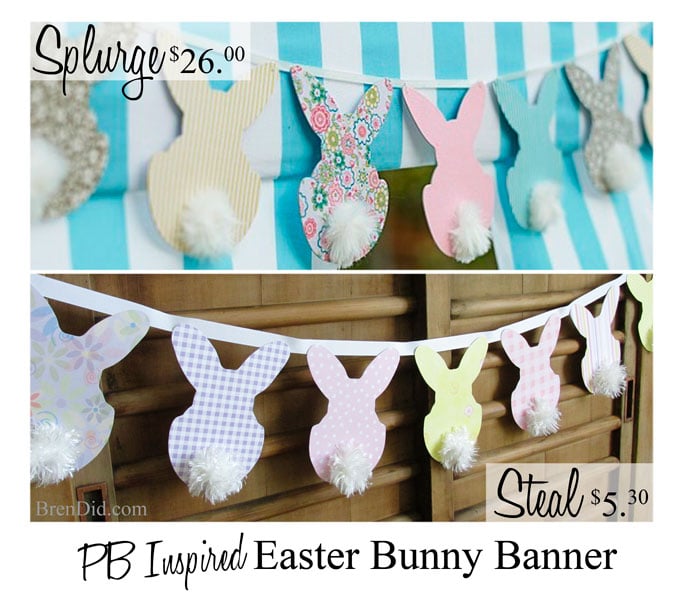 I'll admit I have gone a little bit Easter bunny crazy and the banners are multiplying like, well, rabbits. Try making one or a few for your Easter décor. Another idea for Easter decorations is to make the Easter bunnies and use them individually as place cards on your Easter dinner table or write menu items on them to use as Easter buffet labels. If you need table decor ideas check out my matching Easter Buuny Napkin Rings and other Easter craft ideas.
 How to Make an Easter Bunnies Garland 
Supplies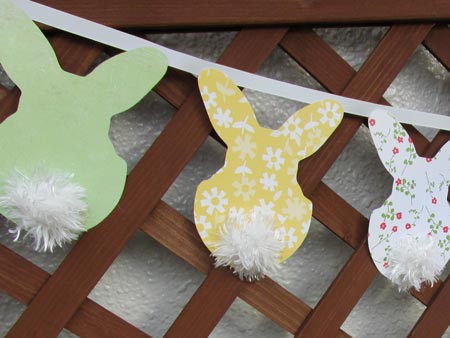 Easter Bunnies Garland Directions
Print bunny cutouts on the wrong side of your card stock.
Cut out 13 bunnies (download Easter Bunny Banner Pattern or Easter Bunny Banner file for Silhouette)
Choose your style of bunny tail (minky fabric, craft yard or eyelash yarn).

Minky Yarn: If using minky fabric for the bunny tails, follow the steps to make pom-poms using minky.
*I have used red thread for demonstration purposes, use thread that matches your trim.
Craft Yarn: Here's how to make pom poms with yarn.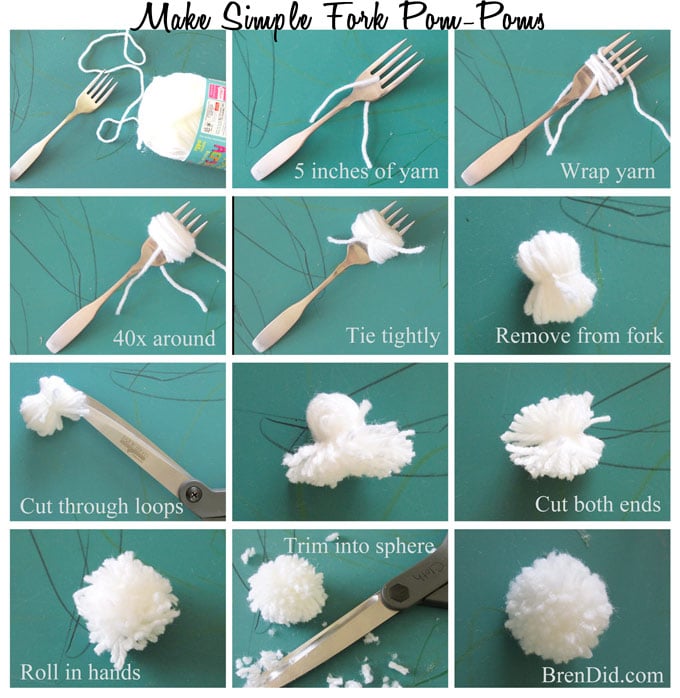 Eyelash Yarn: If using eyelash yarn follow the steps to make pom-pom with yarn.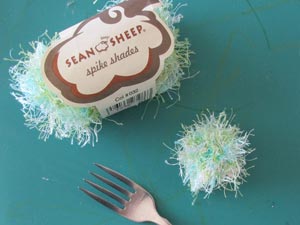 Get your glue gun ready for the next steps! Glue pom-poms tails to bunnies using glue gun.

Glue end of the ribbon under using a glue gun. Next, make a hanging loop at end of the ribbon using a glue gun and a pencil as a guide. Then starting 5 inches from the end of the ribbon, glue bunnies to the ribbon, leave .75 inches between bunnies.

Enjoy your banner.
Easter Bunnies Garland Cost
Cardstock $.50 a sheet for 7 sheets = $3.50
Grosgrain ribbon, 96 inches = $0.50
Minky faux fur trim, 26 inches = $1.20
Glue stick = $0.10
Total cost $5.30
Love this Easter Bunny Banner? Check out my matching Easter Bunny Napkin Rings.