Nothing says, "I love you," like a homemade Valentine treat, but most of the ideas found online are loaded with refined sugar and artificial colors. These easy and healthy Valentine's Day treats are perfect for school parties, an after school snack, or a Valentine's Day play date.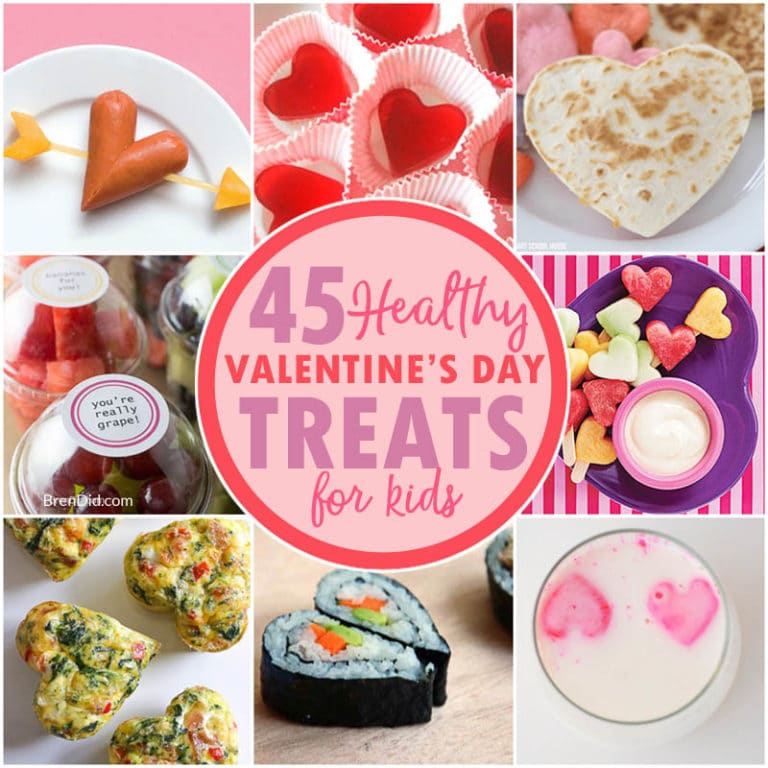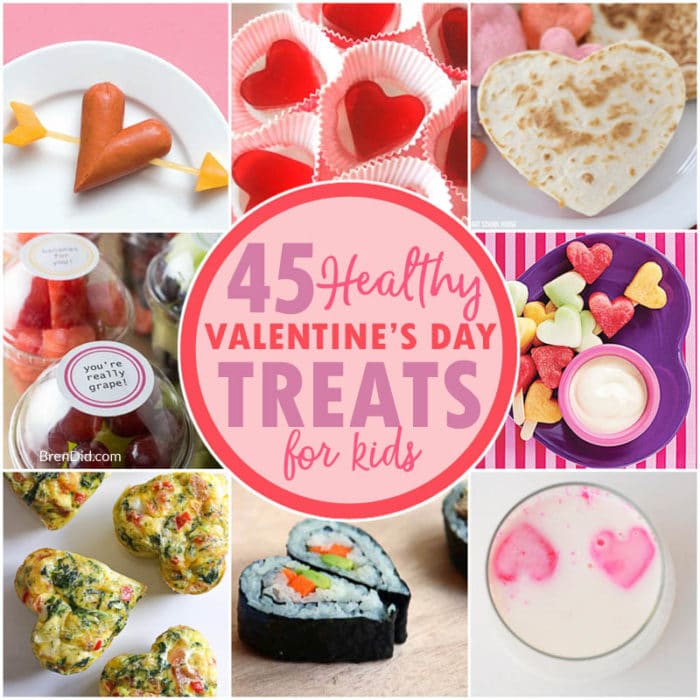 Healthy Valentine's Day Treats For Kids
I love making fun holiday treats… but want them to be nutritious! I've gathered 45 healthy Valentine's Day Treats that you can feel good about making and serving to your loved ones.
| | |
| --- | --- |
| | Strawberry Roses by Local Adventurer – This creative tutorial turns fresh strawberries into a bouquet of roses. Adorable! |
| | Valentine Vegetables Green Salad by Joan and Sue – Use a tiny cookie cutter to create a salad that shows the love. |
| | Silly Valentine Fruit Labels by Bren Did – These free printable Valentine stickers can be used to label fruit cups, fresh fruit, sack lunches and more! |
| | Watermelon Heart Pops by Craft-O-Maniac – Fresh melon looks amazing when it is dressed up with popsicle sticks and a bit of washi tape. |
| | Frozen Strawberry and Yogurt Treats by Living Rich with Coupons – Fresh fruit + yogurt = a creamy delicious Valentine treat that you can feel good about serving. |
| | Heart Shaped Hard Boiled Eggs by Anna the Red – This easy Japanese technique uses a chopstick to make a cute heart shaped egg! |
| | Fruit Heart Kebabs and Dip by Parents magazine – These fruit hearts are a double delight for kids who love dipping sauces! |
| | Easy Carrot Hearts by Recipe by Photo – Slice a few carrots into heart shapes to dress up your Valentine salad or sack lunch. No cookie cutter needed! |
| | Piece if My Heart Sushi by Holly's Helpings – Delight your favorite sushi lover with these heart shaped sushi rolls. You choose the filling. |
| | Loaded Heart Omelet Muffins by Skinny Taste – Whip up a sweet Valentine breakfast of loaded baked egg omelets. |
| | Roasted Heart Potatoes by Haniela's – These crispy roasted potatoes are the perfect side dish for your Valentine's Day dinner. |
| | Sweet & Simple Heart Lunch by Lisa Storms– Whip up a Valentine lunch for your little Valentine. They will love the special treat. |
| | Homemade Cheese Cracker Hearts by Bren Did – Cheese crackers are 100% more delicious when homemade. This quick snack idea will delight your sweetie. |
| | Heart Shaped Pizza by Babble – We love making pizza as a family. Make them heart shaped for a fun Valentine meal. |
| | Heart Shaped Fruit Ice by Babble – Freeze fruit shapes into ice cubes then dd them to sparkling water to make a special Valentine's Day beverage. |
| | Heart Shaped Quesadilla by Smart School House – Everyone loves a quesadilla, take it up a notch by making it heart shaped! |
| | Valentine Cheese and Crackers by Two Kids Cooking – You kids will love making and eating this Valentine snack platter. |
| | Strawberry Heart Muffins from Seeking Shade – Whip up this tasty and portable Valentine breakfast in just minutes. |
| | Valentine Fruit Platter by Mom Endeavors – Add a health dessert to your Valentine meal. This fruit platter with Orange Whipped Cream looks lovely. |
| | Homemade Heart Graham Crackers by Love to Be In the Kitchen – Kids love graham crackers! Make this homemade heart version for a sweet Valentine snack. |
| | Valentine Snack Board by Foxes Love Lemons – Host a Valentine play date and serve this simple snack platter that both kids and parents will love. |
| | Tomato & Cheese Tulip Bouquet by Biblia Smakow – The instruction are not in English, but the photos are easy to understand: cut an X shape in a grape tomato, stuff with cottage cheese, and attach a chive stem. |
| | XOXO Pancakes by Parents magazine – Make a family favorite into Valentine shapes. These pancakes show the love. |
| | Strawberries and Cream Gummies by Pretty Wee Things – These sugar free strawberries and cream gummies are great for digestive health. Adorable! |
| | Heart Fruit Arrows by Babble – Be Cupid and send these fresh fruit arrows to someone you love. |
| | All-Natural Gelatin Heart Jellies by No Time for Flash Cards – Juice and gelatin make adorable Valentine snacks. No sugar filled jiggly gelatin mix needed. |
| | Heart Mini Caprese Skewers by Skinny Taste – Grape tomatoes, basil, and mini mozzarella balls are layered to make Caprese salad on a stick. Cute and tasty! |
| | Dried Strawberry Slices by Babble – Dried strawberry slices make a tasty and simple heart snack for Valentine's Day. |
| | Love Letter Fruit Notes by Cake Whiz – Use edible markers to dress up fresh fruit for a fun lunch box treat. |
| | Easy Bacon Hearts by Rachel Schultz – Your bacon lover will be delighted with this easy breakfast treat! |
| | Ombré FroYo Bites by Babble – It takes just two ingredients (your favorite vanilla yogurt and fresh raspberries) to make these cute and healthy bon bons. |
| | Shot Through the Heart Sausages by Fab DIY – Use a toothpick to turn a sausage or hot dog into this classic sign of Valentine's Day. |
| | Tasty Heart Sandwiches by Everyday Dishes – Use a large heart-shaped cookie cutter and your favorite ingredients to make an easy Valentine lunch. |
| | Soft Pretzel Hearts by Babble – Your carb loving Valentine will be delighted with these homemade heat shaped soft pretzels. |
| | Simple Heart Shaped Vegetables by Babble – Slice grape tomatoes and baby carrots on the diagonal, then flip one side and reconnect. Ta da >> heart veggies! |
| | Strawberry Valentine Love Bugs by Wing It Vegan – Turn chocolate chips and fresh strawberries into love bugs for your love bugs! |
| | Pink Milk Heart Ice Cubes by A Subtle Revelry – Kids love pink milk! Turn milk into a Valentine treat with a heart ice cube tray and this easy tutorial. |
| | Perfect Heart Pancakes by Roxy's Kitchen – This easy Valentine breakfast idea makes perfectly shaped pancakes with a metal cookie cutter. |
| | Heart Shaped Toad in a Hole by Roxy's Kitchen – Kids love making toast and eggs at the same time! The heat shape makes it perfect for a Valentine breakfast. |
| | Best Dressed Valentine Smoothie by Zoom Yummy – Dress up your favorite smoothie with strawberry hearts and layers. It's a perfect Valentine treat! |
| | No Flour, No Sugar, No Fat Chocolate Peanut Butter Muffins by Bren Did – Get you chocolate fix the healthy way! This easy recipe is perfect for a Valentine snack or easy dessert. |
| | Strawberry Heart Kebabs by Modern Parents Messy Kids – Layer strawberries and grapes on skewer to make these party worthy Valentine snacks. |
| | Valentine Apple Chips by Bren Did – These oven baked apple chips are easy to make ahead for a tasty apple cinnamon Valentine snack. |
| | Bee My Valentine Healthy No Bake Cookies by Bren Did – Kids love to help make these easy no-bake Honey Bee Cookies. They contain no refined sugar and are full of peanut butter & chocolate flavor! |
| | Heart Shaped Strawberry Fruit Leather by Pickle Bums – Puree strawberries then dry or dehydrate into fruit leather. Easy & tasty! |
Skip the candy this year and make one of these healthy Valentine's Day treats for your sweetheart. You'll love the healthy ingredients, they'll love the treat!
Like my easy recipes and free printables? Sign up for my newsletter below and never miss a thing!