A fun family night seems like the perfect end to a busy week, but setting up and playing a game is more work than you want and heading out to the movies is a costly hassle. Stay at home, relax, and learn how to plan a family movie night!
Disclosure: Netflix provided me with a streaming device and service in return for writing about their service. The opinions and free printables in this post are my own.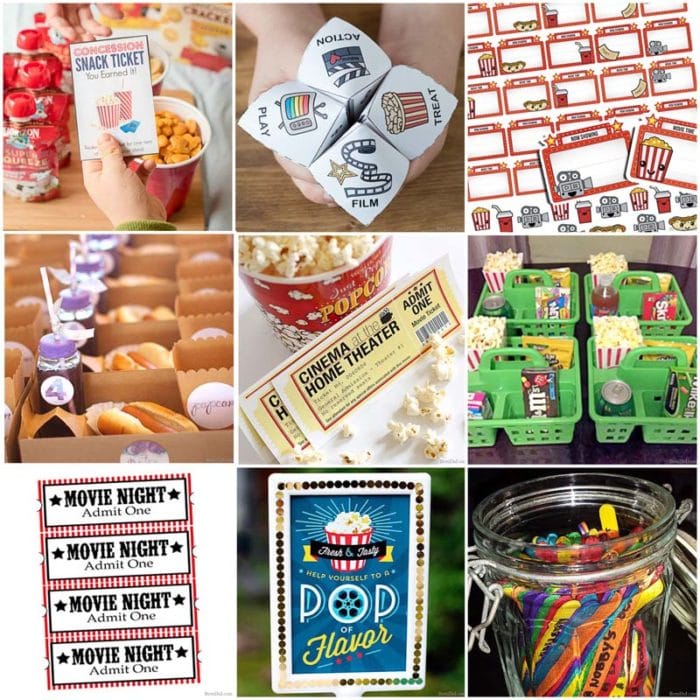 What is Family Movie Night?
Family movie night is an at home party where the who family comes together to watch a movie and spend time together. It's a great way to spend time as a family and connect with kids through favorite movies.

How to Plan a Family Movie Night
A simple movie night can be planned in 3 easy steps:
Select a Movie
Picking a movie everyone will love can be the most challenging part of family movie night! We use our Netflix streaming account to disclover lots of fun choices and a free printable movie selector to settle movie disputes.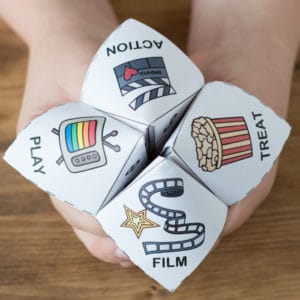 You can also draw titles a jar of popscicle sticks with movie titles. Jot movie ideas onto a stick whever you get an idea and you;ll be ready for movie night! (Family Fun Jar idea from The Organized Housewife)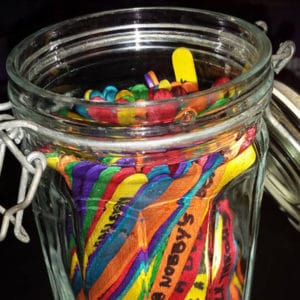 Pick Movie Night Treats
Movie night treats can be as a simple pizza dinner. a premovie pretzel making session, or a popcorn bar. The sky is the limit. Check out these creative idea for snacks: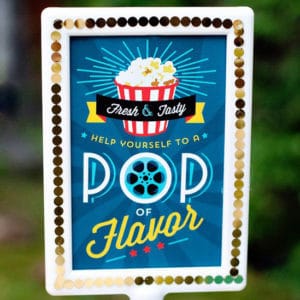 This adorable popcorn bar from Hostess with the Mostess comes with free printables!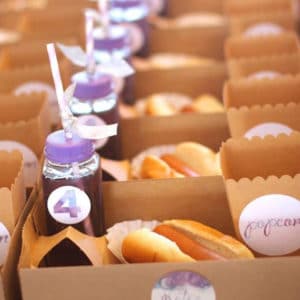 Make a cardboard box into a "takeout" dinner basket like this easy example from Kara's Party Ideas.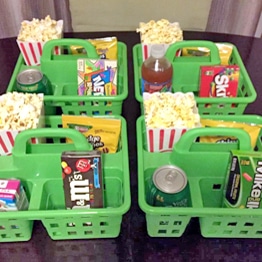 Use a shower caddy to keep snacks neat, organized and spill free. Checkout the easy idea from One Crazy House.
Gather Your Family
This is the easy part of movie night! Grab the kids, a favorite blanket, and a stuffed animal or two then snuggle up on the couch for movie time!
Build the excitement with these adorable planner stickers from Lovely Planner: stick one on the family calendar and add them to kids' luch boxes to add to the fun.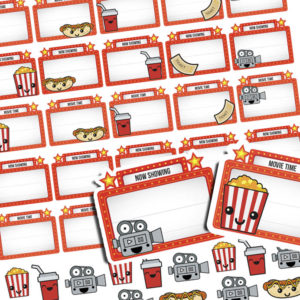 Family Movie Night Free Printables
On movie night it's awesome just to spend time together! However, if you love to go all out you can add one of these four extra special touches to your family movie night:
Send Movie Night Invitations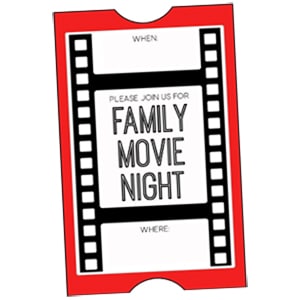 Grab the free printable movie ticket invitations HERE and "send" them to your family members.
Add a Movie Night Sign or Banner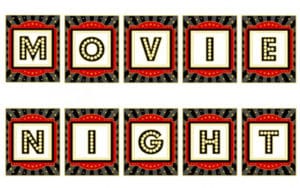 This free printable banner and sign from Catch My Party can be used again and again!
Set Up a "Concession Stand"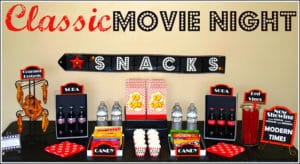 Use a table and these free printables from Thirty Handmade Days to make a classic concession stand.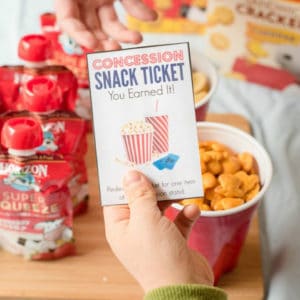 Aren't these free printable concession stand vouchers from Living Well Mom adorable?
Operate a Ticket Booth
Print some paper tickets, grab some play money, and a calculator or play cash register and let your kids "sell" tickets!
Grab these classic free printable tickets from Sweet Daisy Designs.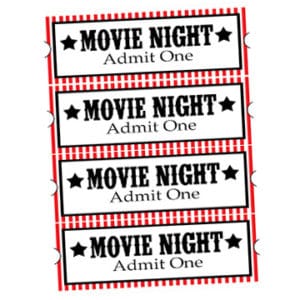 Or this modern version from Dabbles & Babbles.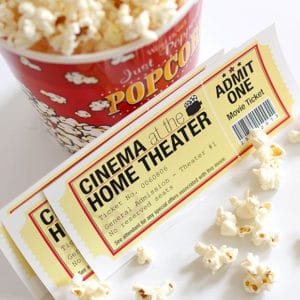 I hope these ideas inspire a fun family movie night at your house!
Like my free printables? Sign up for my free newsletter below and never miss a thing!