Have you ever tried making lip gloss? All-Natural Chocolate Cupcake Lip Balm is a fun DIY project that only takes a few minutes PLUS it's a non-toxic lip balm that contains no artificial coloring or artificial scents and flavors. You've got to love an easy, all-natural craft project that's cheap!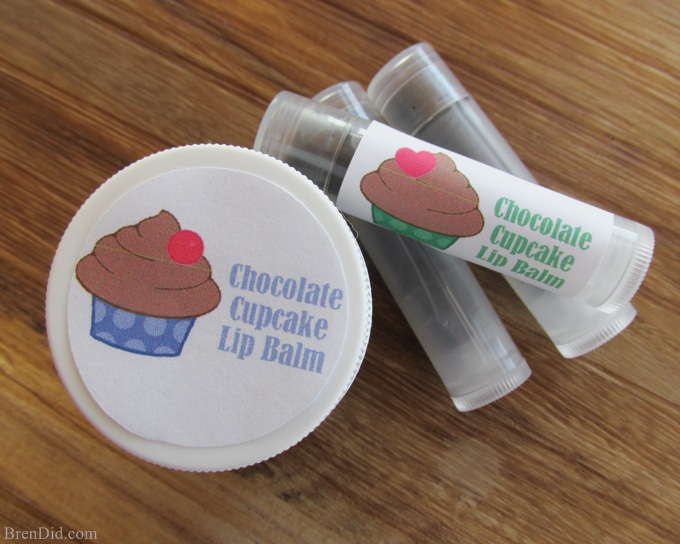 The Love of Cute Lip Balm
I'm a 70s baby and was in elementary school in the era of lace-up roller skates, avocado green shag carpet, Holly Hobby sheets, and Bonnie Bell Lip Smackers in a slide cover tin.
When my daughter entered elementary school I was startled to discover Julie, the groovy 70s girl who is classified as a "historical" American girl doll. (Yikes, I'm historical!!!) … but I secretly love Julie and all her groovy accessories.
I also wanted my daughter to enjoy some of the things I loved as an elementary schooler… like yummy, ultra-cute lip gloss.
Do you remember Lip Smackers? The flavored lip glosses that came in a rainbow of colors and flavors? It seemed like every flavor from Dr. Pepper to Cotton Candy came in those tubes and tins, and I loved them all!
A Better Flavored Lip Balm
My daughter also loves flavored and scented lip glosses. But as a mom in 2017, I don't want her using unhealthy products that contain parabens, artificial fragrances, artificial coloring, or a host of other unhealthy ingredients that can act as allergens, endocrine disruptors, or carcinogens.
These substances can cause developmental or reproductive toxicity, early-onset puberty, and/or cellular level changes. Call me CRAZY but I'm quite convinced that fun lip gloss flavors are NOT worth early-onset puberty or breast cancer.
I still wanted to share the thrill of flavored lip gloss with my daughter so we set out to make a lip gloss that recreates the fun scents and flavors of my youth, but uses only all-natural, non-toxic ingredients.
The results of our experiment are amazing… Chocolate Cupcake Lip Balm and Sweet Strawberry Lip Balm. They're safe enough to mix up in your own kitchen, smell and tastes absolutely delicious, and are affordable to make!
All-Natural Chocolate Cupcake Lip Balm Recipe
1 Tbsp grated beeswax or beeswax pellets (white or yellow), $0.70
1 Tbsp coconut oil, $0.45
1 Tbsp almond oil, $0.60
1 tbsp cocoa butter (grated), $0.83
1 tsp honey, $0.06
1 tsp cocoa powder, $0.06
1/8 tsp vitamin E oil, $0.05
1/8 tsp almond extract, $0.09
Total cost of ingredients = $2.84
Chocolate Cupcake Lip Balm Directions
Place the beeswax, coconut oil, almond oil, and cocoa butter in a small, heat-safe metal or glass container. I like to use a small Mason jar.
Set the container in a pan of slowly boiling water that comes about halfway up the side of your container. Be very careful not to get any water into your mixture. Keep the water simmering and stir the mixture occasionally with a wooden chopstick, unused popsicle stick, or metal spoon until just melted.
Remove pan of water from the heat and take the container out of the pan. Immediately stir in the honey, cocoa powder, vitamin e oil, and almond extract. Make sure all ingredients are fully incorporated and smooth. You can place the container back in the hot water if you need to melt it again to get all ingredients fully blended.
Carefully pour the mixture into clean lip balm pots, tubes, or tins and allow it to cool completely. (A slight depression will form in the center as the balm cools, you can reserve some of the melted balm to fill the center if you want the surface to be even. Leave a teaspoon or two of balm in the glass jar and reheat it to add to the tubes or pot.)
5. Download and print a free printable label, if desired.
DIY Lip Balm Tips
Use the balm within 3 months. Vitamin E acts as a natural preservative, but it is still all-natural.
Make the balm in small batches to make sure it is fresh.
Be careful of leaving the lip balm in a hot car, windowsill, or clothing pocket when they are being washed and dried. Like all lip balms, this mixture will melt into a greasy puddle.
All-Natural Chocolate Cupcake Lip Balm Costs
This recipe makes 2 -1 oz jars or about 8 – 0.15 oz tubes of lip balm (I made 1 jar and 3 tubes). It costs approximately $2.50 per 1 oz jar or $0.65 a tube. (This includes the cost of $0.30 for an empty lip gloss tube or $1.10 for a glass jar.)
Bonnie Bell lip gloss comes in a tube and costs about $1.80 per tube or $14.40 for 8 tubes.
That's a savings of $12!
Have you ever tried making your own bath and beauty products? Make sure you check out all my natural bath and body tutorials. If you love cupcakes check out my cupcake pom-poms!