This pom pom cupcake bookmark craft with free printable Valentine cards will charm your sweetie! Bookmarks are more fun when they look like something fun and exciting to kids… cupcakes!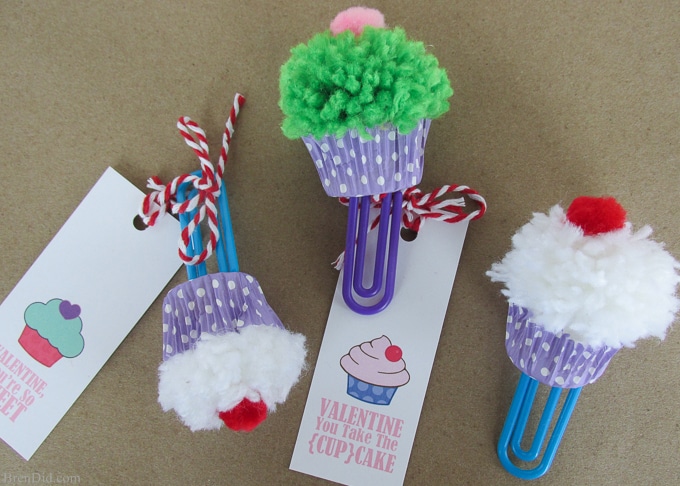 This post uses affiliate links. They don't cost you a thing and help us bring you creative projects. Read more in Policies & Disclosures.
Making Valentines
I love creating homemade Valentines with my kiddos. It's a fun way to spend an afternoon together. We can sit and talk about what's going on at school or just listen to music and joke around while we create.
There is just something about a Valentine's Day party that says "homemade craft" to me. Maybe it's that homemade Valentine gifts seem so much more personal than boxes of store-bought cards. 
Pom Pom Cupcakes
One of our favorite, kid-friendly crafts is pom poms. Pom poms are easy for kids to make and can be used all sorts of ways. (Have you see the adorable turkeys we made for Thanksgiving, our Easter bunny tails, or our pom pom flowers?).
How to Make Pom Pom Bookmarks
This year we decided to turn pom poms into a Valentine's Day craft. Bookmarks make a great kids-friendly (but non-candy) Valentine treat.
Supplies
This craft uses a few simple supplies:
Yarn (medium weight cotton or synthetic that is affordable)
Large paper clips (at least 2 inches long, metal or plastic)
Cardstock for reinforcing wrappers
Corrugated cardboard (optional)
Mini pom poms for toppers (about ¼ inch in diameter)
Hot glue or school glue
White cardstock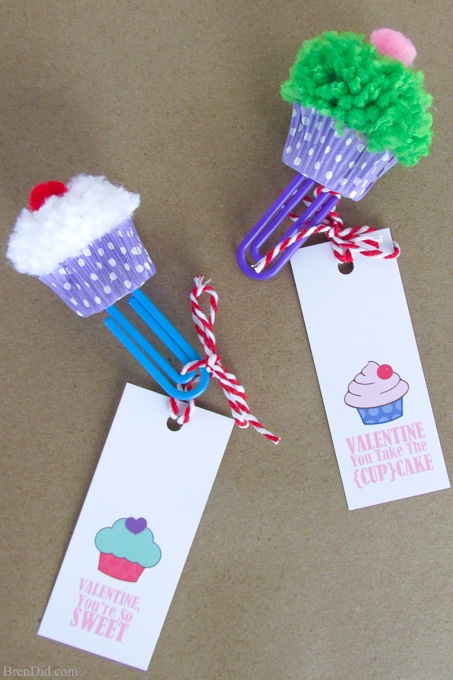 Directions
Make yarn pom poms that are approximately 2.5 inches in diameter. How to make pom poms:

Cut a 3×3 square of cardboard to use as a pattern (you can also use your hand or a large serving fork).
Wrap one end of the cardboard 50 times with yarn, keep the yarn in a small area.
Slip the yarn off of cardboard and tie center tightly with a 12 inches long piece of yarn. Turn yarn over and tie again.
Cut loops on each end. Be careful not to cut the center tie or the long ends of the tie.
Roll the pom pom in your hands to shape it in a sphere, Rolling the pom pom in your hands also unravels the yarn a bit and make the pom pom more fluffy.
Trim the pom pom into a sphere. Roll in your hands again as you cut to check areas that need more trimming. (Remember not to cut the long tie!)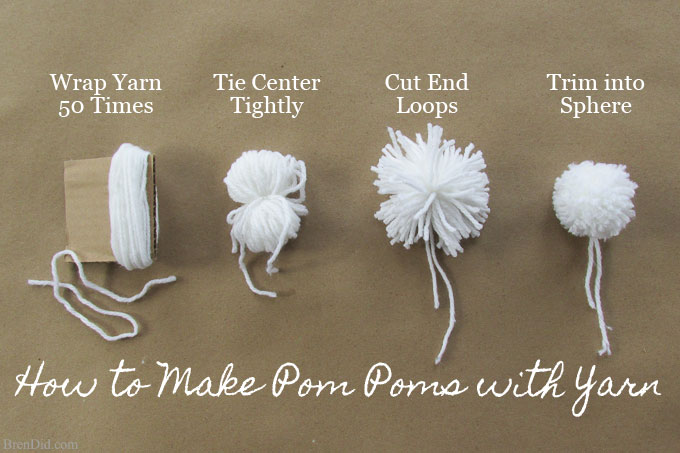 Reinforce the bottom and sides of the cupcake wrapper.

Cut a piece of cardstock the size of the bottom of your cupcake wrapper. Glue the circle into the center of the wrapper using your choice of adhesive (this makes the bookmark stronger).
Poke two holes through the bottom of the cardstock and cupcake wrapper using a thick needle of metal tool.
Cut a piece of cardstock the diameter of your cupcake wrapper (approx. 3 inches by ¼ inch).
Glue the ring onto the sides of the wrapper using your choice of adhesive. (This keeps the wrapper from being stretched out by the pom pom and makes it look more like a real cupcake.)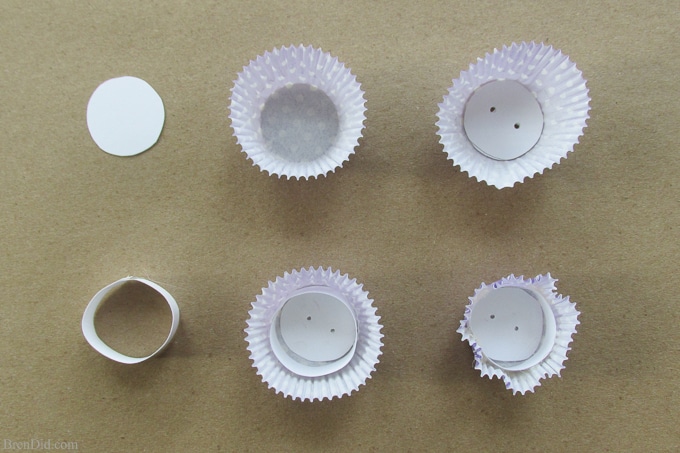 Poke the paper clip through one hole in the bottom of the wrapper. (This is a bit hard to do, but gets easier with practice. Young kids may need help.)
Hook the long yarn tail from your pom pom under the paperclip then poke the paperclip through the second hole and down through the wrapper.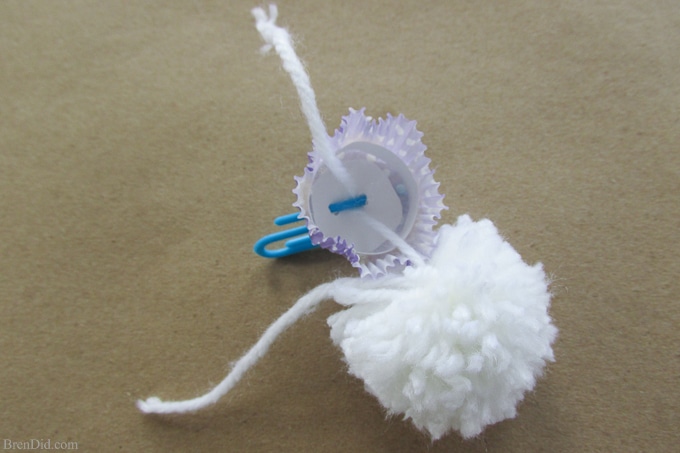 Tie the pom pom tightly to the paperclip using the yarn tail.
Knot the yarn again and trim the ends so they fit inside the wrapper and cannot be seen. Rotate the paper clip until the second bend is inside the wrapper. Make sure you can attach your clip to a piece of paper.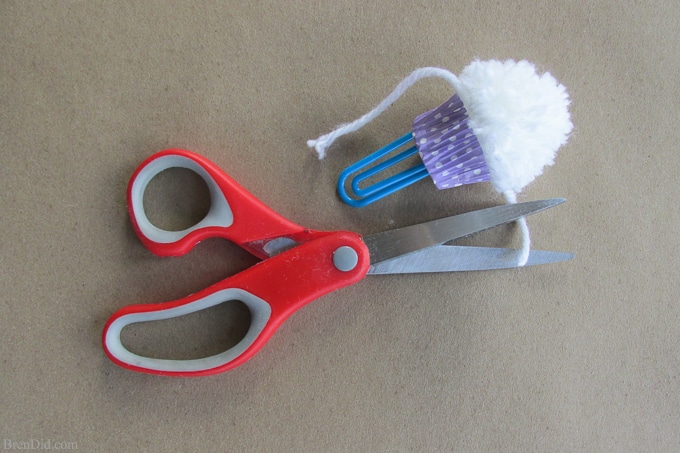 Glue a mini pom pom to the top of the yarn pom pom.
Attach a free printable Valentine Card to each bookmark. You can use bakers twine or simply hook the bookmark to the tag.
Enjoy giving your homemade Valentine crafts to all your Valentines!
Like my pom pom crafts? Sign up for free newsletter below and never miss a thing!