Don't throw out your recycling, reuse it to make one (or several) of these amazing upcycled home décor items. Don't you just love free craft supplies?.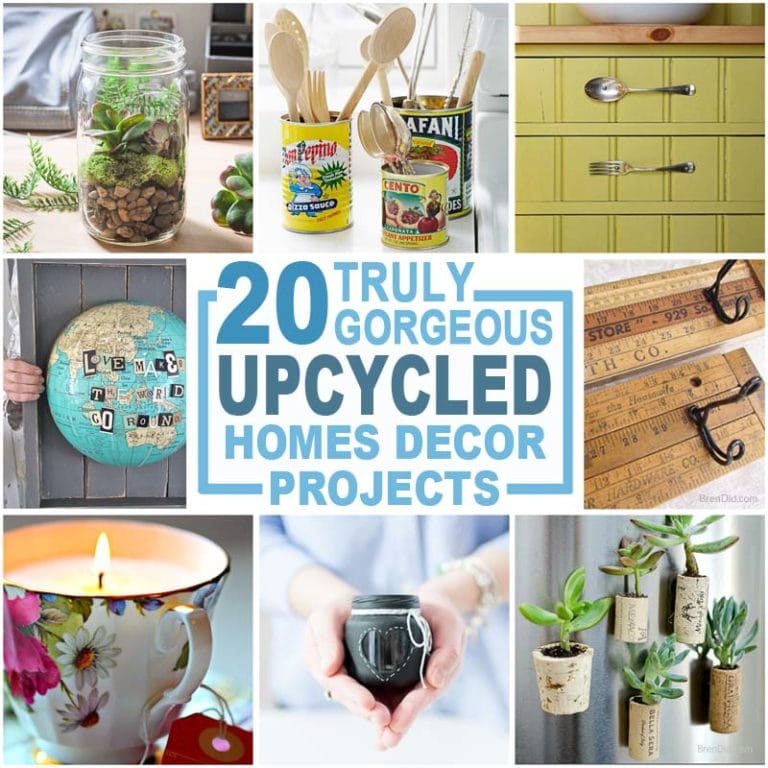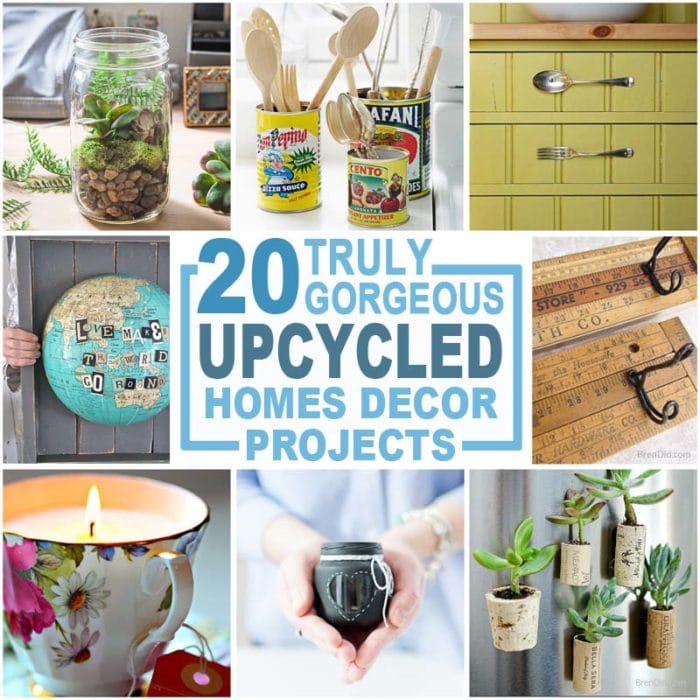 Tin cans, glass bottles, jars and cork can pile up fast! With a little imagination, these used up household items can be used to make beautiful home décor items that you'll love.
Upcycled Home Decor Items
| | |
| --- | --- |
| | Upcycled Jar Terrariums from Oh My Creative – You'd never guess that these captivating terrariums were once full of food! Check out all the gorgeous planting ideas. |
| | Colorful Can Utensil Holders from Sweet Paul – Lovely tin cans are the perfect way to keep your utensils at the ready. Get the easy tip for preventing rust. |
| | Tea Cup Candles from Budget Savy Diva – Vintage tea cups are easy to turn into gorgeous candles (and you can use the tea cup again and again!) |
| | Wine Cork Floor Mat from Think Crafts – This gorgeous (and waterproof) mat is perfect for the bath or kitchen. Start saving your corks! |
| | Tin Can Lanterns from Bren Did – Show the love with these tin lanterns that are perfect for the porch or mantle. Make one or a dozen, they're practically free! |
| | Kitchy Silverware Drawer Pulls from Tiny House Blog – Kitchen drawers look extra special when they accented with vintage silverware hardware. |
| | Love Make the World Go Round Globe Art from Patina White – Globe decor meets pallet upcycling in this creative hanging art piece. |
| | Hidden Treasures Book Box from Do It Yourself Magazine – Turn a vintage volume into bedside table decor. This special box would also make a lovely gift. |
| | Rustic Rope Storage Baskets from Living Well Mom – These handy and attractive storage baskets are made from cardboard boxes and rope. Amazing! |
| | Modern Spotlight Can Light from RecyclArt – This unique lamp really make a recycled tin can shine! It's a fun DIY (despite the terrible pun)! |
| | Get Growing Cork Magnets from It All Started with Paint – Corks are turned into adorable miniature planters to spruce up your fridge. |
| | Splendidly Broken Kintsugi Plates from Sweet Paul – The Japanese art of kintsugi is the repair of broken china or pottery with gold! Learn the easy art. |
| | Give Me an Inch Coat Hooks from My Salvaged Treasures – These special coat hooks are made from vintage yardsticks and recycled coat hooks. |
| | Sweet & Simple Bottle Lamp from Lana Red Studio– The clean lines of this upcycled lamp make it perfect for any room. You'll want more than one. |
| | Pierced Paper Lanterns from A Piece of Rainbow – These simple paper lanterns are made with plastic water bottles. The pattern can be customized to any room or season. |
| | Rolling Pin Towel Bar from Olive Bites – A vintage rolling pin dresses up a kitchen island and makes the perfect towel holder. |
| | Bug Repellent Bottle Lanterns from She Knows – Upcycled bottle lanterns dress up your deck, light the space, and keep the bug away. Perfect! |
| | Whole Wide World Map Frame from Martha Stewart Weddings – Vintage or recycled maps make the perfect mat for simple frames. Adds a touch of color and meaning to special photos. |
| | Chalkboard Candle Holders by Heart Love Always – Mask and paint glass jars to make centerpieces for any occasion. |
| | Upscale Battery Recycling from Lil Blue Boo – You won't mind seeing the recycling when it's in such an attractive container. Make one or many. |
MORE RECYCLED CRAFTS
Want more recycled craft inspiration? Check out these gorgeous upcycled diy lanterns made from glass jars, cardboard boxes, water bottles, and more!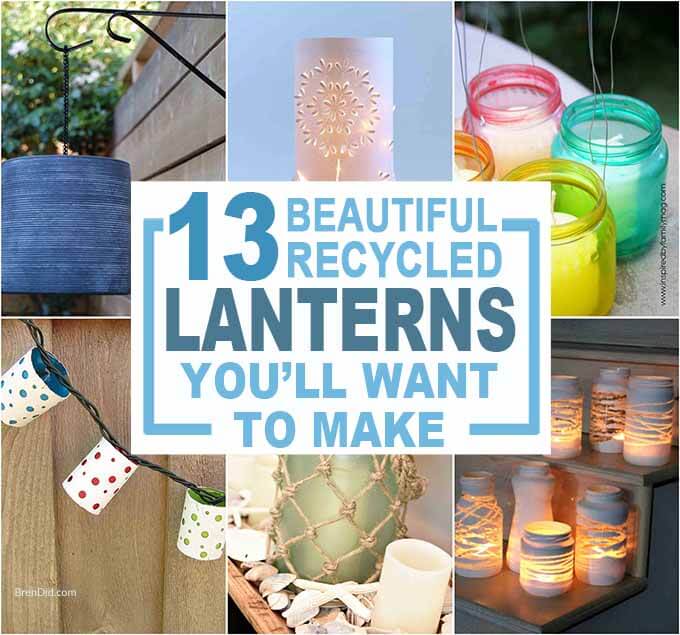 I hope these gorgeous ideas will inspire you to make some fun new home decor. You'll love the project and keep these free craft supplies out of the dump!
Like my easy crafts and free printables? Sign up for my newsletter below and never miss a thing!