Rosemary Infused Olive Oil Bon Bons are a solid homemade lotion bar recipe that is shaped into tiny lotion bars or bon bons. The recipe is made with organic olive oil infused with fresh herbs, it is extremely moisturizing and can be used all over your body — it's even good on lips!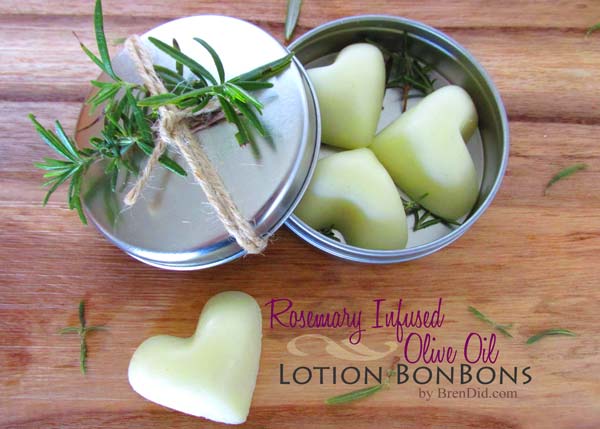 This post uses affiliate links. They don't cost you a thing and help us bring you creative projects. Read more in Policies and Disclosures.
All-Natural Lotion Bars
I had such a great reaction to my Vanilla Cupcake Lotion Bon Bons that I decided to another favorite homemade lotion bar recipe. This tiny lotion bars are made with rosemary, a fragrant evergreen herb that is prized for its scent and health benefits.
I love using natural ingredients in my body care products. They moisturize and help the skin heal naturally:
Olive oil an excellent moisturizer that is full of antioxidants that can help protect skin from premature aging.
Rosemary is known to have anti-inflammatory, anti-fungal, and antiseptic properties.
Coconut oil is an antibacterial and antifungal skin softener that has been used to treat acne, phorsias, and exczema.
Beeswax forms a protective barrier on skin, sealing in moisture and supplying antiviral, anti-inflammatory, and antibacterial benefits.
 Ingredients

Homemade Lotion Bar Recipe
Prepare the Infused Oil (may be made up to 2 weeks in advance)
Combine ½ cup of olive oil and 3 -4 fresh rosemary sprigs (about 4- 5 inches long each) in a saucepan.
Cook over medium low heat for a few minutes until the oil begins to bubble a bit (a thermometer should just reach 180 F).
Remove from heat and cool. (Use now or refrigerate to further infuse.)

To save: Transfer the oil and rosemary pieces to a glass jar. Seal and refrigerate for up to 2 weeks.
To use: Strain oil through a fine sieve lined with cheese cloth to remove all rosemary pieces.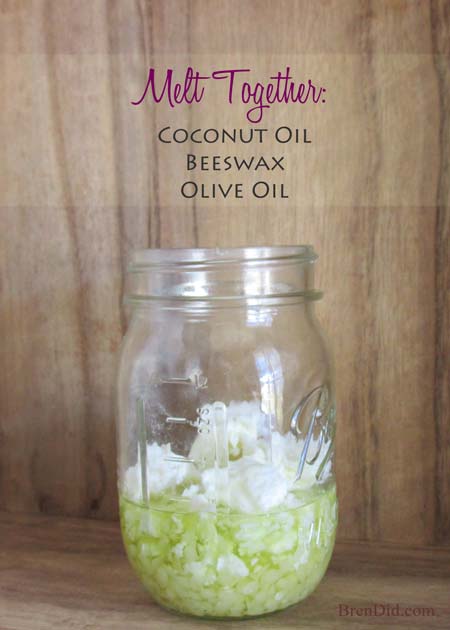 Prepare the Lotion Bon Bons
Combine infused olive oil, beeswax, coconut oil in a large mason jar.
Place jar in a saucepan filled with water, heat to melt over medium heat. Stir until all ingredients are melted.
Remove from heat and add Vitamin E oil (and orange essential oil if using). Stir to combine.
Pour into mold.
Cool completely (about 1 hour in a 70 degree room) before removing from mold.
Store in an air tight container or jar.
Because this homemade lotion recipe contains no artificial preservative (Vitamin E, an antioxidant, works as a natural preservative) I make it in small batches and use it up in a month or two.
Cost Effective
You can purchase a similar natural bath and body product at Lush for $13.95 for 1.7 ounces or about $7.00 an ounce. Ouch!  
My homemade lotion recipe produces 8 ounces for $8.00 or $1.00 an ounce. Hooray!
(Rosemary springs $1.25, organic Olive oil $1.50, orange essential oil $0 .25, organic white beeswax pastilles $1.66, organic coconut oil $1.08, vitamin e oil $0.90, reusable mold $0.80)
Tip: Store your lotion bon bons with a few sprigs of fresh rosemary for extra rosemary scent.
Like my natural bath and beauty recipes? Sign up for my newsletter below and never miss a thing!