Our love of Legos has led us to host not one but TWO at home Lego birthday parties. These are the  easy Lego birthday party ideas I use to make any at home birthday party a huge success! Get ideas for easy decor, fun party games, simple party treats, good bags, and more!
This post uses affiliate links. They don't cost you a thing and help us bring you creative projects. Read more in Policies & Disclosures.
We love Lego. We really, really love Legos. We buy so many Lego that I actually tried to purchase stock in the Lego company. Unfortunately, Lego is still privately owned… FAIL!
If you have a Lego lover you can use supplies you already own plus a few cheap party supplies to create a magical Lego birthday party!
Easy DIY Lego Birthday Party Invitations
I've purchased Lego invitations and made my own custom invites. The homemade version wins, hands down!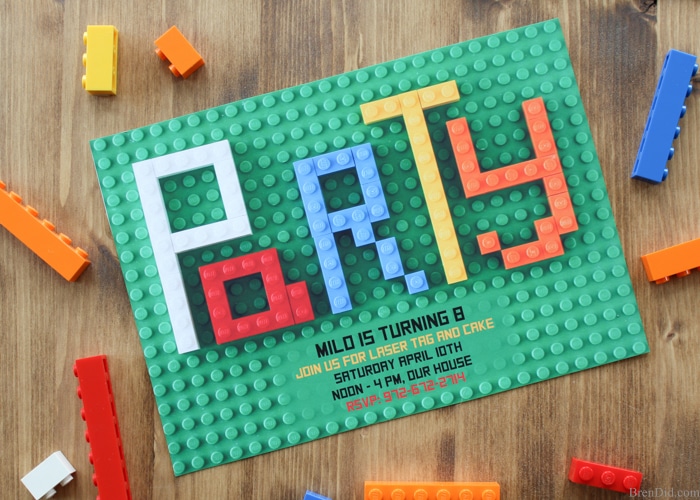 Lego Birthday Party Decor
Use primary colored party supplies from a discount store and Lego to create decorations throughout your house.
Front door: I customized cheap primary colored pennants with full sheet labels. Simply type a message, cut out and stick. Pesto… custom baner!  (Use LEGOthick font, you can download it for free).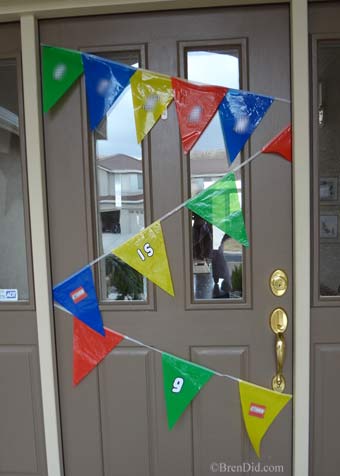 Dig into your Lego stash and build fun models to set around the party area. We used standard Lego blocks and Duplo blocks from our collection.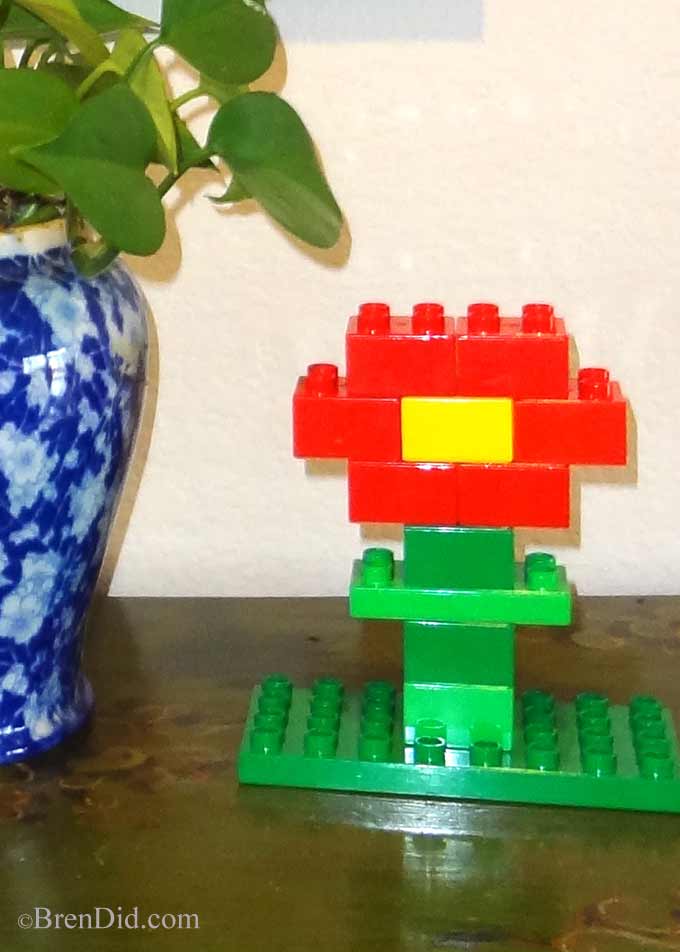 Table Decor
Our table decor was simple:  
Lego Birthday Party Games
We played lots of fun Lego themed games to keep our young guest busy!
1 – Free Build Legos
As party guests arrived we directed them to big bins of Lego so they could free play with the party host until everyone arrived.
2 – Lego Racer
Buy a small Lego Racers set for each guest (I use them for this second building activity and the party favor!).
Use plastic plates keep the pieces in one place as young guests build their cards.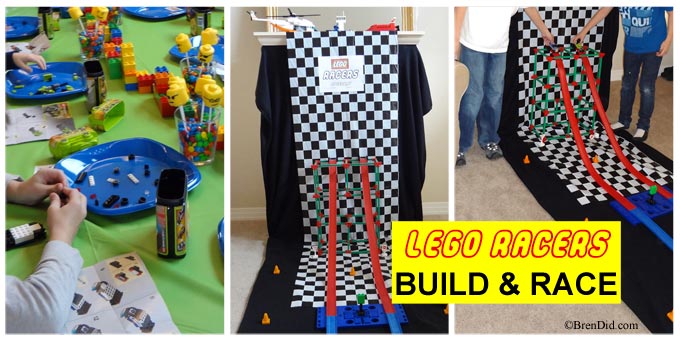 3- Lego Speedway Races
After the racers were built we were off to the Lego Speedway!
We used car tracks from our toy collection (Darda racers) to build an easy racetrack where party attendees could "test" their cars. I used a checkered plastic tablecloth f and black table cloths to dress up the course. Lego street signs, construction cones and traffic signals from our collection were added to the theme.
The kids raced their cars in heats until we had a winner!
4 – Lego Relay Races
A backyard is the perfect place for Lego Relay Races. Each team needs an empty bucket at one end of the yard and bucket of Legos at the other; they race back and forth in relay teams to retrieve the Legos one by one. The first team to return to the finish line with all their Legos wins.
For easy team identification name each team after a Lego color and match the Legos and buckets to the color (red, blue, green, and yellow).
5 – Pop the Balloon
Take advantage of outside time to get some energy out! An easy game is Pop the Balloon where guest try to pop Lego colored balloons without using their hands (they can squeeze, stomp or sit on the balloons).
6-  Guess the Number of Lego in the Jar and Lego Toss
Bring tired attendees inside to play Guess the Number of Legos in the Jar and Lego Toss.
I made a simple Lego toss game with colored tablecloths and primary colored bowls. Bamboo skewers and sticker paper make great scoring flags (I glued them to the center of the bowl to keep them secure.)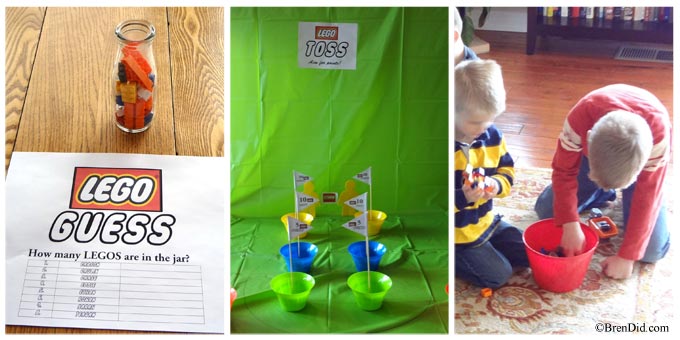 Lego Party Refreshments
Refreshments are always a birthday party favorite! I made Lego themed treats to add to the party fun.
A simple homemade Lego brick cake – I bought a premade sheet cake then sliced  it into Lego block shapes, top each "brick" with a slice of super jumbo marshmallow to make the circles. then frost the cake with colored butter cream.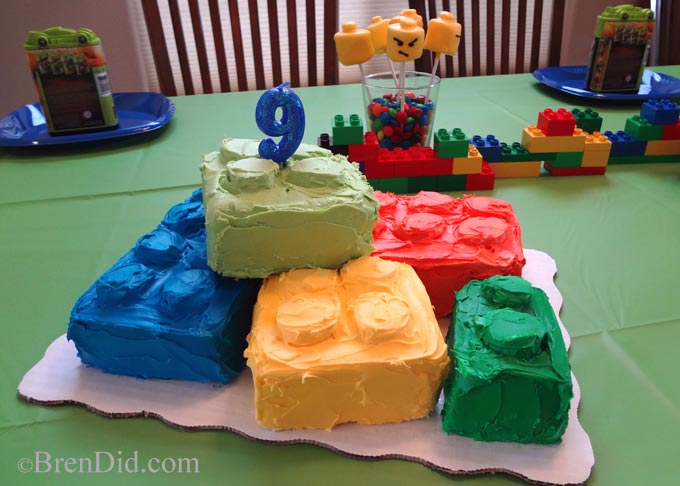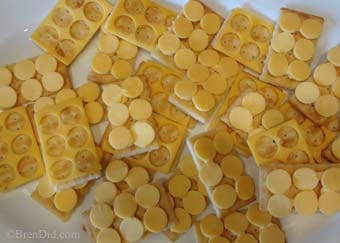 Other fun Lego party foods – Think of all your round favorites: mini pizzas, a vegetable tray with circle cut carrots, round pretzels or even cheese balls. (Not exactly high dining, but it's an elementary school party!)
More Lego Activities
Lego Creationary  and Lego Champion are  great birthday present that doubles as party games.
Party guests to race to construct an item out of Legos.
You can make your own simple version by printing the names of simple items such as a dog, tree or house on index cards.

This game is a great activity while you wait for parents to arrive  for pick-up!
Lego Gift Bags
Make simple Lego bags for the party attendees using primary colored gift bags and peel & stick foam sheets.
Cut and stick circles to the bags to make them look like giant Legos.

Use the bags to pack up your Lego Race cars and Lego Head pops. 

Add a Lego mini figure pack for more fun.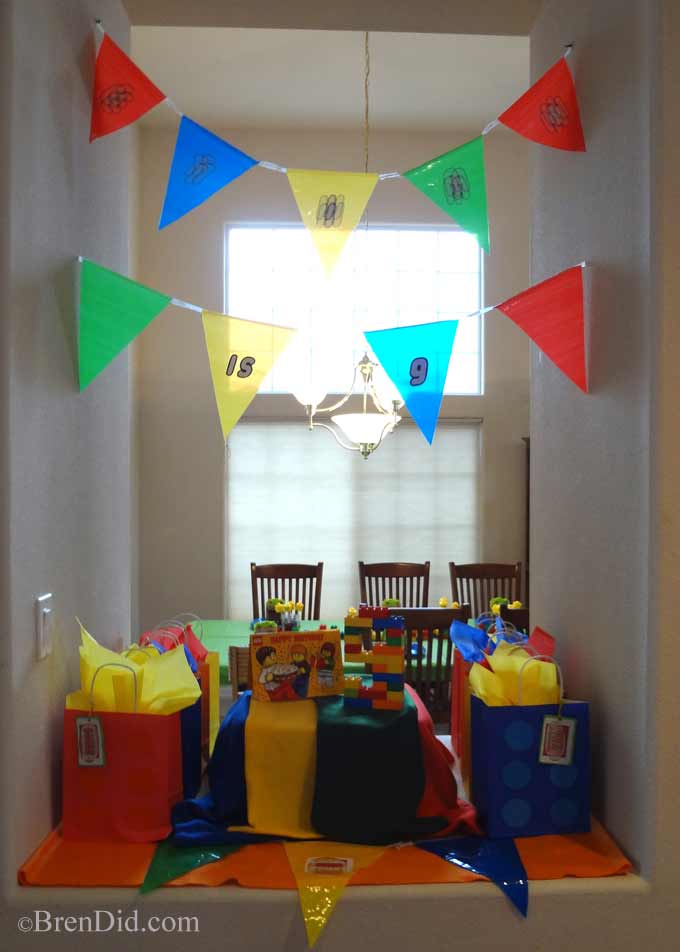 Tip: Make easy Lego Head Marshmallow Pops for your party. They serve double duty as decor and party favors.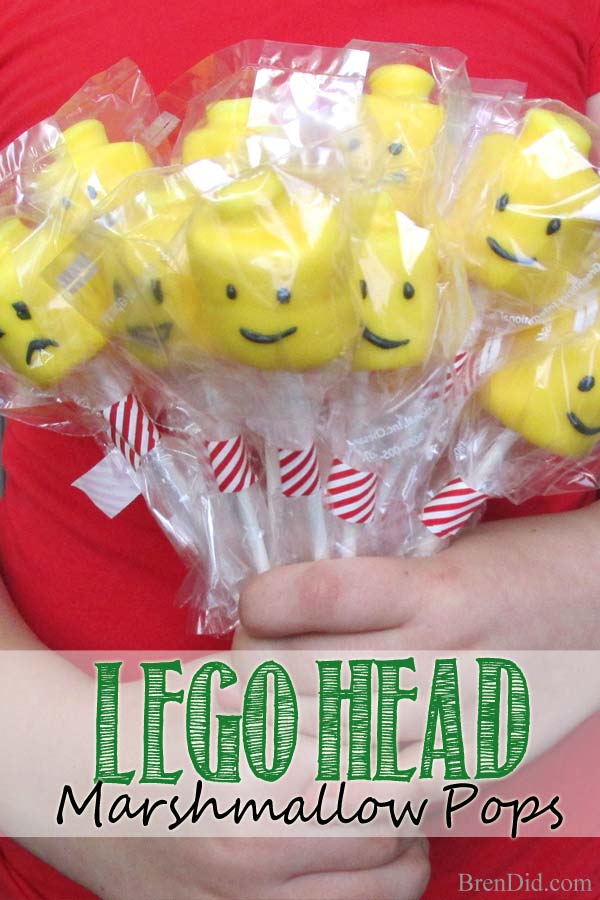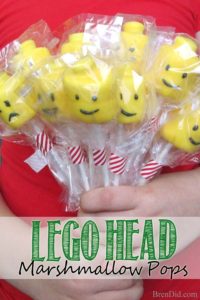 I hope these ideas help inspire your own Lego party!
Like my easy craft ideas? Sign up for my free newsletter below and never miss a thing!