This Lego Head Marshmallow Pops Recipe is an easy and adorable way to add Lego head decorations to your table and treat bags at a Lego themed birthday party.
This post uses affiliate links. They don't cost you a thing and help us bring you creative projects. Read more in Policies & Disclosures.
Lego Party
We've hosted several Lego themed birthday parties over the years, including a Lego Racers birthday and  a Lego Movie Birthday Party. 
The Lego Head Marshmallow Pops we made were my favorite treats for both events.
We originally made the pops to add to our treat bags, but they turned out so cute we used them as table decorations too!
Lego Head Marshmallow Pops Recipe
These marshmallow pops are adorable and simple to make. Kids loved them!
Ingredients
1 – 24 oz. bag large marshmallows
1 – 10-12 oz. bag yellow candy melts
1 Tbsp coconut oil (you may need to add a bit more to maintain dipping consistency)
1 tube of black icing (or homemade black icing made from food coloring, water and confectioners sugar)
Directions
Slice 12 marshmallows into three ¼ inch slices using a serrated knife.
Using a small circle cookie cutter or metal icing tip cut circles from the marshmallow slices.
Melt the bag of candy melts and coconut oil or vegetable shortening together using a double boiler or an oven safe bowl resting over a pan of boiling water. Stir frequently to prevent scorching until mixture is smooth.
Remove melted candy coating mixture  from heat, but keep over hot water (this will keep it thin enough to dip for quite awhile).
Use a dab of melted candy coating to attach a small marshmallow circle cut out to the top of each large marshmallow forming a Lego head shape
Stick a sucker stick into the bottom of each marshmallow head.  (you can dip ¼ inch of each stick inot the candy coating before putting them in the marshmallows for extra adhesion).
Dip each marshmallow head in the candy coating. Move quickly, making sure you coat the entire head then tap gently on the side of the pan to remove excess. Rotate the sticks while tapping for even coverage.
Place in a piece of Styrofoam to dry. (You can also use a cardboard box with holes punched in it, I sometimes use a old cereal box and make holes for the sucker sticks with a bamboo skewer.)
Use the black icing to draw faces on your Lego heads. I find that applying thin icing with a toothpick is easiest. (You might want to practice drawing faces on a plate or napkin to get the hang of it).
Allow faces to dry.
Put Lego heads in mini cellophane bags and seal with decorative tape.
Enjoy!
Tip: These marshmallow pops last quite some time, they are mostly sugar! You can make them up to a week before your party. Store in a cool, dry area.
More Lego Party Ideas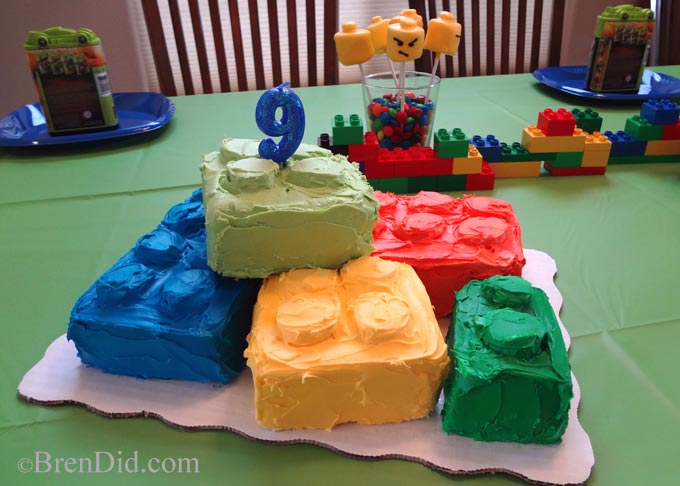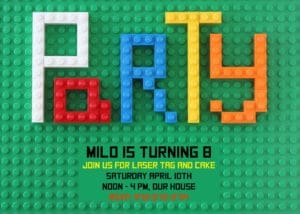 Like my easy crafts? Sign up for my free newsletter below and never miss a thing!