Looking for an adorable homemade Halloween costume? This easy no sew butterfly costume is perfect for kids (and adults) of all ages. The easy to adjust pattern fits all sizes. Can be made from fleece or felt.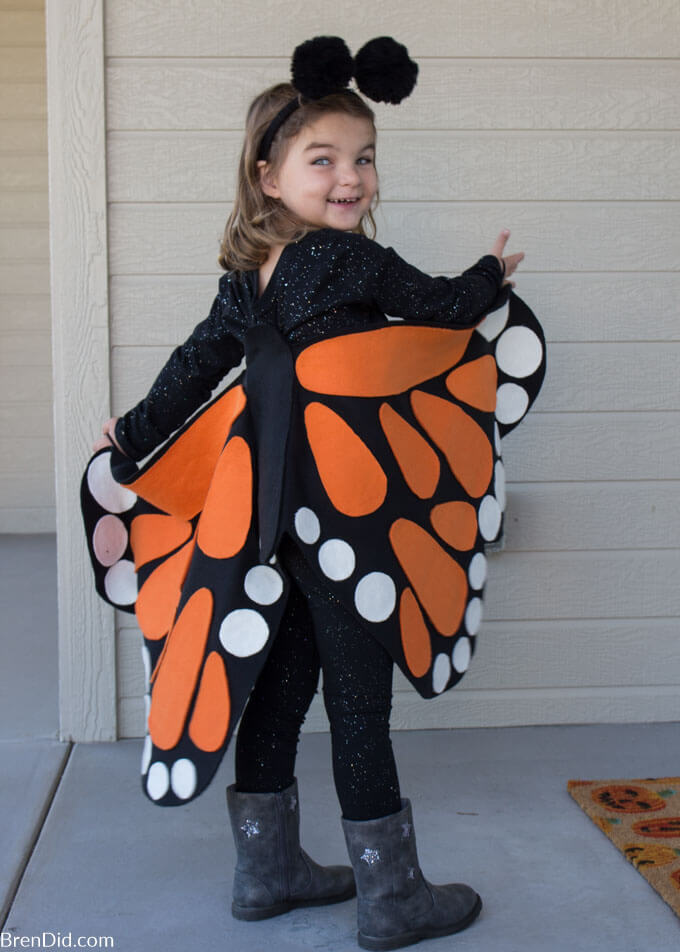 I have made dozens of Halloween costumes for kids over the years. I love figuring out how to turn my kids into everyone from Wonder Woman and Hermione Granger to the Abominable Snowman and a blue Power Ranger.
Some of the costumes have taken weeks of sewing slippery fabrics (Maddie Hatter from Ever After High) while others have simply been a matter of finding clothes we already own and adding the correct accessories (cat burglar).
No matter how long (or short) the costume took to create, the end result is always the same…
Excited kids who can't wait to spend an evening as their favorite character.
The delighted smiles are worth all the effort!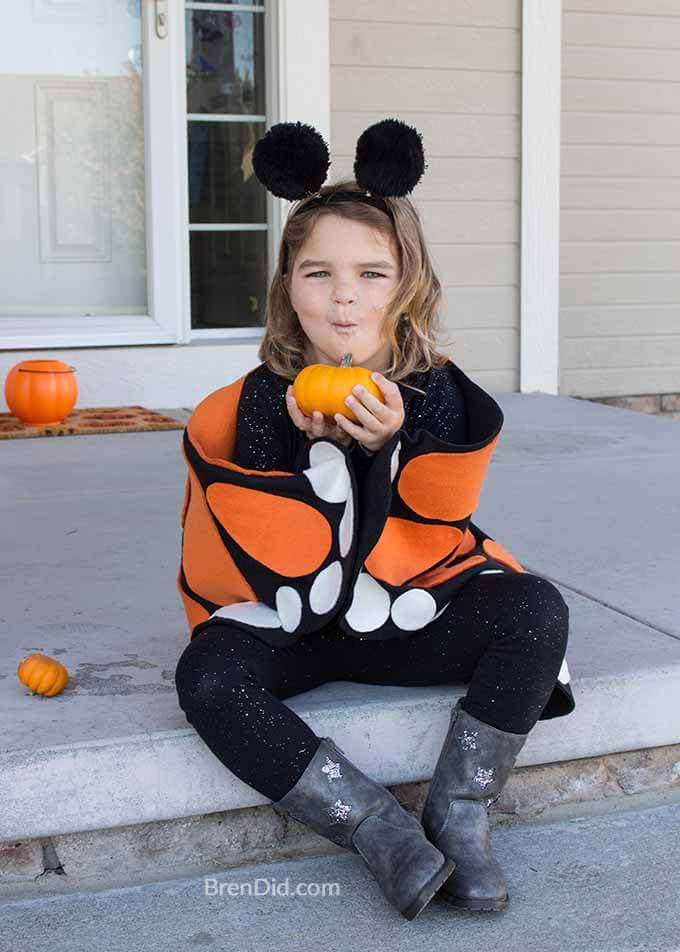 This post contains affiliate links. They don't cost you a thing, but help us bring you creative projects. Read more at Policies & Disclosures.
Easy Halloween Costumes
Easy homemade costumes are often made from fabrics such as fleece and felt. These affordable fabrics are easy to cut, do not fray, and can be glued together so no sewing skill is needed.
How's that for awesome!?!?!
Making Costumes with Fleece
I've used fleece to make easy wizard robes, no sew dragon wings & hats, and even a ladybug dress with great results. It is soft and warm for cold nights. Plus fleece can be machine washed so kids can wear the costume again and again.
Making Costumes with Felt
Craft felt is my choice for costume accessories such as bows, spider legs, rand cat ears/tails. It is easy to work with and holds its shape well. Plus felt is affordable and comes in great colors.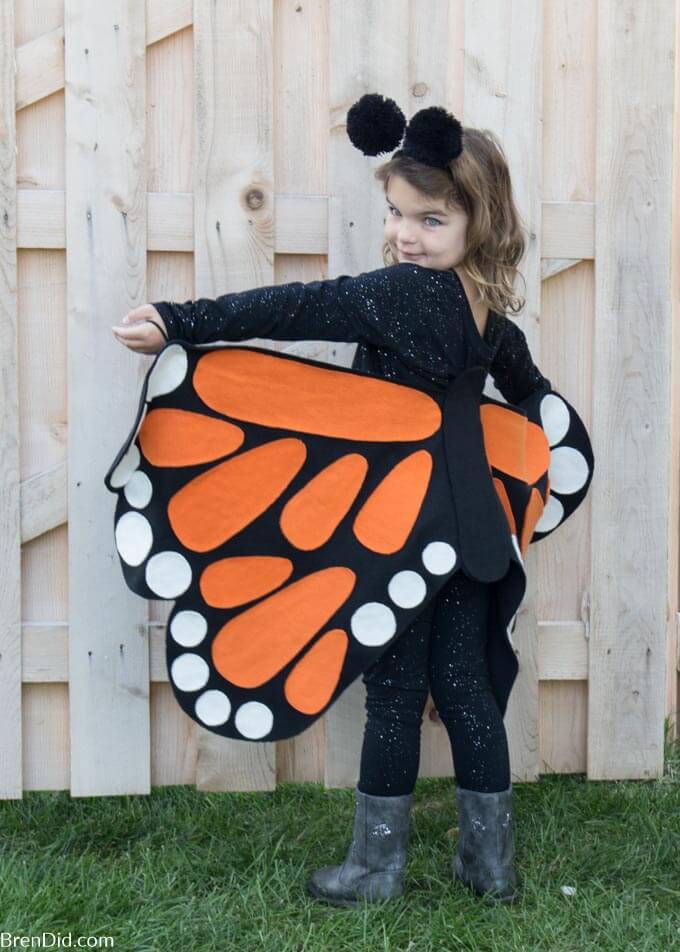 Butterfly Halloween Costume
This year my favorite 4-year-old asked me to make a monarch butterfly costume for Halloween.
Who could resist that face?
I felt like the butterfly costume was meant to be for several reasons:
I love to be challenged by creative projects!
Our town is named Papillion (French for butterfly) for the Monarch butterflies that are common in the area.
My kids are no longer thrilled by my homemade costumes. (Wah-wah!)
How to Create a Butterfly Costume Pattern
To make a great fitting butterfly costume you'll need a custom fit pattern. There are two ways to create a pattern for this butterfly costume tutorial:
Download my free PDF pattern and blow it up to the correct size on a photocopier.
Use a large sheet of craft paper to draw your own pattern.
How to Draw Butterfly Wings
It's easy to draw butterfly wings… no artistic skill needed! Just measure, trace, and draw a few straight lines.
Measure the person who will be wearing the costume. Measure fingertip to finger ip with arms outstretched and divide the number in half. Next, measure from the base of the neck to the top of the thigh.
Cut a piece of paper to match your measurement. (This paper is the size of one wing. The other wing will be a mirror image.)
Use large round objects such as plates or serving bowls to make the rounded edge of the wings. (The top looks like a off center heart, the bottom is a single half circle.)
Sketch in half of the butterfly body using a drinking glass to make the rounded top and bottom edges. Draw a straight line between the top and bottom edges.
Draw straight lines to attach the rounded wing edge to the body. (Do not worry about messed up lines! Adjust as needed. See photo above.)

How to Add a Pattern to the Butterfly Wings
Once you're done drawing the shape of the butterfly wings you'll be ready to add the colorful pattern.
Draw assorted circles and feather shapes on wax paper. Arrange the shapes until you like the design. (Use my free printable pattern as a guide.)
Trace design onto your paper wing pattern.
How to Make Butterfly Wings with Fabric
After creating the pattern you'll be ready to cut the shapes from fleece or felt. (Use fleece or felt so the wings will not fray.)
Fold a large piece of black fleece or felt in half. Place the wing pattern so that the edge of the body is along the fold. Trace the pattern with white chalk or pin in place.
Cut out the black background of the wings. Do not cut the fold line along the body!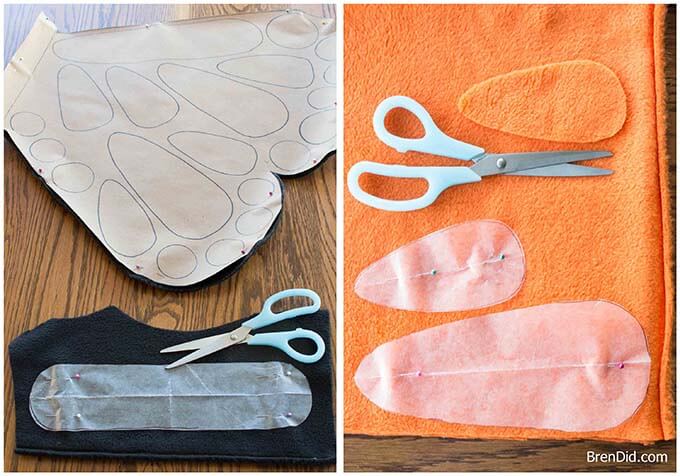 Trace the wing pattern shapes onto wax paper. Use the wax paper shapes as a guide to cut the material. (Pin the wax paper to the fabric or trace with a permanent marker.)
Cut one full-body shape from a scrap of black fabric.
Use orange for the arrow shapes and white for the circles.
Use hot glue or fabric glue to attach the shapes to the background as shown in the pattern.
Glue or stitch loops of elastic or ribbon to the inner wing to use as handholds.
Glue or stitch a large safety pin onto the inside top of the butterfly body (Use this to pin the wings in place on a t-shirt.)

Assembling the Butterfly Costume
You'll need a few basic pieces of clothing to complete the butterfly costume.
A black dress or top and leggings. (My model is wearing a black sparkle tee and sparkle leggings from Target.)
Black shoes or boots. (My model is wearing a black sparkle boots from Target.)
A black pom pom headband. (Make your own with this tutorial or buy a black pom pom headband from Amazon.)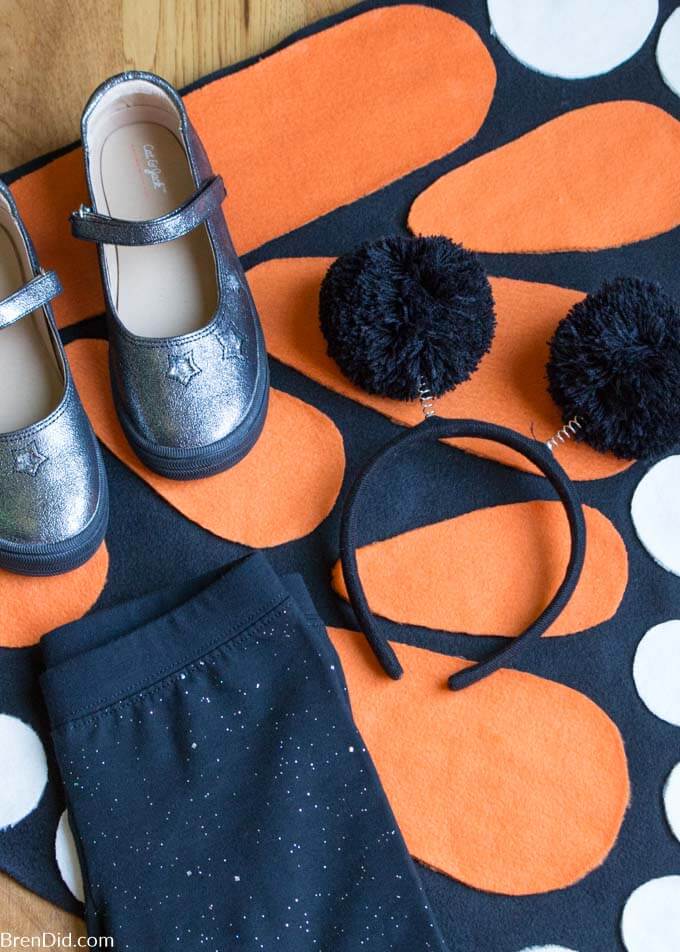 Butterfly Costume Tips
I made the butterfly wings twice for this tutorial. First I made the wings out of fleece then I tried making them with felt. Both pairs of wings are adorable and both would work great as a costume. However, each has its benefits:
Fleece: Use the fleece for a softer costume that can be washed (choose a washable fabric glue to attach the pattern so you will be able to wash the costume).
Felt: Use felt for easier-to-cut wings that are affordable and can be spot cleaned (Use hot glue, it dries fast so the wings are ready quickly).
Like my easy craft tutorials? Sign up for my free newsletter below and never miss a thing.