Front door wreaths are a beautiful addition to your home but they are expensive to purchase and take up lots of storage space. Make this gorgeous fall leaves wreath for $0! You'll save money and storage space… plus the biodegradable wreath can be throw it away at the end of the season with no guilt.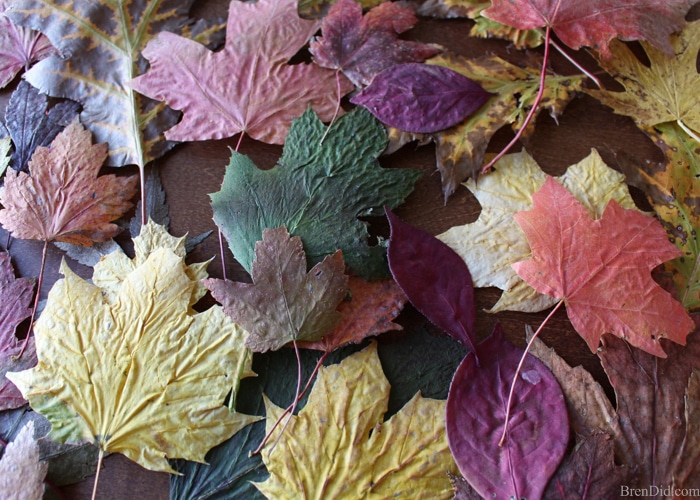 This post uses affiliate links. They don't cost you a thing and help us bring you creative projects. Read more in Policies & Disclosures.
Fall foliage is my favorite part of fall. I love the way nature subtly tells us the seasons are changing. Each day the trees seem to be a new, beautiful color until finally, after a stormy evening or windy afternoon, they are bare.
Fall Bouquets
My husband brings me bouquets of beautiful fall leaves when he walks the dog. I love the gorgeous variety of colors  and have always wanted a way to preserve these leaves. Unfortunately, beautiful leaves gathered one afternoon are usually a brown curled-up mess the next morning.
I've tried pressing leaves between books, but it takes weeks to accomplish the task and the leaves  are sandwiched between books until fall is over. This year I wanted to immediately incorporate fall leaves into my Thanksgiving décor.
I tested several different methods of saving leaves and discovered an easy way to quickly preserve leaves while keeping their colors bright and the leaves flat. A bonus… it's FREE! No special craft supplies needed!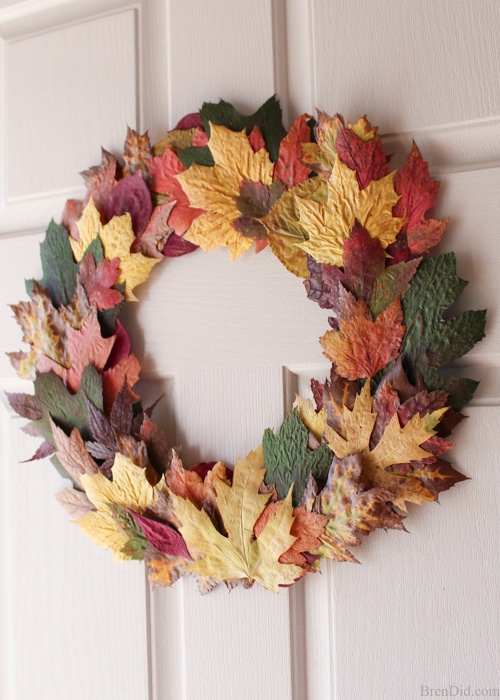 Easy Fall Leaves Preservation
My easy method for preserving fall leaves involves a microwave and an iron. While this seems like an odd crafting combination it works remarkably well.
First you need to collect leaves that are freshly fallen without damage or holes. You do not want old, dried out foliage.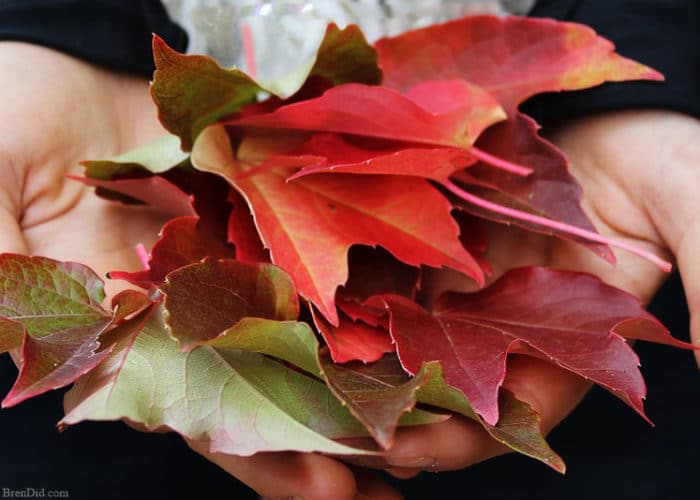 To cure the leaves you zap them for a few seconds in the microwave. This removes most of the water from inside the leaf.
Next, you press the leaves flat with a hot iron. This removes any remaining water leaving them flat and dry.
Free Front Door Wreath
The beautifully pressed leaves make a lovely front door wreath. It's the perfect decoration, the wreath costs almost nothing to make and is biodegradable! I can enjoy it all fall and then simply throw it away. (No storage space needed once it is out of season!)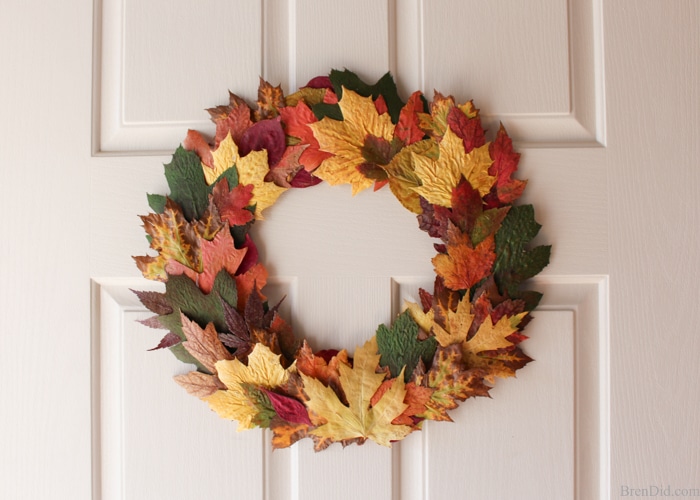 Fall Leaves Wreath Supplies
Fall leaves (60-70 fresh leaves for a 16" wreath)
Cardboard or heavy duty cardstock to make a wreath form
Stapler and staples
Fall Leaves Wreath Directions
Dry and Press the Leaves
Work in batches of 5-6 leaves. Place the leaves between two sheets of parchment paper and microwave for 10-30 seconds, turning once.
Check the leaves every few seconds, microwave until they feel dry but not brittle.
Using a hot iron, press the leaves until they are flat. You can place the leaves between sheets of parchment paper so they do not touch the iron. (I do not use the parchment paper in this step.)
Continue microwaving and ironing until all the leaves are pressed
Make the Wreath
Make a recycled wreath form by tracing circles on corrugated cardboard. I trace a large round plate for the outside circle and a small plate for the inside circle. Cut out the form.
Start working at the top of the wreath form, slightly to the right of the center. Gather a few pressed leaves into an bunch and staple them to the cardboard form. Place the staple slightly above the stem.
Align the next group of leaves so the tops of the leaves cover the last staple. Continue stapling leaves around the form until one half is covered with leaves then move to the top left and staple leaves down the opposite side.
When the wreath is entirely covered use craft glue or hot glue to position a few leaves over any visible staples. You can also add a few additional leaves to any areas that look bare or uneven. (I always add a few the the center bottom.)
Hang the Wreath
To hang the wreath glue a loop of twine, yarn or string to the back of the cardboard. Allow glue to dry completely before hanging.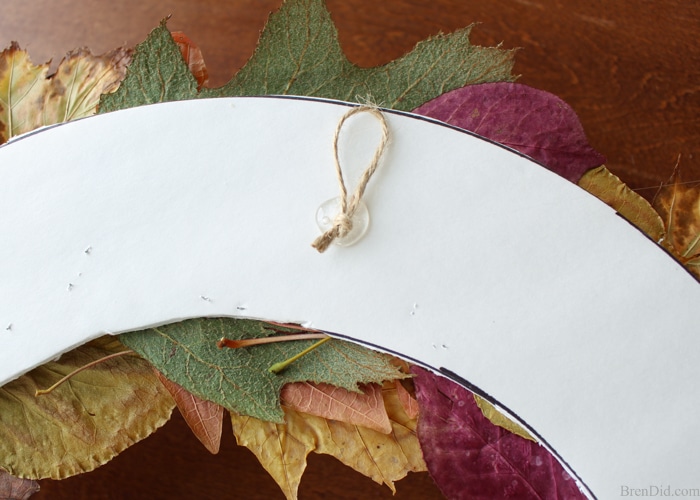 I hang my wreath using mini Command Adhesive hooks. The wreath is very light and the command strips will not damage the front door.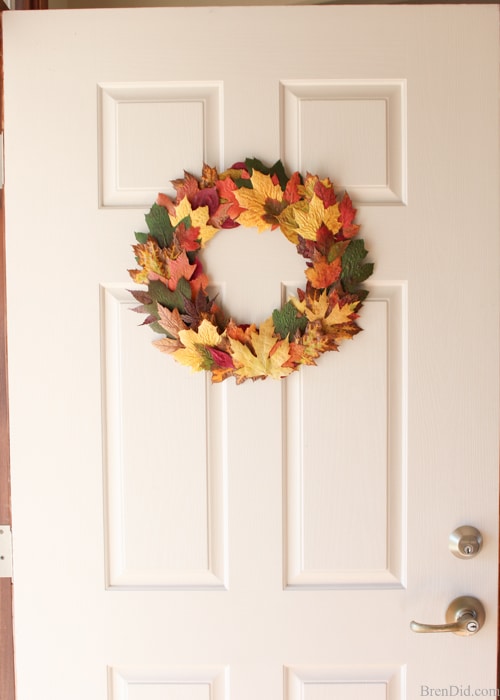 The wreath also makes a lovely table decoration or centerpiece.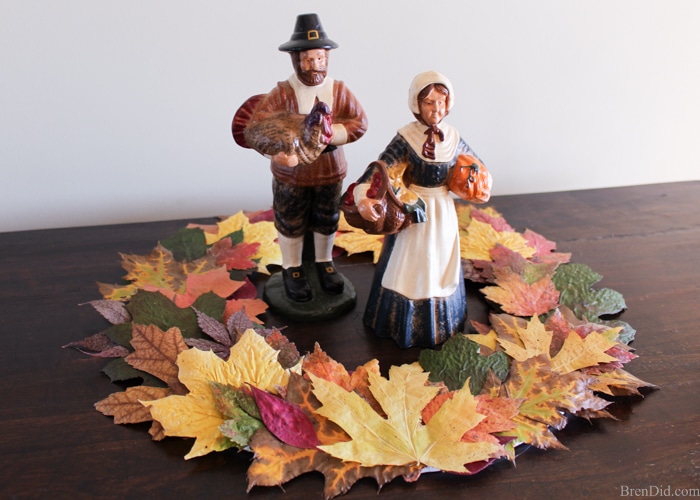 I hope you enjoy your new, nearly free fall wreath and pressed leaves!
Like my easy craft tutorials? Sign up for my newsletter and never miss a thing! 

Bren Did Newsletter Subscribers Get Access!