It takes nutritious foods to fuel kids through sports practices and help them recover afterward. Skip the protein bars and sports drinks and fuel young athlete with the best snacks for boosting energy.
This shop has been compensated by Collective Bias, Inc. and its advertiser. All opinions are mine alone. This post uses affiliate links. They don't cost you a thing and help us bring you creative projects.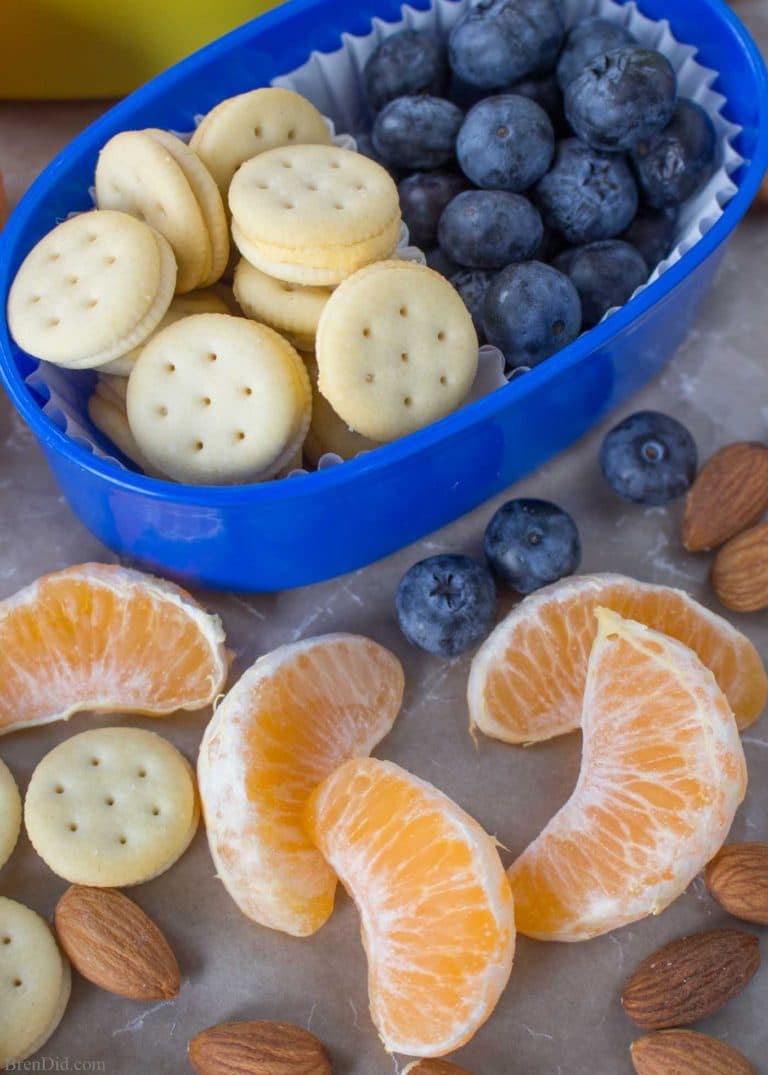 Kids don't perform their best on an empty tank, but the school-to-sports schedule of many kids does not leave much time for mom-approved snacking. Admit it, at one time or another, we've all resorted to a drive-thru window snack between school pick up and sports practice.
Solutions for Busy Parent
The beginning of the school year is BUSY for both parents and kids! Add in a couple of after school activities and you have the recipe for overwhelmed parents. It's important to stock up on mom-approved snacks so your kids can fuel up without resorting to sports drinks, protein bars, or fast food.
Portable and Nutritious Snack Options
The best snacks for young athletes are portable and can stay fresh for hours inside a locker or backpack. Favorite snacks in this category include:
Whole grain peanut butter crackers
Whole grain cheese crackers
Trail mix
Nuts
Granola bars
Whole grain pretzels
Peanut butter
Hummus, single serve containers
Single serve aseptic milk boxes (do not need refrigeration)
Portable vegetables -carrot and celery sticks, pea pods, etc.
Portable fruits -banana, blueberries, apples, grapes, oranges, etc.

What Should Young Athletes Eat?
Parents should supervise snacking to make sure kids are eating at the right times and making healthy choices. You should also consider the activity level of the athlete when packing snacks:
Are they are varsity athlete or a beginning soccer player?

Many young athletes do not get enough exercise to need extra calories, they just need smart snack choices.
Teens and children involved in demanding sports (1½ -2 hours of constant activity) might need more calories to keep energy levels up.
1. Before Practice – Fuel Your Workout
Kids should eat a handful or two of healthy snacks with 8-10 ounces of water approximately 1 hour-30 minutes before warm-ups. This snack fuels their workout and helps athletes stay hydrated.
Pre-workout snacks should contain easily digested carbohydrates (think crackers and fruit), a little protein, and a little fat. This snack is especially important if your child has an early lunch.
Pre-Practice Snack Ideas
Whole grain peanut butter or cheese crackers and grapes
Half of a peanut butter & banana sandwich (whole grain bread)
Granola bar (not a sugar-filled version) and orange slices
Homemade Crispy Energy Balls for Kids and an apple
Whole grain pretzels and fruit leather (no sugar added varieties)
Applesauce (no sugar added) and graham crackers
2. During Practice – Stay Hydrated
Kids should always take a water bottle to practice and drink every 15-20 minutes to stay hydrated.
3. After Practice – Recover and Repair
Kids should drink water after practice then have a small snack that is high carbohydrate and protein. Eating carbohydrates and protein after working out allows muscles to recover and rebuild for the next workout.
Post-Practice Snack Ideas
Low-fat chocolate milk, whole grain crackers, and pea pods
Apple, whole grain graham crackers, and a piece of string cheese
Pretzels, apple slices, and low-fat milk
Hummus, pretzels, and grapes
Mixed nuts, celery sticks, and chocolate milk
Snacks Kids and Parents Love
I'm the parent of two growing athletes. I love buying snacks that appeal to kids, but I also want them to be eating right. Horizon™ Milk and Sandwich Crackers satisfy us both → my kids love them and I feel good about what I am serving.
Calling All Chocolate Milk Lovers
Our swim team coach recommended chocolate milk as a recovery drink after practice, so I did some research. Turns out 8 ounces of chocolate milk is one of the best snacks post workout for several reasons:
It has a carbohydrate to protein ratio that is perfect for replenishing muscle and glycogen.
Milk naturally contains both fast-absorbing and slowly-digested proteins (whey and casein) which assist in muscle building and repair.
Milk has a high water content which aids in restoring fluids.
Milk replaces electrolytes lost in sweat because it is high in potassium, calcium, vitamin D, and Omega-3s.
Horizon milk products do not contain artificial sweeteners, artificial colors, or artificial flavors like many sports drinks. (A favorite after workout snack is Horizon Aseptic 12-pack Milk Boxes in Organic Lowfat Chocolate with 8 grams of protein per box.)
The Best Snacks Need No Refrigeration
Horizon single serve chocolate milk products are great for pre and post sports snacking because they do not need refrigeration. This is possible due to special packaging and ultra-high temperature pasteurization that keeps the single serve products fresh and safe. Their portability makes them perfect for lunchboxes and sports bags, they're a great alternative to sugary sodas and sports drinks.
Chilling tip: It's perfectly safe to drink Horizon single-serves when they are room temperature, but most kids are used to drinking ice cold milk. I put the singles serves in the freezer for about 8 hours before packing snacks. The milk thaws during the day keeping the whole snack cool and the milk is the perfect temperature for drinking after practice. (Don't be alarmed if the box puffs up a bit while freezing, it's just the liquid expanding.)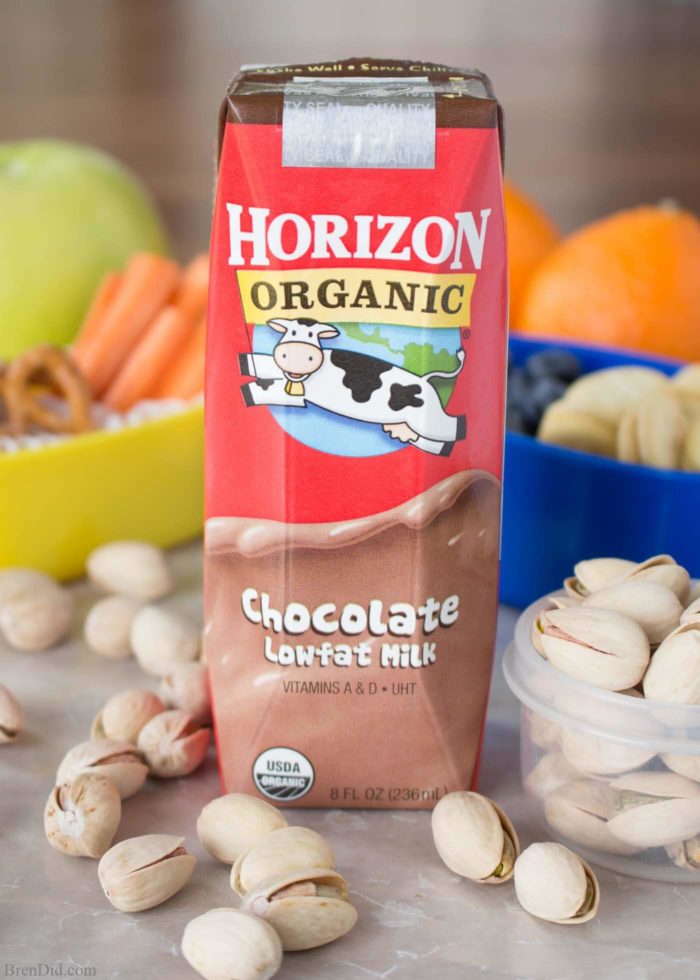 Fun Labels for the Best Snacks
I designed fuel-themed labels as a fun addition to pre and post-workout snacks. They are perfect for labeling individual snacks or making a whole bunch of bagged team snacks.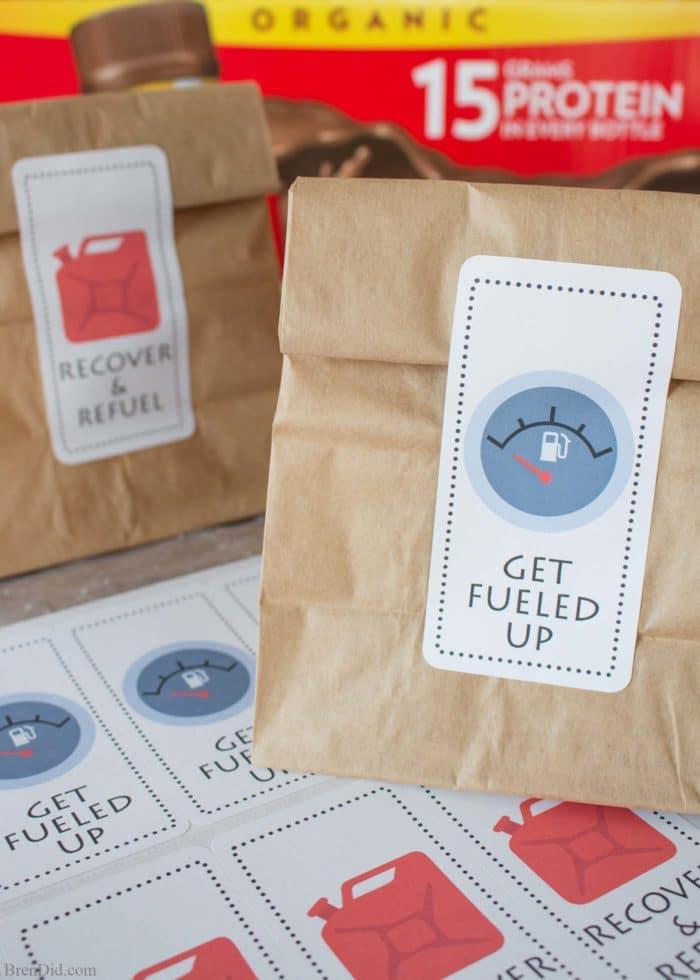 Like my snack labels? Sign up for my newsletter below and never miss a free printable!