Garlands and banners are a fun way to dress up your fireplace mantel, bookshelf, staircase or even front porch for the holidays. This Pottery Barn Kids inspired glitter Happy Easter banner is made from cardstock, twine, beads, and glitter styrofoam eggs. It takes only a few minutes to assemble and adds a special touch to any Easter décor. Another bonus, it only costs a few dollars to make your own banner!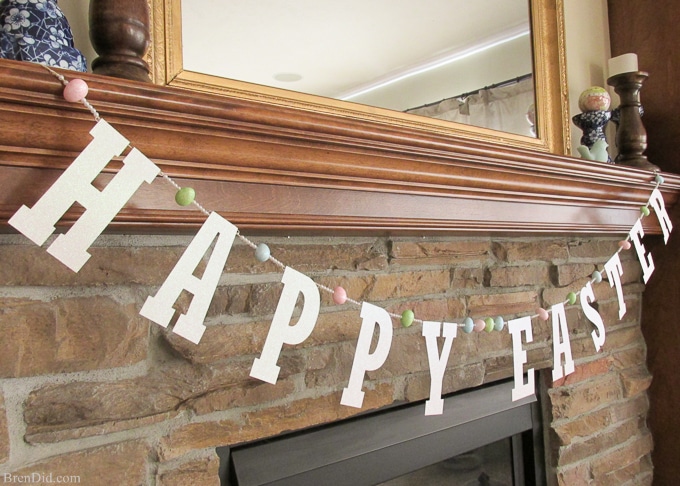 I love banners for several reasons: it only takes a few minutes to hang a banner, they don't take up much storage room in the off season, and they aren't much of an investment. One of my favorite sources for banners is Pottery Barn. I love their simple yet interesting designs. Every season at least one of their designs catches my eye.  I love the tiny details that make their banners extra special such as beads and glittered eggs.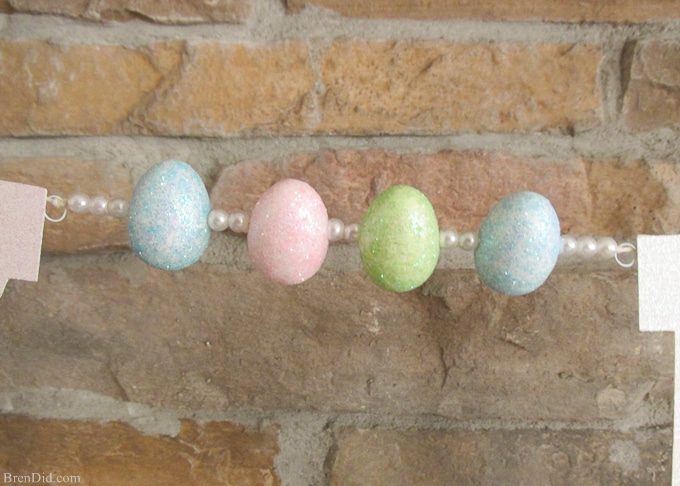 As much as I love their holiday banners and garlands, I would rather save my money for big ticket Pottery Barn items such as furniture. I really feel this way when I read the description of a banner and realize it is made of cardstock and cotton twine. Neither of these supplies cost much and I can easily supply the labor necessary to make the banner.
I fell in love with several Easter garlands this spring: a glitter Happy Easter banner and an Easter Bunny Shaped banner from Pottery Barn Kids and a Mercury Glass Egg garland from Pottery Barn. It's so easy to make the glitter Happy Easter banner, read more to learn how.
PBK Inspired Glitter Happy Easter Banner Supplies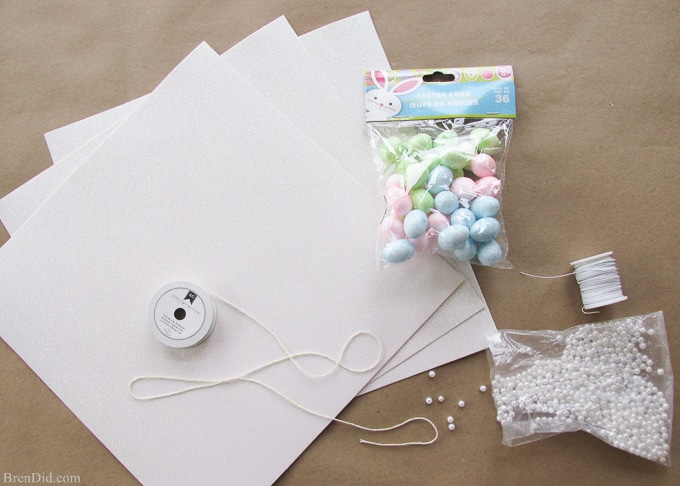 • Free PDF pattern or Silhouette cut file
• 2 -12 x12 sheets of glitter cardstock ($2.00 each)
• 15 – 1 inch Styrofoam Easter eggs ($1.00 for 36)
• 116 – 5 or 6 mm pearl beads ($3.50 for 750)
• 8 feet baker's twine, I used yellow ($3.00 for 120 feet)
• 24 gauge wire, $4.00 for 25 yards (10 inches used)
• Hot glue and hot glue gun
PBK Inspired Glitter Happy Easter Directions
1. Print the free PDF pattern and trace shapes onto the back of the glitter cardstock (make sure to trace them backwards). Cut out the shapes. You can also use my Silhouette cutting file if you own a Silhouette cutter.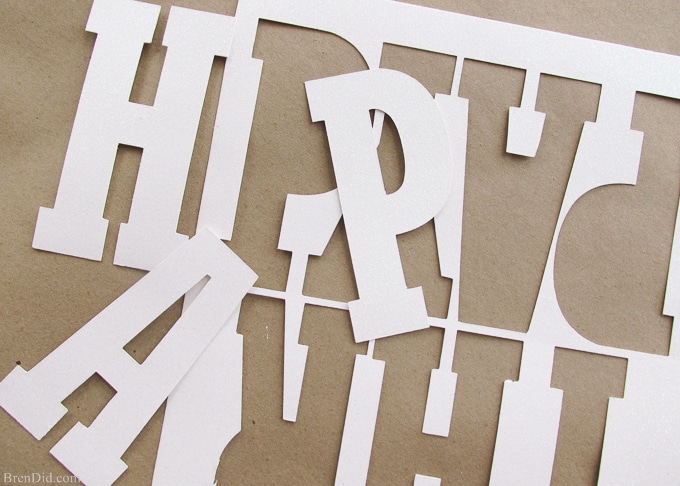 2. Cut 1/3-1/2 inch long pieces of wire, twist them around a pencil or bbq skewer to make round rings.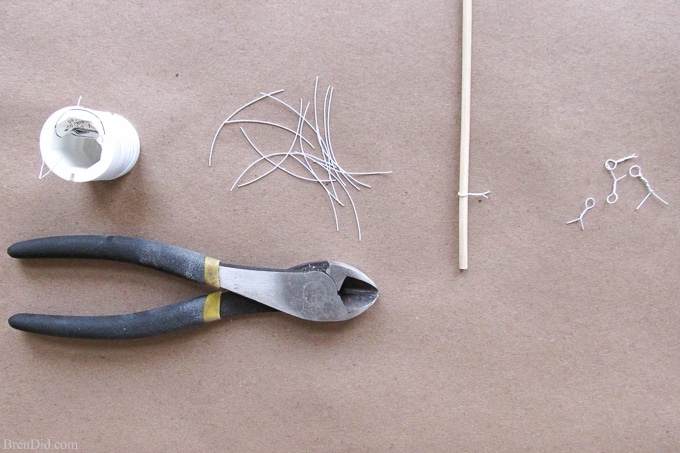 3. Glue two round wire rings to each letter using hot glue.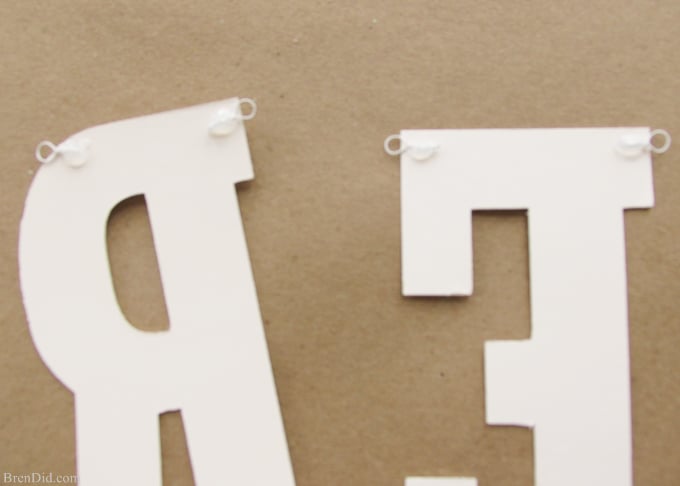 4. Cut an 8 foot long piece of bakers twine. Loop and knot one end 3 inches from the end. Thread two pearls against the knot. Trim off the excess tail of thread.

5. Add a Styrofoam egg.
6. Add five beads and then the letter "R".
7. Tie the thread to each ring with a simple knot to keep the letters from sliding. (Remember you are working backwards in your message so you start with the "R" in Happy Easter.)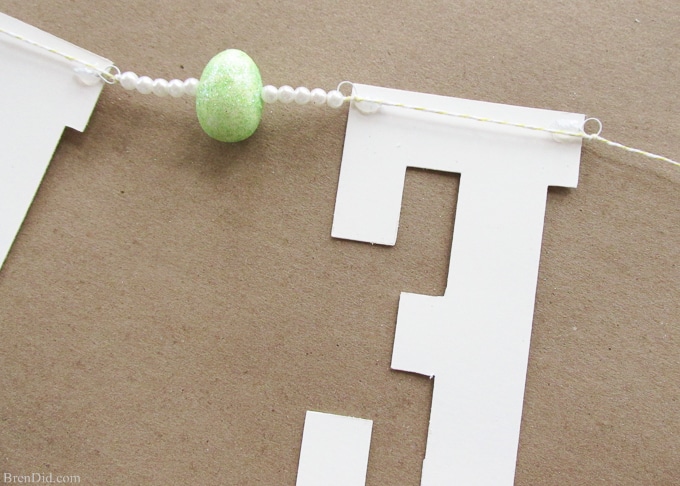 8. Continue the pattern with five beads, an egg, five beads, and then a letter. When you finish the "E" in Easter string on three beads, an egg, two beads, and repeat 4 times ($ eggs total). End the center pattern with 3 beads then the letter Y.

9. You will add 5 beads, an egg, 5 beads and a letter until you finish the word "Happy."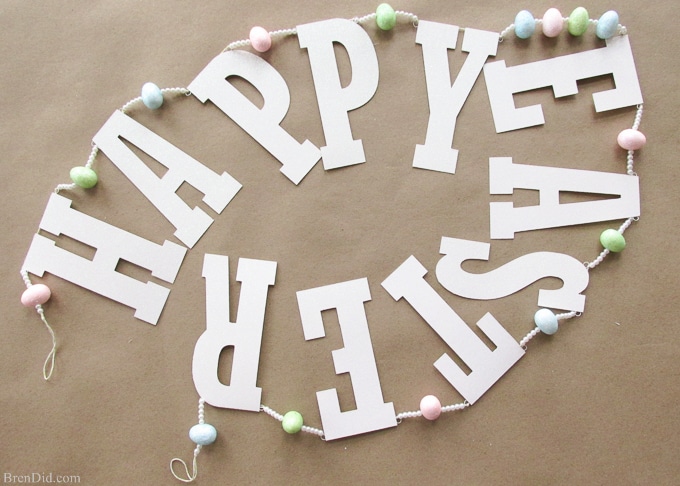 10. Complete the banner with 5 beads, an egg, 2 beads and a 3 inch loop (like the beginning of the banner). Thread the excess tail under the final two beads and trim the excess.
PBK Inspired Glitter Happy Easter Banner Costs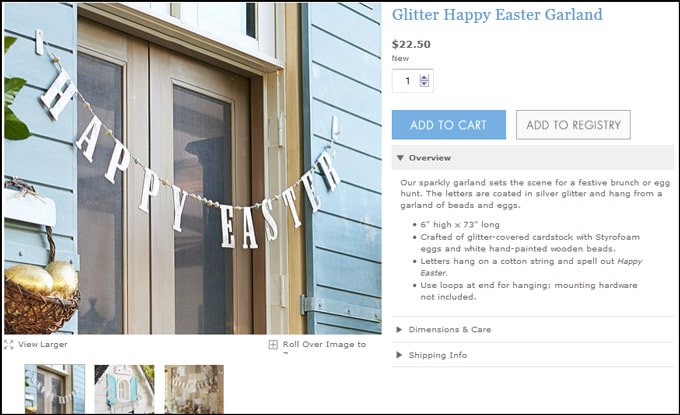 The original Pottery Barn Kids banner costs $22.50. My banner cost $5.30 and only took about an hour to make. That's a savings of more than 76%! You can save even more if you wait for a cardstock sale, I can often purchase the glitter cardstock for $1 a sheet making the banner only $3.30!
Glitter cardstock – $4.00
Glitter Styrofoam Easter eggs – $0.41
White pearl beads – $0.54
Baker's twine – $0.20
24 gauge wire – $0.05
Hot glue and hot glue gun – $0.10
Total cost: $5.30
Those savings make me very HAPPY!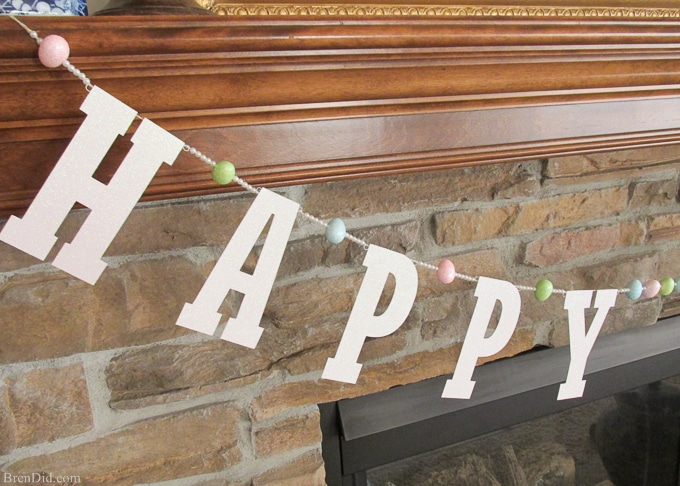 I hope you try making your own Easter banner and check out all my holiday banner creations!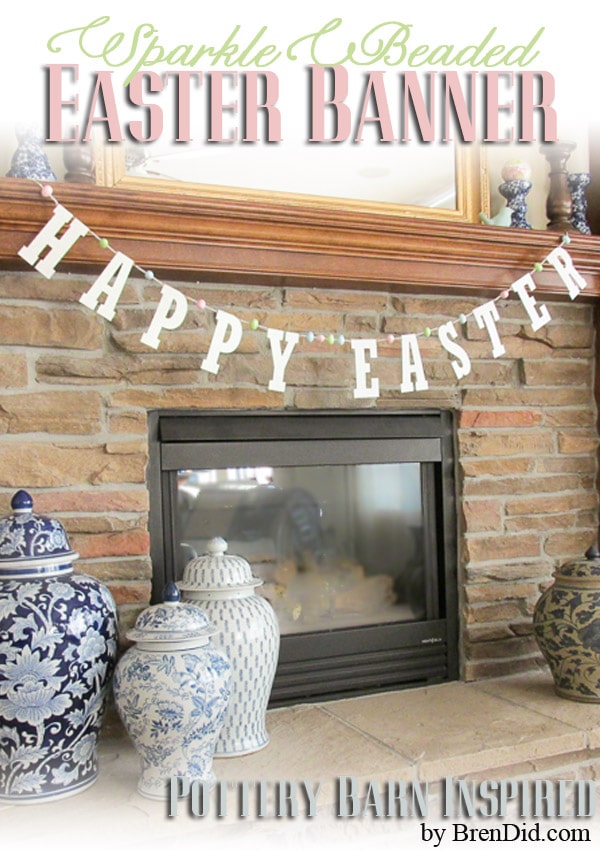 Bren Did Newsletter Subscribers Get Access!