We all know we should drink more water, but it can sometimes seem like such a chore. You can help establish a healthy water drinking habit by tacking your water consumption for 21 days. It's easier than you think. These easy tips and free printable sticky notes can help!
This post uses affiliate links. They don't cost you a thing and help us bring you creative projects. Read more in Policies & Disclosures. This is a sponsored post written by me on behalf of Brita at Target for SponsoredTweets. All opinions are 100% mine.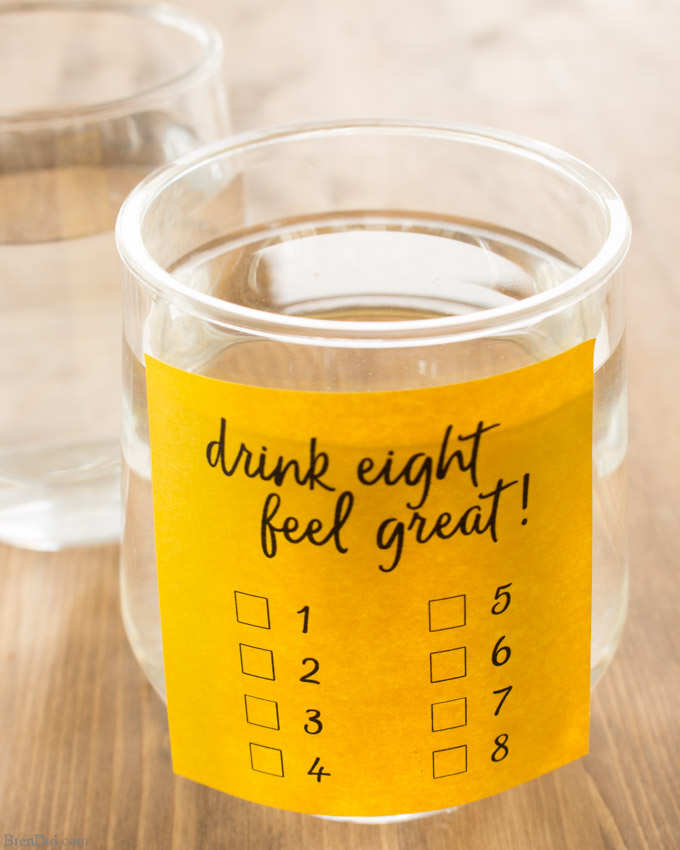 Water has never been my drink of choice but I am working on increasing the amount I drink each day.
Why?
The human body is about 70% water and needs the right amount of hydration to function properly. Experts suggest that the average person drink eight 8 oz glasses of water a day.
This amount can seem staggering to a non-water drinker. I've got a few easy tips to help!
How to Increase Water Intake
I've been tracking my water consumption for 21 days with free printable planner stickers and help from my Brita Steam water filter pitcher. I like using the filter-as-you-pour pitcher to track my water consumption because:
It fills like a regular pitcher and can be poured immediately. (No more waiting for my old filter pitcher to do its job!)
The filter makes tap water taste better. (Better tasting water means I drink more!)
The slim pitcher fits easily in the fridge and looks nice enough to place on the dinner table. (I've found that I drink more water when it is within reach!)
I've also created these free printable post-it notes that you can stick to your pitcher or glass to help track your daily water drinking habit.
Why 21 days? It takes a minimum of about 21 days to form a lasting habit (according to science).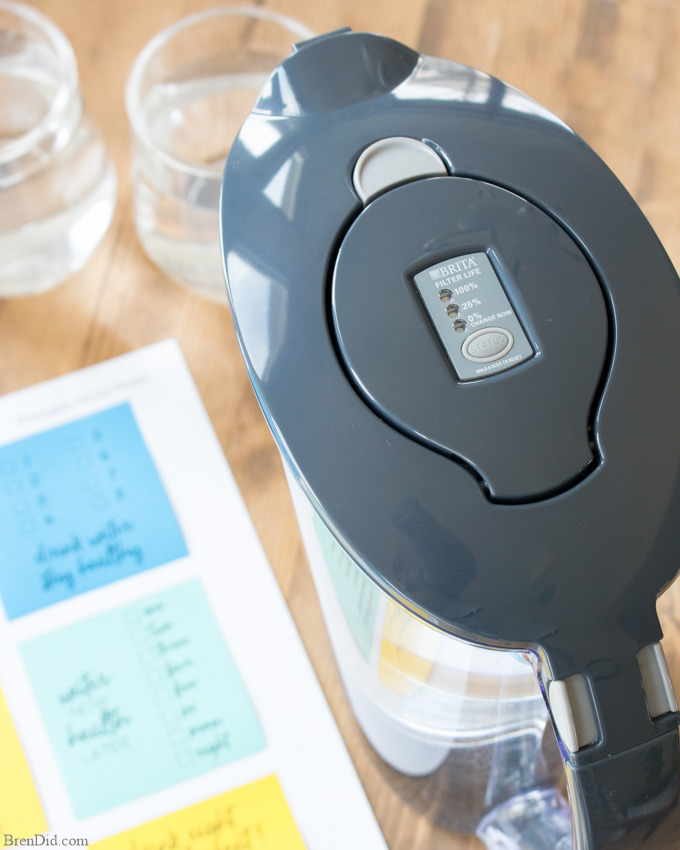 Top 4 Reasons Why You Should Drink More Water
Increases Energy Levels
Water is a natural energy boost! Drinking enough water helps you be more alert, more focused, and able to concentrate.
Improves Your Complexion
Drinking water can help your look your best. Water moisturizes your skin from the inside out; improving its appearance, smoothing wrinkles, and preventing blemishes.
Helps Body Eliminate Toxins and Waste
Water aid in digestion, prevents constipation, and rids your body of waste through sweat and urination. It's an easy, all-natural detox!
Boosts Health
Drinking water naturally improves your health. Water can relieve headaches and other minor aches and pains while helping your body helps fight against common illnesses.
How to Start Drinking More Water
Want to increase your water intake and form a healthy habit for life? Grab a Brita Stream then download my free printables water tracking post-it notes to start tracking (download the PDF here).
How to print on sticky notes:
Download the free PDF file.
Print page one (these are the printer guidelines). Stick your post-it notes inside the indicated boxes.
Place the paper with sticky notes attached back into the printer.
Print page 2 of the PDF file (this will print on the post-it notes).
Enjoy your water tracking post-it notes.
I hope you give the healthy habit of drinking more water a try and check out the Brita Stream (available at Target) .
Like my free printables? Sign up for my free newsletter below and never miss a thing!