Theses adorable PB Inspired Easter Bunny Napkin Rings add character to any table this spring. They are simple crafts made of burlap, cardboard and only cost $0.40 each to make. I hope you trying making this easy Easter DIY project and add some bunny whimsy to your Easter table decor.
This post uses affiliate links. They don't cost you a thing and help us bring you creative projects. Read more in Policies & Disclosures.
Easter brunch is one of my favorite occasions to celebrate with family and friends. We usually host a meal for friends since we live far from our extended families. The menagerie generally involves several families with more than a few children. I like to keep these young guests in mind when planning my Easter brunch menu and table decor.
This year I found the most adorable bunny ear burlap napkin rings at Pottery Barn. They are shaped like sweet little rabbit ears and add a touch of whimsy to any Easter table setting. I knew they would be a big hit with both children and adults. (You can also see my tutorial for Easter Bunny Tail Burlap Napkin Rings with for napkin rings with matching bunny tails.)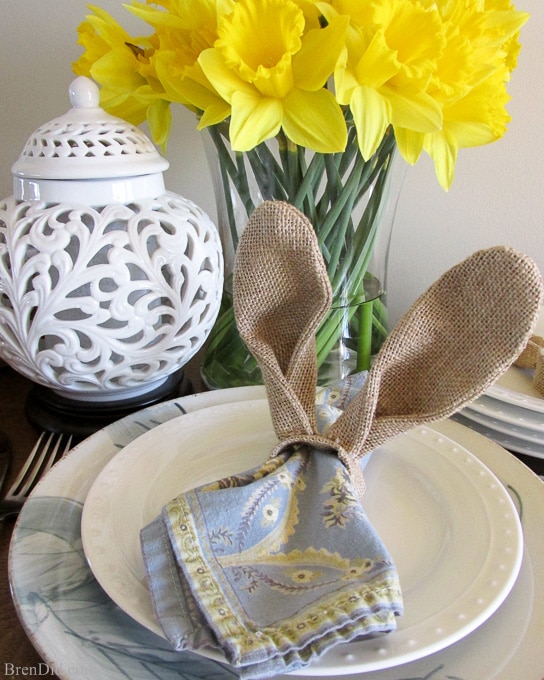 I loved the idea of adding a pair of the Pottery Barn ears to each place setting, however $32 for a set of four cardboard and burlap napkin rings seemed excessive to me. (Especially since we are hosting a large group.) I could easily have spent more than $100 in napkin rings alone. I knew it was time for some Easter DIY.
This is a simple craft! You need to be able to sew a simple line around the ears, zig zag the edges to help prevent fraying, and glue the ring together. They take a little time to assemble, but if you work in an assembly line way (cut them all out, stitch them all, glue them all) it will begin to go quickly.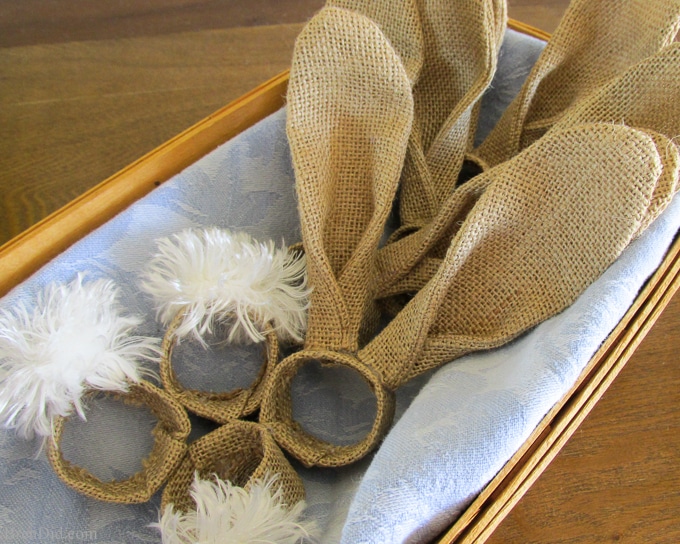 You may have seen bunny ear napkin rings before; version can be purchased at Sur La Table and Pier One as well as Pottery Barn. There are also several online tutorials available for making the napkin rings. I think that taking the time to sew the ears and adding a bit of craft wire really makes them Pottery Barn quality! They look polished, not homemade.
This post contains affiliate links. Opinions are my own. 
Easter Bunny Napkin Rings Supplies
Easter Bunny Napkin Rings Directions
1. Iron your burlap.  (Get my easy directions to prepare burlap for crafts.)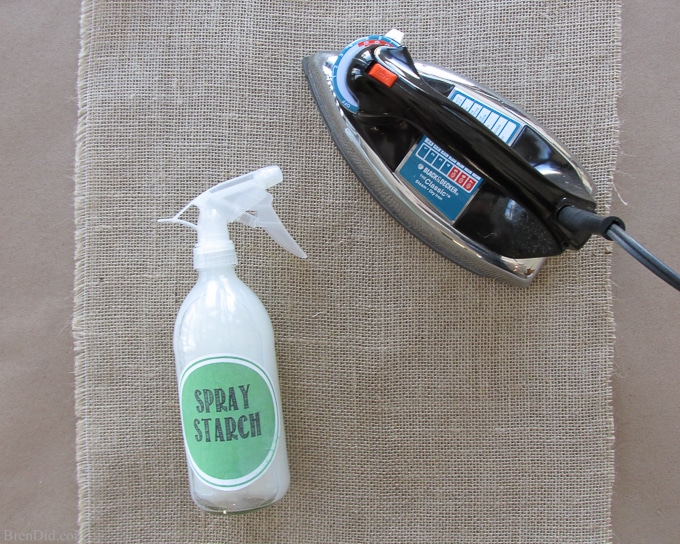 2. Print out the pattern, cut out the ear shape, and trace the ears onto burlap.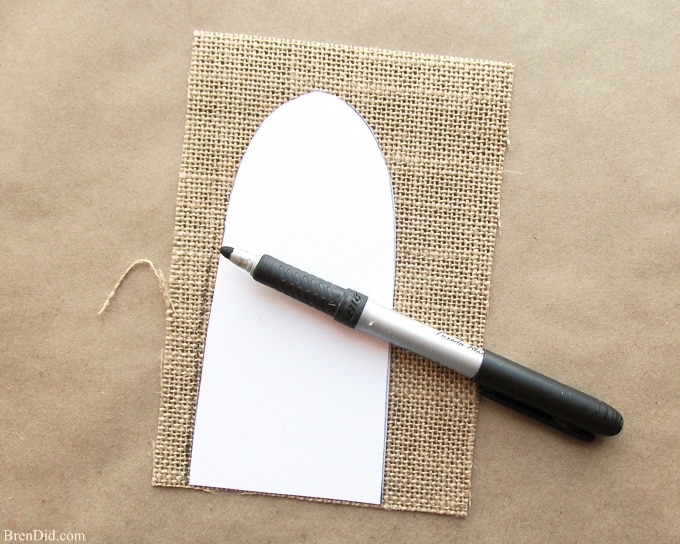 3. Cut out the burlap shapes. You should have four ear shapes for each napkin ring.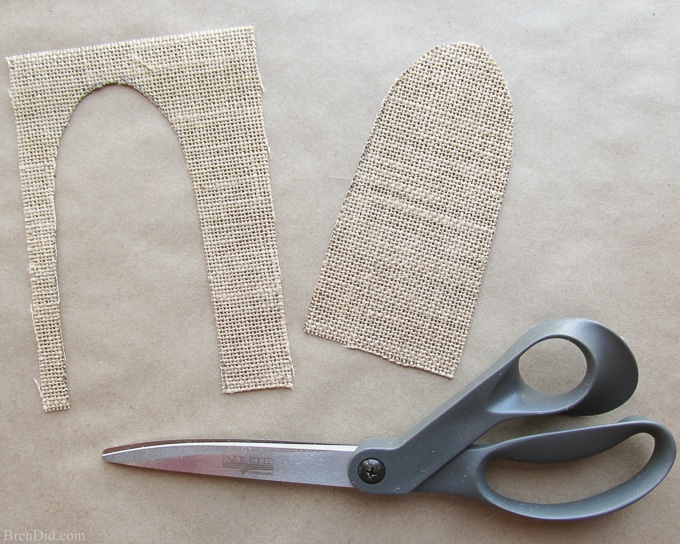 4. Stitch the ears together. I straight stitched around the edge at .25 and then zig zag stitched around the outer edge to reinforce and prevent fraying. Do not stitch the bottom closed. Turn the ears inside out (use a pencil with an eraser to gently help the seams completely turn). Press the ears flat with a warm iron.
5. Cut a pieces of wire 2.25 times the length of your ears. Bend the wire in half to double up and then bend it into an ear shape. Insert a wire shape into each ear. Approximately 1 inch of wire should stick out of the bottom of the ear.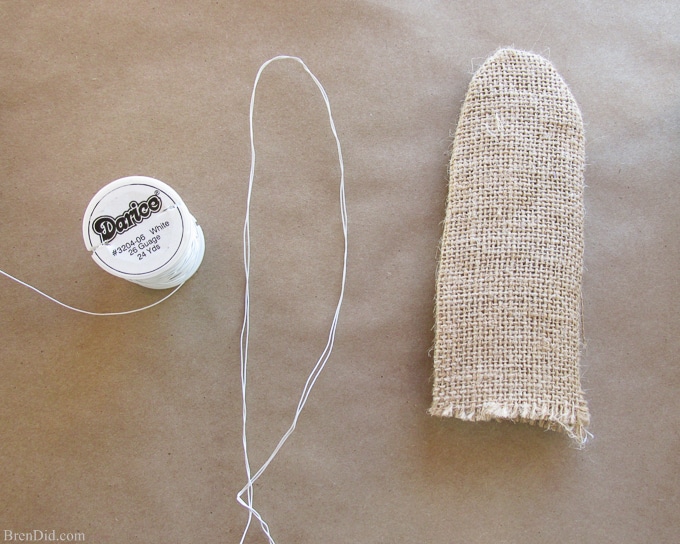 6.Fold the right side of the ear in to the center and glue. Fold the left side of the ear into center and glue. Use the wire inside the ear to bend it slightly into a rabbit-ear shape.  Adjust the internal wire as needed.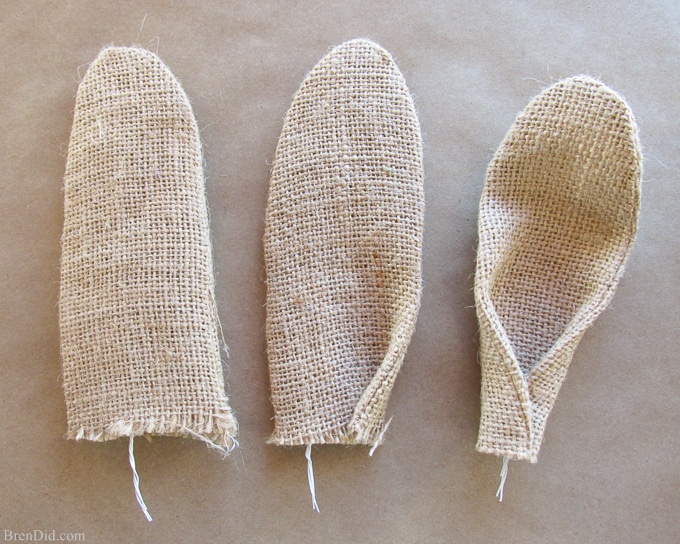 7.  Cut a 1-inch section of tube for each napkin ring.
8. Use a needle to poke holes in the cardboard rings approximately 1.25 inches apart.
9. Cut a 3×6 inch piece of burlap to wrap around the cardboard ring. (You should measure your ring to make sure this size will cover it completely before cutting).
10. Use small dots of hot glue to secure the burlap to the cardboard. Do not use too much, you do not want glue to ooze through the loose weave of the fabric.
11. Fold the end under and glue to finish the edge before gluing down.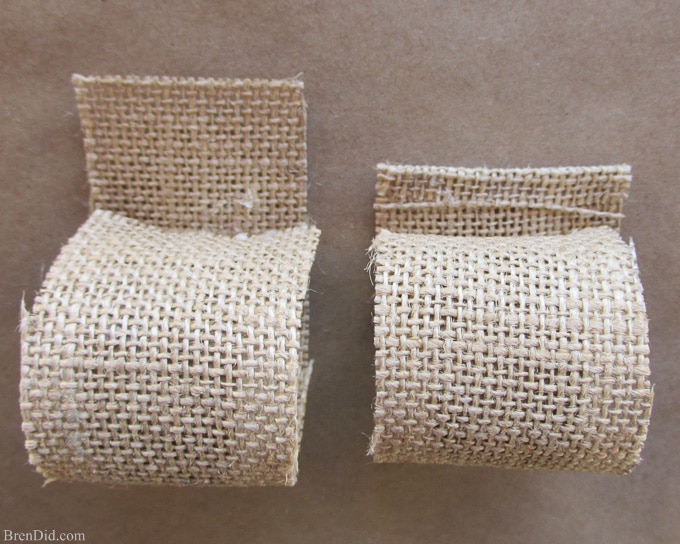 12. Insert wire from ears through the burlap and cardboard using your pre-made holes. Look inside the ring to find the holes. Place a tiny dab of glue under each ear and press it tightly to the burlap ring as it cools.
13. Fold the wires down inside the cardboard tube.Push them down to the side, making sure they are flat against the tube.  Cut a small scrap of burlap and use it to secure the wires down with hot glue. The ears should now be very secure.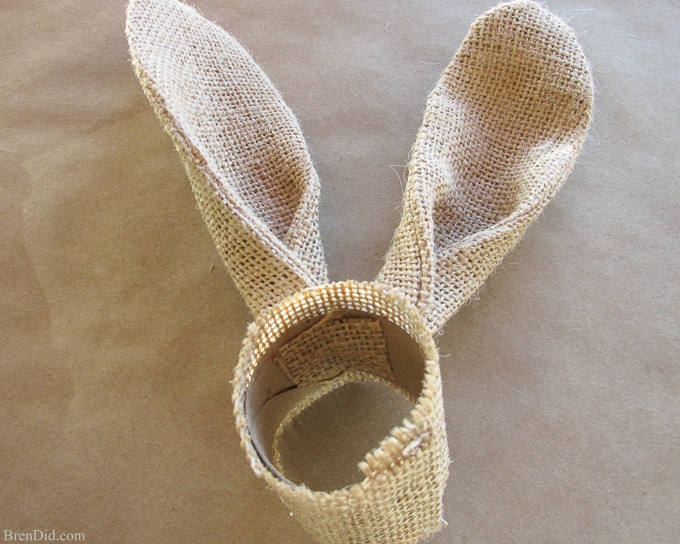 14.  Fold the edges of the burlap into the center tube and secure with hot glue.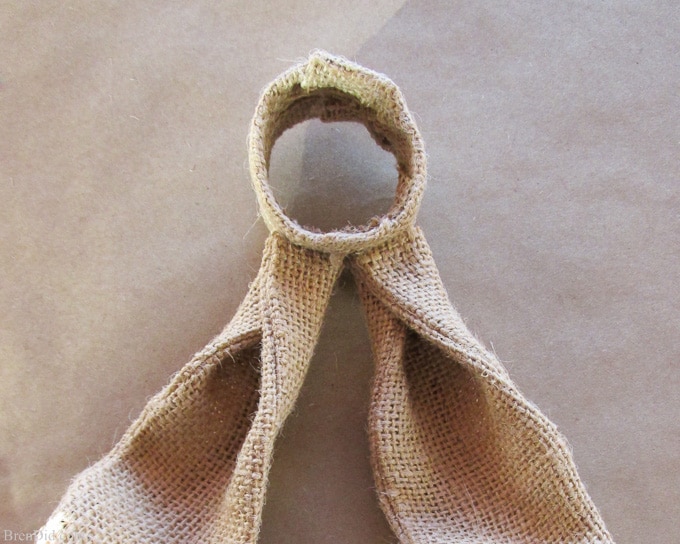 15.  Fold the ears into desired shape using the inner wire. Enjoy your PB Inspired Easter Bunny Napkin Rings!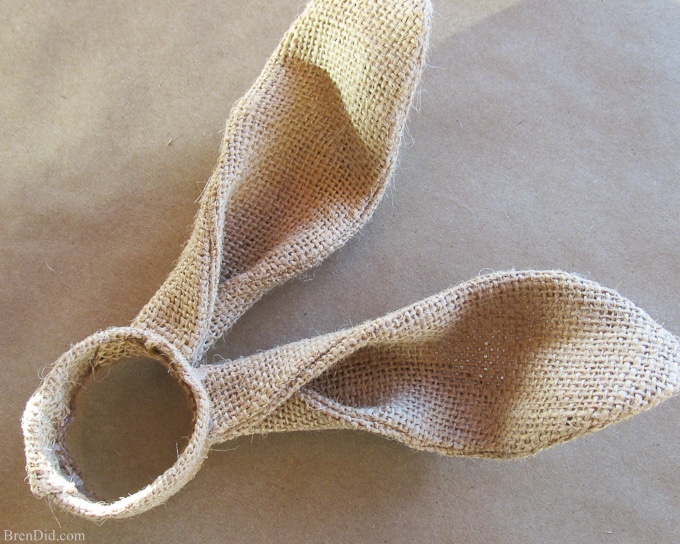 Easter Bunny Napkin Rings Cost
Here's the BrenDid cost breakdown:
Tan Burlap, 1/2 yard: $2.00, makes approximately 10 napkin rings – $0.20
White, tan or clear thread: $2.99 a spool (partially used) – $0.10
Cardboard tube: $0.00
24 gauge wire: $4.00 for 25 yards (partially used) – $0.05
Hot glue gun and glue sticks: $0.10 each (used 1/2 per napkin ring), $0.05
Total cost per napkin ring= $0.40 ($1.60 for a set of 4)
That's a $30.40 savings (95% off).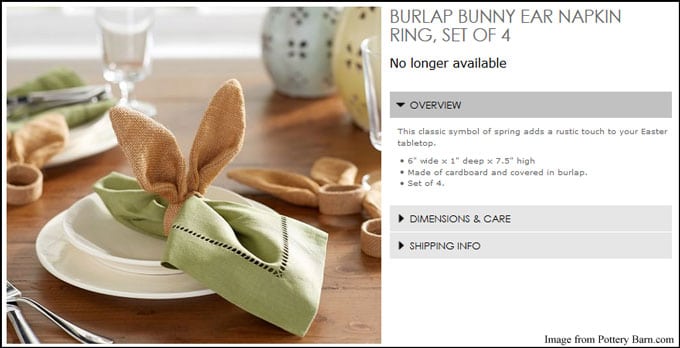 I LOVE the savings even more than my new Easter Bunny napkin rings!
Have you seem my PB Inspired Easter Bunny Banner? I made strings and strings of the bunny garlands last spring. They have the cutest pom pom bunny tails. I decided to make a few Easter Bunny Tail Burlap Napkin Rings with matching bunny tails. Get the instructions for Easter Bunny Tail Napkin Rings here.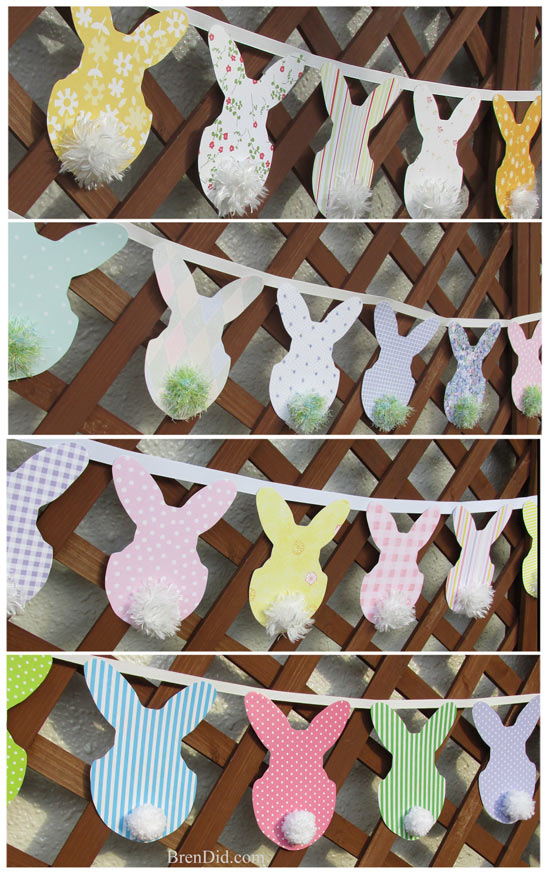 Like my easy crafts? Sign up for my free weekly newsletter and never miss another project.

Subscribe to the Bren Did Newsletter to Get Access