This free printable deep cleaning checklist will help get your home looking like new. Whether you're moving out, moving in, or just want to do some serious tidying up this cleaning guide has you covered.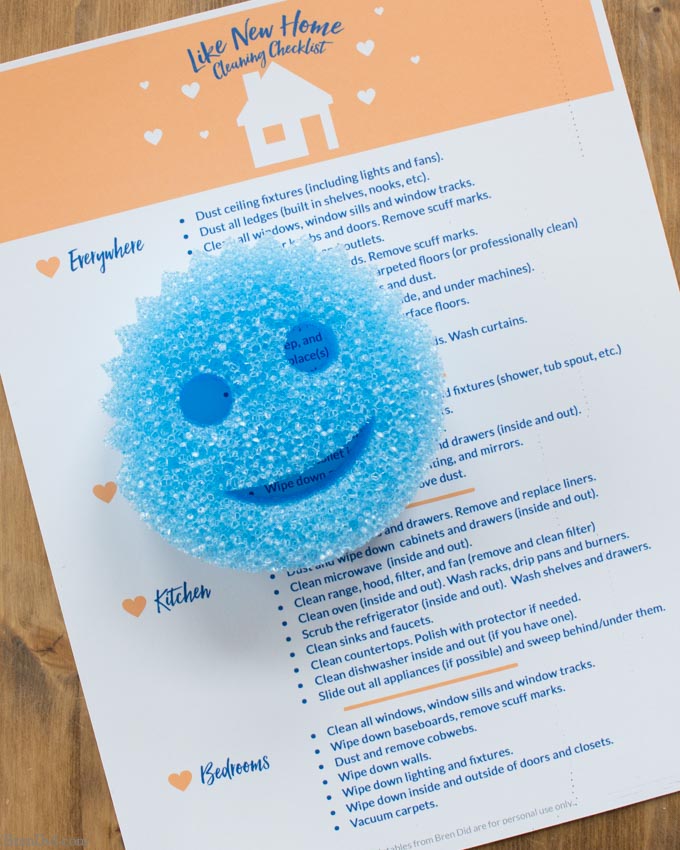 This is a sponsored post written by me on behalf of Scrub Daddy. All opinions are 100% mine.
Let's talk a little about DEEP house cleaning. I'm not talking about weekly home vacuuming and dusting. I'm talking about a "move the appliances – degrease the oven hood – call the carpet steamer" cleaning.
Serious moving into a new home cleaning.
As a military family we've lived in nine different houses in that past 16 years. Sometimes we rent, sometime we buy but we always, Always, ALWAYS CLEAN.
We clean when we move into a home to get rid of the dirt and gunk left by the previous owners. We clean when we move out of a home to leave it spic and span for the new tenants.
It can be downright exhausting without the right cleaning tool and tricks!
(I'm devoted to green cleaning so it's important to find the right cleaning tools to remove stubborn dirt and grime without using toxic chemicals.)

Are You Sanding Stains Away?
For a long time I reached for magical sponges and I thought they did a great job cleaning. Then I learned an ugly truth. I wasn't so much cleaning as I was sanding.
That's right those so-called erasers are actually mini sanders! URGH! They are made of Melamine resin foam that acts like super-fine sandpaper filing away the stain.
Unfortunately it can also file away anything around the stain… like the paint on the wall, the wood finish, the floor finish, etc.
Maybe you've noticed a dull or cloudy finish after cleaning an area with an eraser? That's the damage caused by the micro-sanding!
Non Abrasive Scrubbing Power
I recently found a new non-abrasive tool that works great on scuffs, spots, and hard water stains without damaging the surrounding finish.
What is this cool new tool? Scrub Daddy sponges!
Scrub Daddy sponges are made from engineered cellulose that is latex free, BPA free, and nontoxic. They are scratch free, don't hold onto odors, and rinse clean.
They meet my green cleaning standards and clean great with just a bit of tap water!

Deep Cleaning with Scrub Daddy
As we move from house to house I've noticed that lots of grime can build up without homeowners noticing… especially if you've lived in the house for longer than a few years.
When the house is empty it's easier to spot… but who empties their house each year?
Each spring I try to do a move out cleaning to get our home in the best shape possible. I call it a move out cleaning because it's the kind of cleaning that gets the house so clean you would certainly get your full security deposit back (if you were a renter moving out).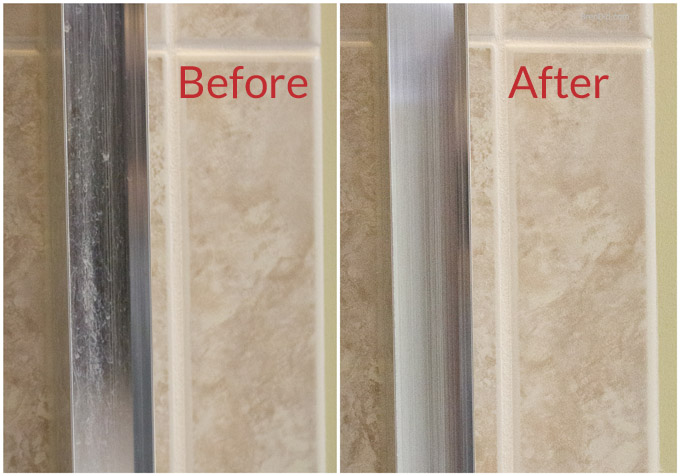 This cleaning tackles those less frequently cleaned areas such as the greasy cabinets above the stove, the scuff marks on baseboards, and/or the dirty fingerprints above light switches and door knobs.
They're the overlooked areas you don't even notice until you start looking!
Free Printable Deep Cleaning Checklist
I've compiled a list of the grime offending areas we tend to find when doing a move-in cleaning. This free printable checklist is great for moving into or out of a home or apartment… but it also is a great annual checklist to make sure your home is as clean as when you first moved in!
Grab a smiley Scrub Daddy and my free printable deep cleaning checklist and get cleaning!
How to Use a Scrub Daddy
I have been interested in trying Scrub Daddy since I say the adorable smiley faces on Shark Tank in 2012. (They'e now available at all major retailers.)
The adorable smiley faced design reminds me of living in Japan (where cleaning products are much much cuter than in the US). Cleaning is a bit more fun when you have such cheerful tools!
I'll also admit that I was a bit skeptical of all the cleaning promises… I mean come on, it's a sponge. My box of Scrub Daddy's arrived and I started cleaning (We're in the process of moving so I am in the process of deep cleaning our newly purchase house and deep cleaning our rental!)

After a week of deep cleaning I can truly say that Scrub Daddy Sponges are amazing—they are hard when dry, firm when wet with cold water, and soft when wet with warm water. This means you can customize the super-scrubbing power so they can be used to clean practically anything! Just wet the eraser sponge and rub gently to remove any of these messes:
Scuff marks on baseboards and walls (I used a cold, damp sponge and did not damage the paint!)
Coffee stains on counter tops (I used a cold, damp sponge and did not damage the finish!)
Hard water mineral stains on bathroom fixtures. (I used a cold, damp sponge and did not damage the shiny metal surface!)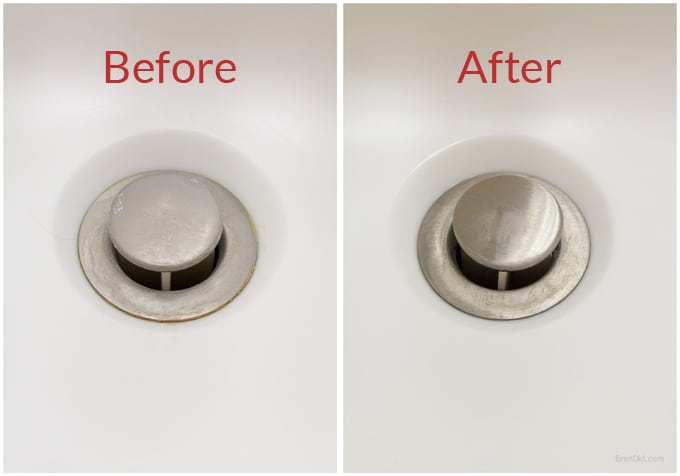 You can also use Scrub Daddy to remove marker, pen and crayons, clean soap scum off of shower doors, cleans granite countertops, scrub tile grout, polish stovetops, and much more! Get more ideas from Scrub Daddy Facebook.
Like my easy green cleaning tips? Sign up for my newsletter below and never miss a thing!