Homemade caramel corn is an easy treat to make plus making your own eliminates the artificial colors and flavors found in store bought caramel corn. (You can even make vegan caramel corn!)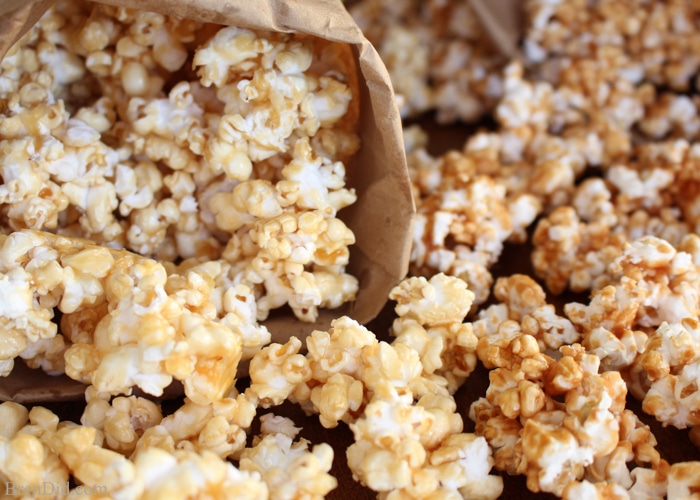 Caramel corn is a sweet treat that always reminds me of the holidays.
Big tins full of caramel corn decorated with snowmen, holly, and jingle bells are displayed in big pyramids at many stores. Catalogs full of the sugary treat arrive in the mailbox and you start to think about ordering a batch for your great-aunt…
While I love the decorative tins of store-bought caramel corn, I hate the artificial coloring and flavoring used in store bought version.
Yes, all caramel corn is full of sugar… but the list of unnecessary ingredients in store-bought versions really turns my stomach.
Don't despair, you can still have your caramel corn fix… just make it yourself!
Homemade Caramel Corn Recipe
This easy homemade caramel popcorn recipe uses the wet caramel technique. This means that the caramel is made by boiling sugar and water until it changes to a dark brown color. This caramelized sugar is then  combined with butter and cream to make caramel sauce. The caramel sauce is stirred into freshly popped popcorn and you have delicious caramel corn.
While this caramel recipe may sound a bit intimidating, it is actually the easiest caramel sauce recipe I have ever attempted. You don't even stir the sugar and water!
Many homemade caramel recipes use corn syrup to make caramel production easier, however corn syrup is highly processed and can contain artificial flavoring and coloring. I prefer to start my caramel recipe with simple table sugar.
Vegan Caramel Corn
I love the versatility of the caramel recipe.
It is easy to make the caramel vegan, simply replace the he cream with cream from a can of refrigerated coconut milk and the butter with refined coconut oil. The vegan caramel sauce is a bit lighter in color, but it is equally delicious.
The sauce can be used as a fruit dip, served over ice cream or brie, or even made into caramel steamers.
Print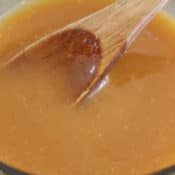 Easy Homemade Caramel Sauce Recipe
Author:

Prep Time:

5 minutes

Cook Time:

20 minutes

Total Time:

25 minutes

Yield:

1 Tbsp

1

x

Category:

American

Cuisine:

Dessert
---
Description
Homemade caramel is a delicious sweet treat. This easy version uses only sugar, butter, vanilla, cream, and salt to make a creamy caramel sauce. Vegan caramel recipe also included.
---
1 1/2 cups

refined granulated sugar

1/2 cup

water

1/2 teaspoon

vanilla extract

2 tablespoons

unsalted butter or refined coconut oil

6 tablespoons

heavy cream or coconut cream

1 teaspoon

kosher salt
---
Instructions
Use a heavy duty, uncoated 3-4 quart saucepan that is the same size as your burner ( I use a stainless steel saucepan). Measure all ingredients and set aside (this is very important as the last steps more quickly).
Pour sugar evenly across the bottom of the pan and top with water.

Heat over medium high heat until the mixture begins to boil. Do not stir.

Watch closely for the color of the boiling mixture to change from clear to a golden (this takes about 10 minutes).

Watch for the sugar to deepen to a slightly brown color. You may smell the scent of caramel but do not want to smell burning.

Remove the sugar and water mixture from the heat once it reaches the brown color. (This is the color when it is not boiling.)

Quickly stir in the remaining ingredients using a wooden spoon. The mixture will bubble and boil as you add the ingredients, keep stiring until it is completely smooth.

Makes a little over 1 cup. Store in an airtight container in the fridge.

---
Notes
Homemade Caramel Corn Recipe
Ingredients
16 cups air popped popcorn (about 1/2 cup of kernels)
1 cup homemade caramel sauce
Instructions
Pop popcorn in a air popper. Sort through and remove all unpopped kernels.
Pour hot caramel sauce over the popcorn a little at a time.
Stir the popcorn gently until it is well coated with caramel.
Spread the caramel corn on a parchment paper lined baking sheet and bake for 5 minutes at 350 degrees for chewy caramel corn or 10 minutes for crispy caramel corn.
---
Nutrition
Serving Size:

1 tbsp

Calories:

210
Keywords: Homemade Caramel Corn
Recipe Card powered by
Once the caramel sauce is made you can use it to make caramel corn or use it in place of caramel sauce in your favorite recipe.
What is Coconut Cream?
Unfamiliar with coconut cream? It is the thick cream part of a can of full fat coconut milk. Simply refrigerate the can of coconut milk for several hours and then open the can without shaking it. Skim off the thick white "cream," one can produces about 6 tablespoons (the amount needed for this recipe). Save the remaining liquid in the can for smoothies or baking.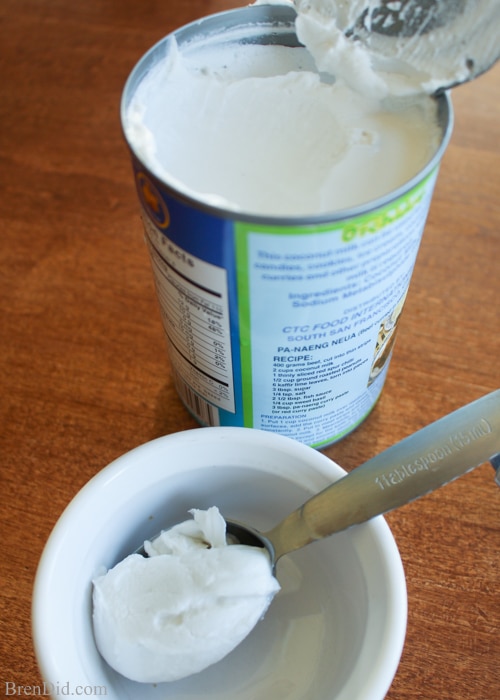 Like my easy recipes? Sign up for my newsletter below and never miss a thing!