Last week was my birthday. I was lucky enough to have my birthday coincide with two fabulous events: my annual college-friends weekend and an epic concert event, Neil Diamond LIVE 2105! (Yeah, we are a big nerdy bunch of Neil Diamond lovers!)
You know a way to make yourself feel young on your birthday? Hang out with your besties… the people who made your birthday perfect when you were 20! We are a rangle-tangle bunch who traveled from near and far for the concert (and, ah-hem, MY birthday).
The only way the weekend (and the concert) could get any better was to get matching concert t-shirts for the whole group.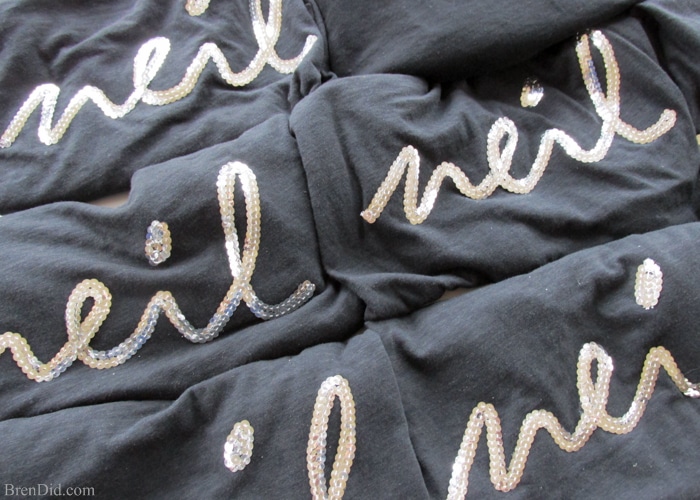 Total kitch, y'all! Sparkle city! Diamond-y awesomeness!
My sequin "Neil" shirts were inspired by A Beautiful Mess. Their sparkle meow sweatshirt has been floating around in my head ever since I saw it on Pinterest. (I developed my own adapted method for making the shirt since I was using a black t-shirt and they use a black marker line as their pattern.)
Custom Concert T-shirt Supplies
My custom concert t-shirt project uses:
A black t-shirt (or tunic style t-shirts)
Sequin sewing trim in silver
Permanent washable fabric adhesive (such as Liquid Stitch)
White thread (or thread to match your trim) and a sewing needle
White and clear contact paper
Permanent marker and scissors
Custom Concert T-shirt Directions
1. Prepare your shirt. Wash and dry your shirt. Do not use any fabric softener, it prevents the fabric glue from adhering properly.
2. Prepare your stencil. Use a cursive font to print out your desired message. I used Mistral in 200 point (It comes with Microsoft Office). Trace the outline of your letters onto contact papers with a permanent marker or use a vinyl cutter to cut the letters out. Cut out the inside of the letters with scissors or a vinyl cutter. (If you are making Neil shirts you can download my PDF pattern or Silhouette cutting file.)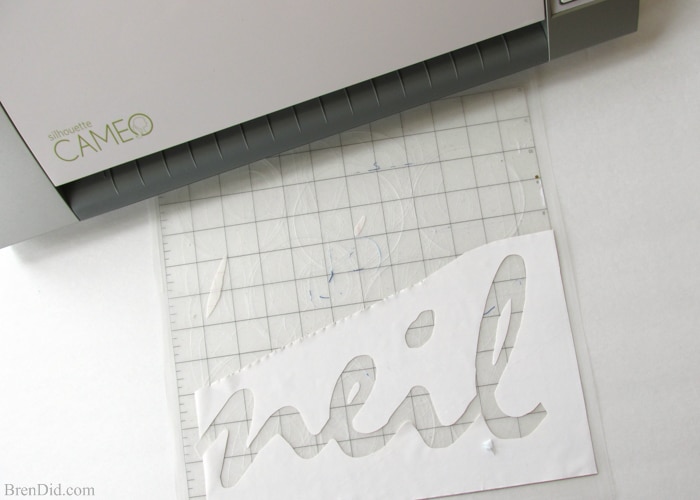 Place the vinyl pattern right-side-down onto a clear piece of vinyl. This makes it thicker and easier to place the vinyl pattern on cloth. (I stick the clear vinyl to my clothes or a towel so it picks up some link and is less sticky before sticking on my pattern.)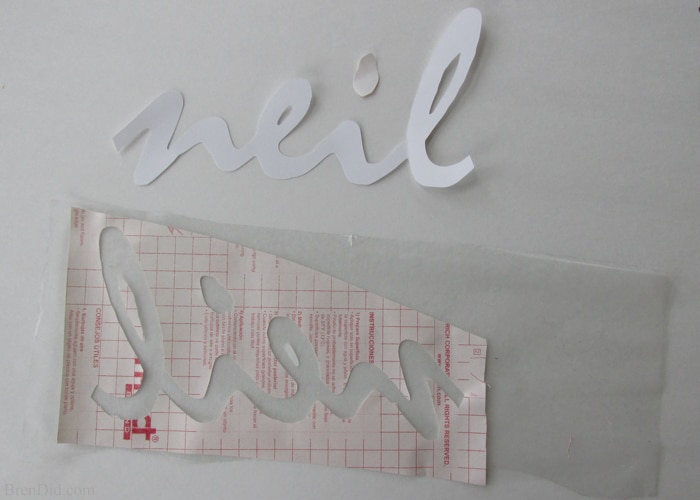 Remove the paper backing from the pattern. Lay your shirt on a flat surface and smooth out any wrinkles. Stick the pattern to your shirt making sure it is centered and straight. I placed mine about 5 inches from the neckline. Reposition it as necessary then carefully peel off the clear vinyl. (If you are making multiple shirts keep the clear vinyl to reuse.)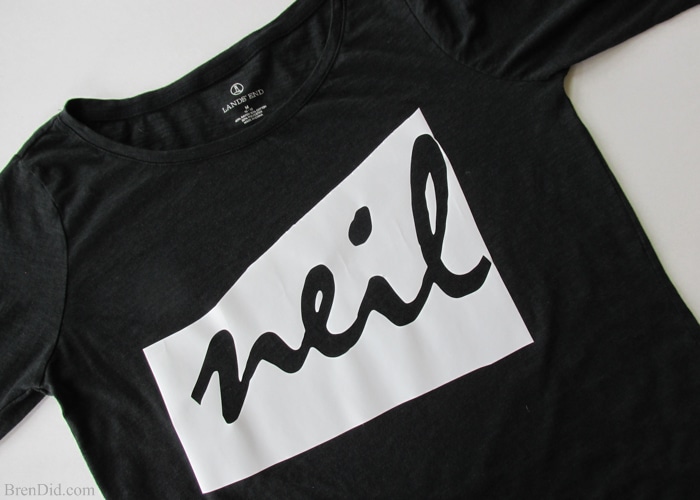 3. Add trim to the t-shirt. Run a thin line of permanent fabric glue about 1/8 of an inch from the edge of your pattern. Gently press the sequin trim into the glue as though you are writing in cursive.
Tips:
Try not to get glue on the top of the sequins. (Don't worry too much, it will dry clear if some does get on top.)
Add an extra drop of glue to any areas where the trim crosses the trim.
At the end of the phrase, curve the trim back around, run a thin line of permanent fabric glue next to the first row of trim and gently press the sequin trim into the glue as though you are writing in cursive.
Once you reach the beginning of the phrase, cut the trim about ½ inch longer then needed. Remove a few sequins and glue the thread end of the trim under your first sequin. Trim any extra thread. Glue on a sequin or two to cover any bare spots if necessary.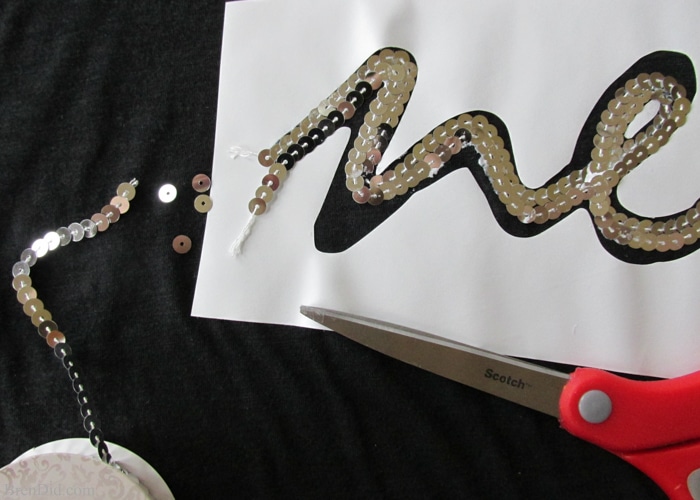 Carefully peel off the vinyl pattern. (If you are making multiple shirts keep the clear vinyl to reuse. ) Allow the glue to dry overnight.
4. Reinforce the trim. Use thread that matches the thread of your sequin trim to secure the sequin trim every 1-1.5 inches. (I used white thread as my silver sequins were strung on white.) Stick your needle up through the center of a sequin and then follow the trim thread down beside one edge of the same sequin. Your thread and the trim thread will blend tighter so you cannot see the stitches.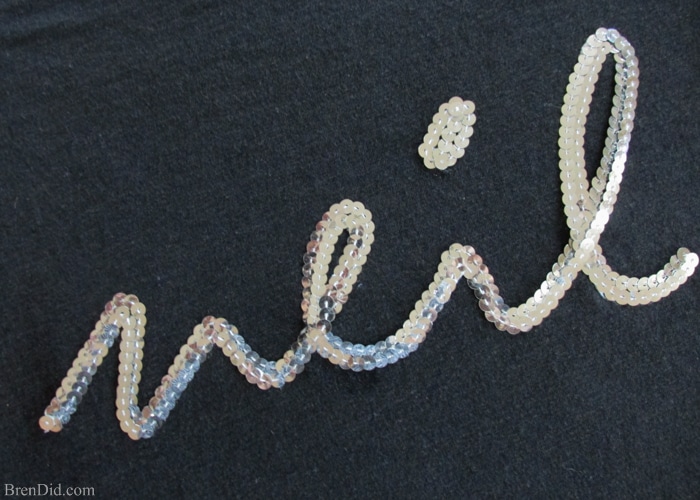 5. Enjoy your shirt! I wash mine inside out in a mesh bag on the delicate cycle to protect the sequin trim. It is holding up great!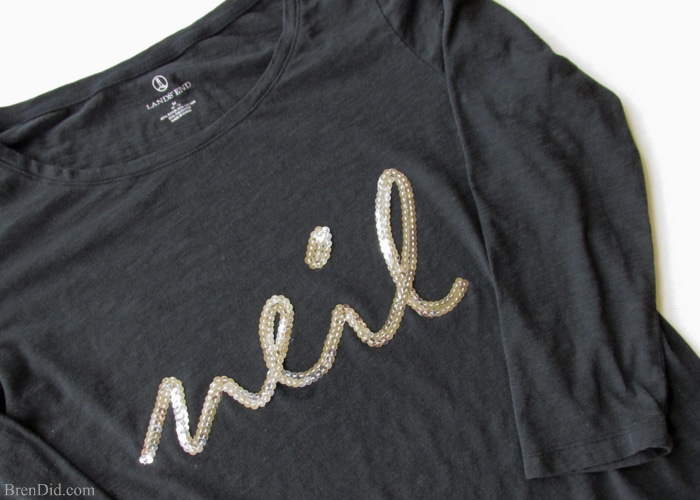 I hope you schedule a weekend with your besties ASAP and definitely throw in some matching sequin-trim t-shirts. We were quite a hit at the concert (at least until we started dancing like fools). You should also go see Neil, it was a splendid show (even from the nose-bleed seats).
Do you love Neil Diamond or another retro musical act? Comment below and let me know your favorite!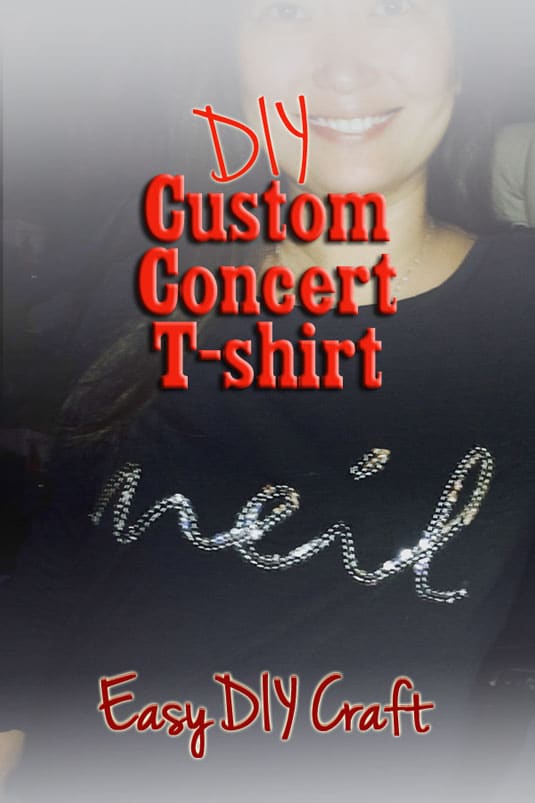 Bren Did Newsletter Subscribers Get Access!