A holiday banner is an easy way to dress up any room for the season. It also adds holiday charm to parties and celebrations. One of my favorite sources for seasonal banners is Pottery Barn. Their simple styles are classic yet stylish. This Christmas I am in love with their glitter Merry Christmas Banner. It features a classic font that is highlighted by the red and silver color scheme.

I was all set to click "add to cart" when I noticed the price, $22 for a banner made of paper cardstock letter, twine, and glitter. I decided I could easily make my own banner for a fraction of the price using glitter cardstock that is available in the scrap booking section of most craft stores.
Merry Christmas Banner Supplies
I selected corrugated glitter cardstock that retails for around $2 a sheet. Luckily, it often goes on sale for 50% off so I was able to purchase my sheets for $1 each. You will need one 12×12 sheet of silver and two 12×12 sheets of red.
The Pottery Barn banner uses "cotton twine." You can find this item labeled bakers twine in most craft stores. It retails for around $5 for 35 yards, this project uses about 2.5 yards or about $0.35. I selected red and white twine for my banner.
Merry Christmas Banner Instructions
The project is very simple. Simply print the FREE printable pattern, trace it onto the back of your cardstock, cut out the letters, and secure them to your baker's twine.
1. Print the free pattern.  You can download the free Merry Christmas PDF file.
I have also included a Silhouette cutting file for crafters who own a Silhouette machine. Download the free Merry Christmas cut file.
2. Trace the pattern onto the back of your card stock and cut out the letters.
Using an X-Acto Knife or a Silhouette cutter makes the process easier.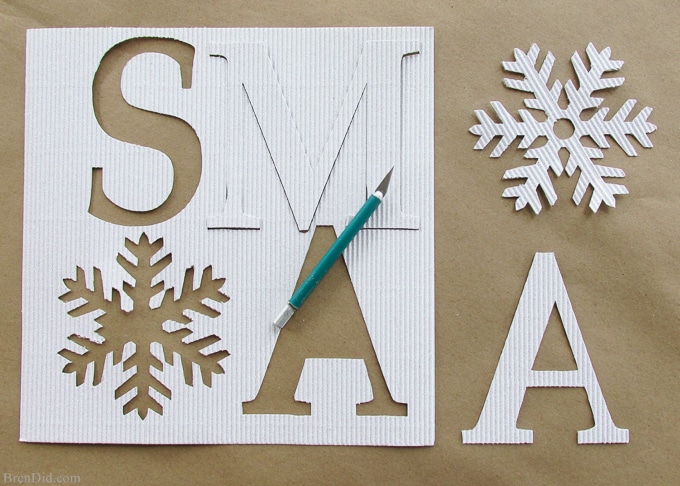 3. Secure the letter to your baker's twine using tape. I used washi tape.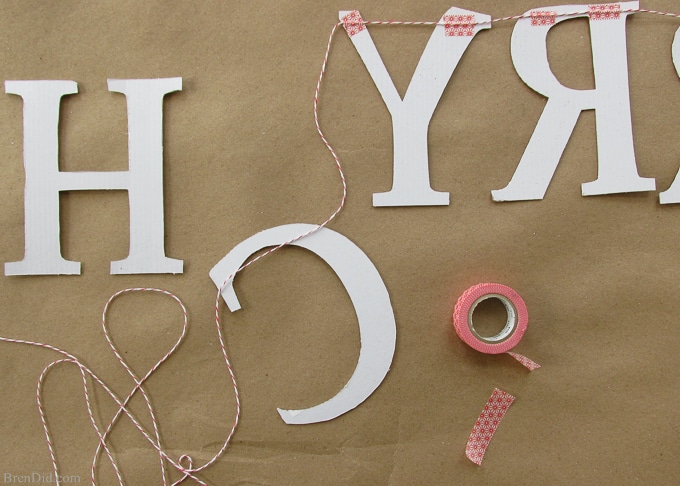 I bought my washi tape in Japan, but luckily you can buy it at most craft store in the U.S. or at Amazon. I'm an addict!
4. Enjoy your beautiful new Merry Christmas Banner!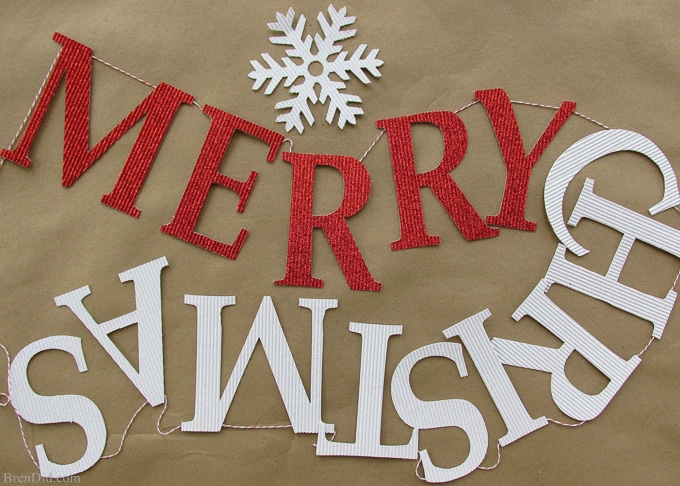 Merry Christmas Banner Cost
I really love how this banner turned out! The silver is sparkly and almost white, just like newly fallen snow. I'm using it in our family room to make the television are a bit more festive.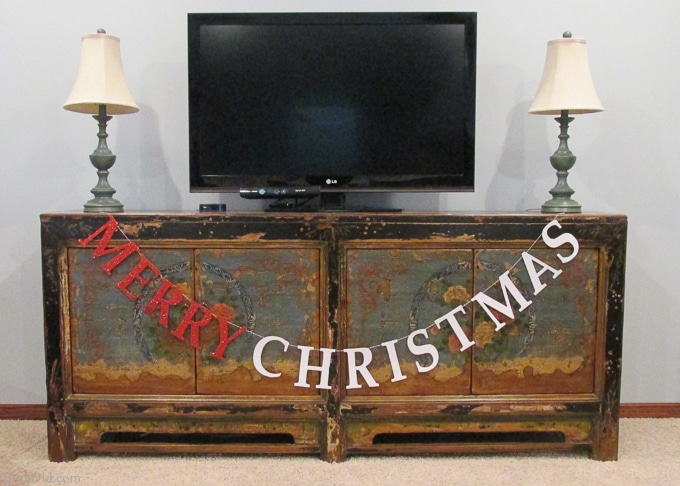 I especially love the SAVINGS! The Pottery Barn price is $22.00, mine was about 84% off…. $3.64!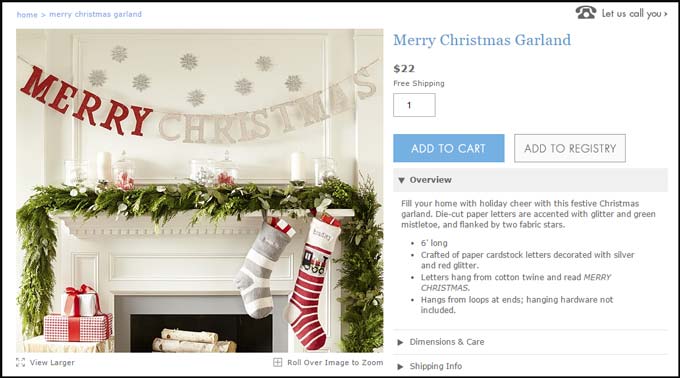 Supplies
Glitter cardstock – three 12×12 pieces or $3.00
Baker's Twine – I used 2.5 yards or $0.24 worth
Washi Tape – I used about 1 foot or $0.40 worth
Total price= $3.64
That's a $18.36 savings (83.5% off of the original price). I LOVE those savings even more than glitter!
Wishing you a very Merry Christmas! Make sure to check out all my holiday crafts and holiday recipes!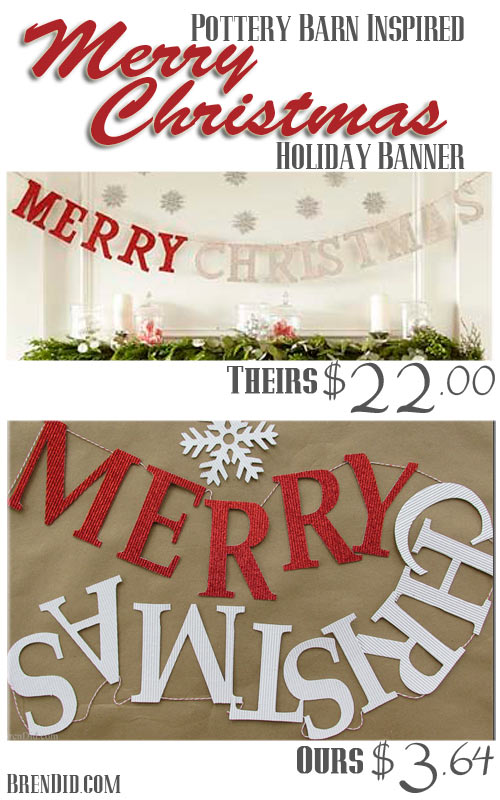 Bren Did Newsletter Subscribers Get Access!