What is your family doing for New Year's Eve? We love hanging out together or with other families to throw a family friendly New Year's Eve party. This year we are getting a little extra help from Dreamworks Animation and King Julien. (Who wouldn't want the original Party Animal at their New Year's Bash?) Learn how to make King Julien's crown for your Madagascar party!
Disclosure: Netflix provided me with a streaming device and service in return for writing about their service. The opinions and free printables in this post are my own. This post uses affiliate links. Read more in Policies & Disclosures.
All Hail King Julien!
If you have kids you have probably been acquainted with King Julien, Ruler of the Lemurs, since the first Madagascar movie in 2005. He is a self-appointed monarch who is so self-centered he even invents words based on his own name. For example, January becomes Julianuary.
…and don't you just LOVE his stylish crown?!?
His crazy antics (and those of the Penguins of Madagascar) have continued through Madagascar 2, Madagascar 3, the Penguins of Madagascar television series, and multiple holiday specials.
New Year's Eve Party Theme for Kids
Ring in Julianuary with King Julien … JUNGLE STYLE!
Madagascar is 9 hours ahead of US central time. This is the

perfect time

for youngsters to ring in the New Year, Madagascar style! Your New Year's countdown can happen at 3 p.m. (midnight in Madagascar) allowing your little lemurs to participate in all the fun, while still making it to bed on time. Heck, you might even be able to squeeze in a date night that evening!
Here's my simple party plan to keep your little lemurs busy this New Year's Eve: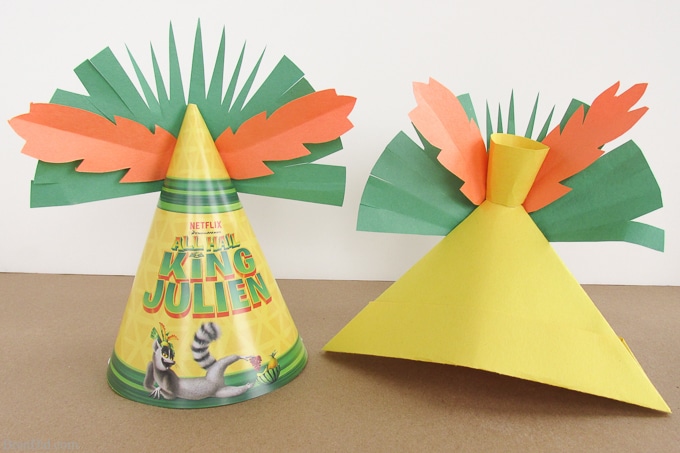 Make party hats, or rather, fabulous King Julien CROWNS to make sure your guests celebrate in style. (See full directions below and get the free PDF printable.)
Get ready to dance! Download your favorite Madagascar hits so you can host your own dance party at midnight (or 3 p.m. Madagascar time). Some of our favorite Madagascar movie hits:
Make some tasty, kid-friendly appetizers.
New Years Eve Paper Hat Tutorial
Now let's get down to the real fun…. CRAFTS! Folding paper hats is very easy:
Supplies
9×12 sheets of construction paper (use yellow, orange, and green for King Julien's crown).
tape or glue
King Julien crown FREE printable PDF file!
Note: Any 8.5×11 or larger rectangle-shaped paper will work, it will just change the size of the finished hat slightly.
How to Make a Paper Hat from Construction Paper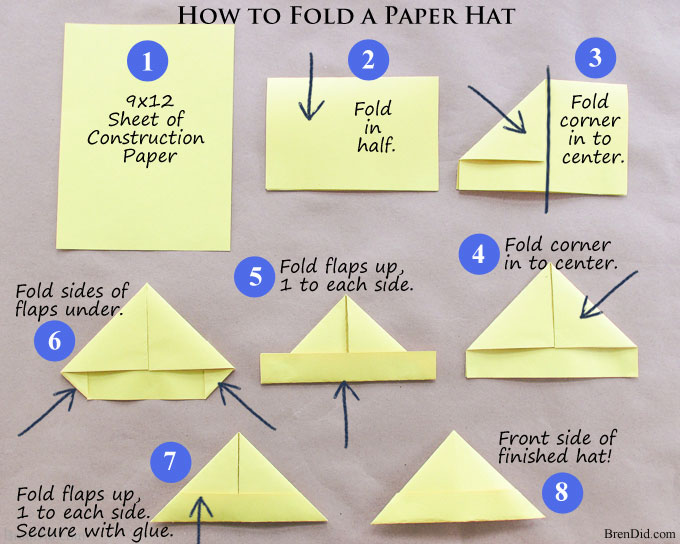 Now you're ready to turn your paper hat into a crown!
How to Make King Julien's Crown


Like my easy crafts? Sign up for my free newsletter below and never miss a thing!