Best friends can come in many shapes and sizes: from furry beasts, to childhood companions, college buddies, or even a great neighbor. I hope your family takes time to celebrate the friendships that make our lives great. Our family is celebrating best friends with a family fun night featuring Netflix, Walt Disney's favorite chili recipe, and one-hour homemade cinnamon rolls.  
Disclosure: Netflix provided me with a streaming device and service in return for writing about their service. The opinions and free printables in this post are my own. #StreamTeam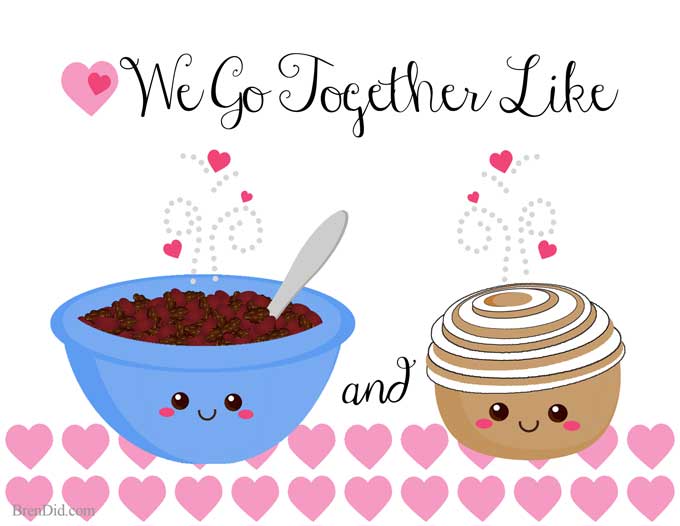 Best Food Friends
There are  certain foods that seem to be best friends. Those perfect menu pairs that always seem to be found together:
Bacon and eggs
Macaroni and cheese
Hamburgers and French fries

Midwest Best Friends: Cinnamon Rolls and Chili
Two foods that are best friends and make a great family dinner are chili and cinnamon rolls. Have you heard of this dynamic duo? It probably depends on where you live; it's a Midwest specialty. I grew up (for most of my young life) in Iowa. My husband, however, is more of a Westerner (from Colorado).
Our family relocated to the Midwest United States last summer. My husband was astonished to hear that our neighbors served cinnamon rolls and chili for dinner. As a Colorado boy he had never heard of this combo. As an Iowa girl, I had grown up being served it as a school lunch combo.
I decided that my husband needed to experience this Midwest specialty. I used my favorite recipe for one hour cinnamon rolls and Walt Disney's favorite chili recipe.
Walt Disney's Favorite Chili Recipe
Did you know Walt Disney grew up in Illinois and Missouri? His favorite chili recipe certainly reflects his Midwest roots. It is heavy on the beans and meat but light on the spices. You can get the recipe and full instructions at the official Walt Disney fan club: Walt's Own Chili.
The chili recipe is a bit vague, here are a few adjustments I made while cooking:
The recipe calls for 1 tsp. chili powder, but it makes a very large batch for this little chili powder  I increased the amount used to 2 Tbsp. and it still had a very mild flavor.
The recipe asks for 1 large can solid pack tomatoes, I used 2- 28 ounce cans of diced tomatoes (these can be regular or petite diced).
Finally the recipe calls for 2 lbs. dry pink beans, I used dried kidney beans.
One Hour Cinnamon Rolls
Cinnamon rolls are one of my specialties! I love making them for my family and have perfected an easy recipe that only take about an hour. While they are not exactly health food, I love knowing that they are homemade and free of any preservatives, artificial colors or flavors, and contain no hydrogenated fats. You can get the recipe here: Easy One Hour Cinnamon Rolls.

Best Friends Family Fun Night Entertainment
Netflix is my best friend when it comes to Disney entertainment! Not only did Netflix bring Disney movie classics to their catalog, they also have lots of Disney channel favorites to stream. (There are more than 100 choices for Disney shows on Netflix today.)
Even more exciting…  beginning in 2016  Netflix is  the exclusive streamer for Disney's first-run feature films (including Pixar, Marvel, Lucasfilm, and Disney Animation studios).
| Some of our favorite Disney classics: | Our modern Disney favorites: |
| --- | --- |
| | |
For parents:
Want something to watch once little people are in bed? Netflix has all 236 episodes (10-seasons) of Friends! When I was in college Thursday nights in college meant fun nights with friends watching Must See TV, now I can binge watch all the episodes!
Best Friend Free Printable
I hope you take a night to celebrate friendship and have some family fun!
Download my free printable card featuring that unique but fabulous pair …. chili and cinnamon rolls. (Then  invite your best friend for some freshly made cinnamon rolls!)
Like my free printables? Sign up for my free newsletter and never miss a thing! 

Bren Did Newsletter Subscribers Get Access!