Make no sew reusable Swiffer dusting cloths to green your cleaning routine. You'll eliminate unnecessary chemicals from your home, eliminate unnecessary trash, and save yourself some money! It's a win-win! 
Full Disclosure
I am a clean freak.
Gritty floors and dust bunnies make me crazy.
When my son was a toddler I cleaned our apartment EVERY SINGLE night until it was spotless. (Okay, okay… It wasn't too hard to clean… we lived in Japan and had a very tiny apartment.)
The terrible air pollution in our area left a black film on everything. If I didn't mop or dust nightly my son would have dirty marks on his hands and knees from crawling on the floor.
I cleaned so often that my son's favorite toddler toy was the floor mop. Seriously!
I
♥

My Swiffer

Thus began my love affair with the Swiffer sweeper. It is easy to toss on a cleaning cloth and quickly dust the floors.

It's especially convenient now that I have two kids, an 80 pound German Shepherd, and a larger house to keep clean. It's a recipe for hairy, grimy floors!

GROSS!
I
Hate 

My Swiffer

Unfortunately, as my love for green cleaning has grown I have had to face the facts. Disposable sweeper cloths are not great for our health or the environment:
According to the EWG, unscented Swiffer Sweeper Dry Sweeping Cloths rate an F for allergy and asthma concerns as well as skin allergies and irritations.
The Harsh Truth
My frequent sweeping was making a mountain of disposable cloths!
The cloths were leaving dangerous chemicals on my floors and household surfaces and then slowly leaching their toxic chemicals into the soil and ground water.
The Solution: No Sew Reusable Swiffer Dusting Cloths
There is a simple way to eliminate these problems without ditching your Swfffer: simply quit buying refill cloths!
No, I'm not asking you to re-use the same sheet over and over again. You simply substitute a cotton flannel cloth for the disposable sheets.
Cotton flannel cleans just as quickly and efficiently as disposable Swiffer clothes. Its fuzzy pile attracts dust and hair just like a disposable cloth.
It requires just one added step—washing the cloth—but they are easy to toss in with a load of laundry.
An added perk? Reusable cloths will save you money in the long run! A box of 48 sweeper cloths cost approximately $12.00 or $0.25 each (about $90 dollars a year ). One yard of flannel costs about $3 forever (makes about 16 reusable sweeper cloths).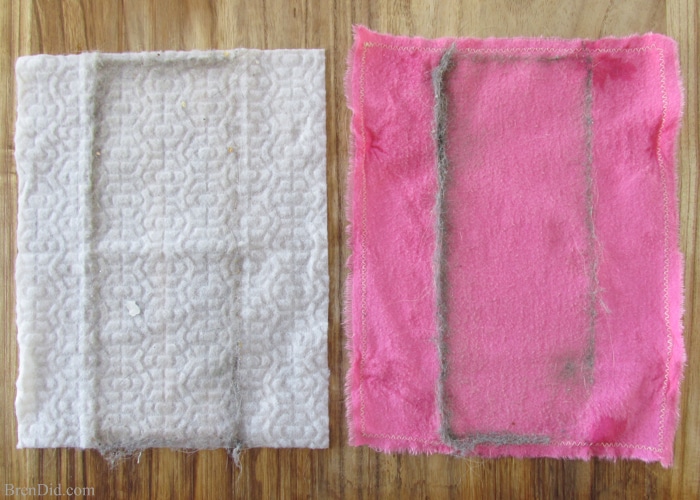 How to Make Reusable Swiffer Cloths
Wash and dry the flannel fabric
Cut flannel into 8.5  x 10 inch rectangles.
To stop fraying:

cut edges with pinking shears
treat with liquid fray stopper, or
zip-zag stitch
Use your new cloths with a Swiffer mop or other disposable mop handle.  Machine wash and dry.
Tip: After sweeping shake the cloth over the garbage to remove any large debris before tossing in the laundry.
Like my green cleaning tutorials? Sign up for my newsletter below and never miss a thing!