Celebrate Valentine's Day with easy custom printed canvases featuring romantic movie quotes from Pride and Prejudice, Notting Hill, Bridget Jones Diary, and The Wedding Date. This easy craft uses just an ink jet printer and canvas material to turn favorite movie quotes into home decor!
Disclosure: Netflix provided me with a streaming device and service in return for writing about their service. The opinions and free printables in this post are my own. This post uses affiliate links. Read more in Policies & Disclosures.
Forget the overpriced roses and expensive dinners, Valentine's Day is the perfect evening to stay in and watch romantic movies on Netflix!
I love spending an evening curled up on the couch with a bowl of popcorn and a great movie. No Valentine, no problem! It is the perfect recipe for a fun evening with friends or a romantic night with your love.
Classic Romantic Movies on Netflix
Netflix is full of movies that are perfect for a romantic date or a fun evening with friends. My favorite romantic movies include The Wedding Date, Pride and Prejudice, Bridget Jones Diary, and Notting Hill.
I've watched these movies so many time I know many of the quotes by heart!

Romantic Movie Quotes
To help you celebrate Valentine's Day  I created a set of free printable romantic movie quotes. You can turn the quotes into a Valentine card, a scrapbook page or fun Valentine wall décor.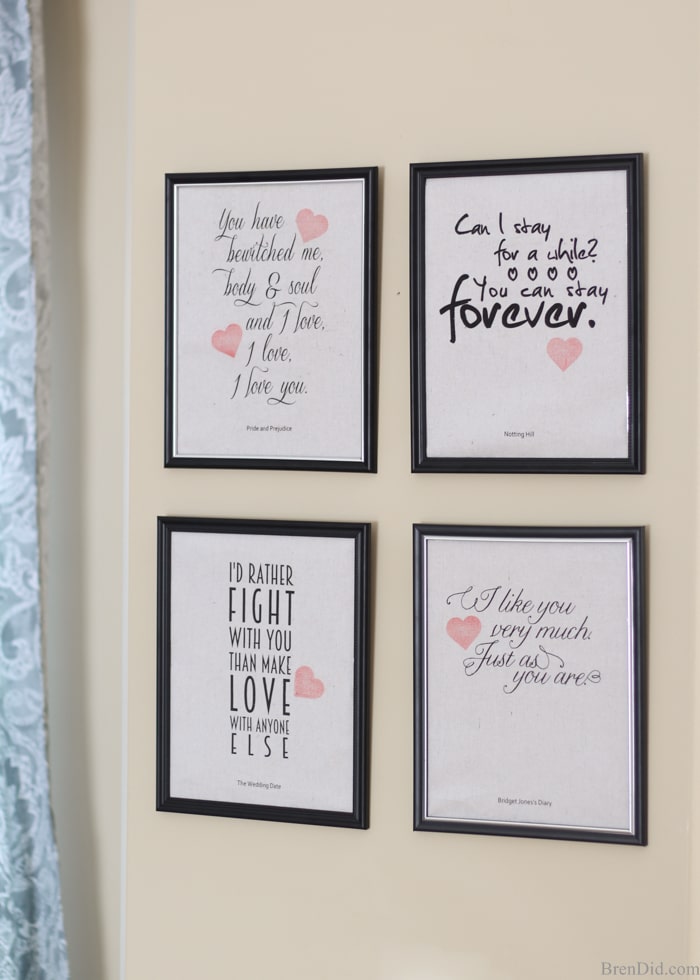 The romantic movie quotes I selected:
You have bewitched me, body and soul, and I love, I love, I love you. -Pride and Prejudice
Can I stay for a while? You can stay forever. -Notting Hill
I like you, very much. Just as you are. -Bridget Jones Diary
I'd rather fight with you than make love with anyone else. -The Wedding Date
Easy DIY Wall Art Canvas
I love displaying the free printable quotes on paper but also love the look of canvas art. You can print these romantic movie quotes on lightweight canvas and framed them for simple canvas wall art.
How to Make Framed Canvas Prints
Supplies
 Instructions
Download the free Romantic Movie Quotes PDF in the free printable library.
Prepare the canvas for printing. Wash and dry the canvas then iron flat.  Place the freezer paper shiny side down on the canvas and iron on medium-high to adhere to the back of the canvas. Cut the canvas/freezer paper to 8.5×11.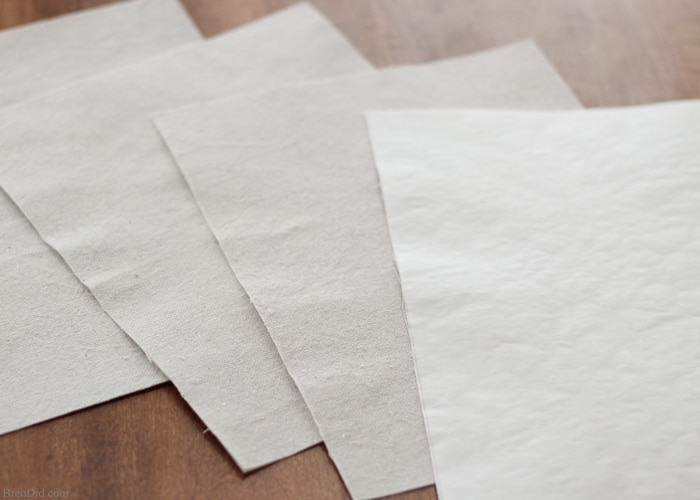 Print the quotes. Feed the canvas/freezer paper through your printer to print it with your quote. The canvas printing works best on a photo paper setting.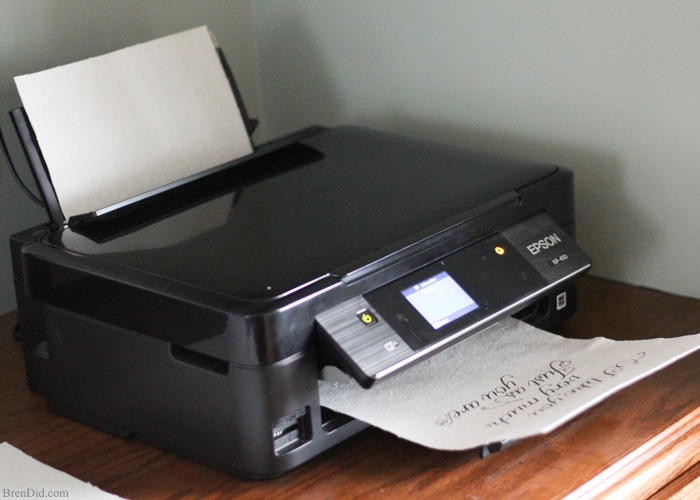 Stamp or draw on the canvas to decorate it as desired. I added a few heart stamps.
Frame your romantic movie quote in your choice of frame.
Enjoy some romantic movies this Valentine's Day and try making a printed canvas quote. This technique also works with other free printables, the possibilities are endless!
Like my free printables? Sign up for my free newsletter below and never miss a thing!