Use these easy bracelet instructions to create a custom Disney friendship bracelet with your kids. They add style to Disney Magic Bands and show off your favorite Disney character!
Disclosure: Netflix provided me with a streaming device and service in return for writing about their service. The opinions and free printables in this post are my own. #StreamTeam This post uses affiliate links. They don't cost you a thing and help us bring you creative projects. Read more in Policies & Disclosures.
Summer Vacation is in Sight
We're crazy excited for the end of the school year. Summer is coming and with summer comes our family vacation!
This summer we're heading to Florida to visit friends and then we're off to Orlando for…
you guessed it…
Walt Disney World!
It's our first trip and I'm CRAZY excited.
Hello Disney Fans
Are you a Disney fan? My kids and I are Disney fanatics.
Due to a vagabond lifestyle that moves us around the globe we've visited Disneyland, Disneyland Tokyo, and Disneyland Hong Kong. Yeah, I have some lucky kids!
This is our first trip to the mothership, aka… Disney World. It's the largest Disney park we've ever visited and our first experience with Magic Bands, the wireless ticketing system used at the Florida resort.
I love the convenience of the bands  but I do miss the decorative old-school ticket holders with fancy character covers and lanyards full of pins.
 
Disney Favorites
I decided to dress up our magic bands with friendship bracelets,  AND created a dressed up Disney version decorated with custom Shrinky Dinks.
We made all our favorite characters from Stitch and Winnie-the-Pooh to Mickey and Alice-in-Wonderland.
How to Make Disney Shrink Dinks
It's simple to make the custom character sliders for the bracelets using Shrinky Dinks that print on your ink jet printer.
Materials
Online Disney Images
Oven
Directions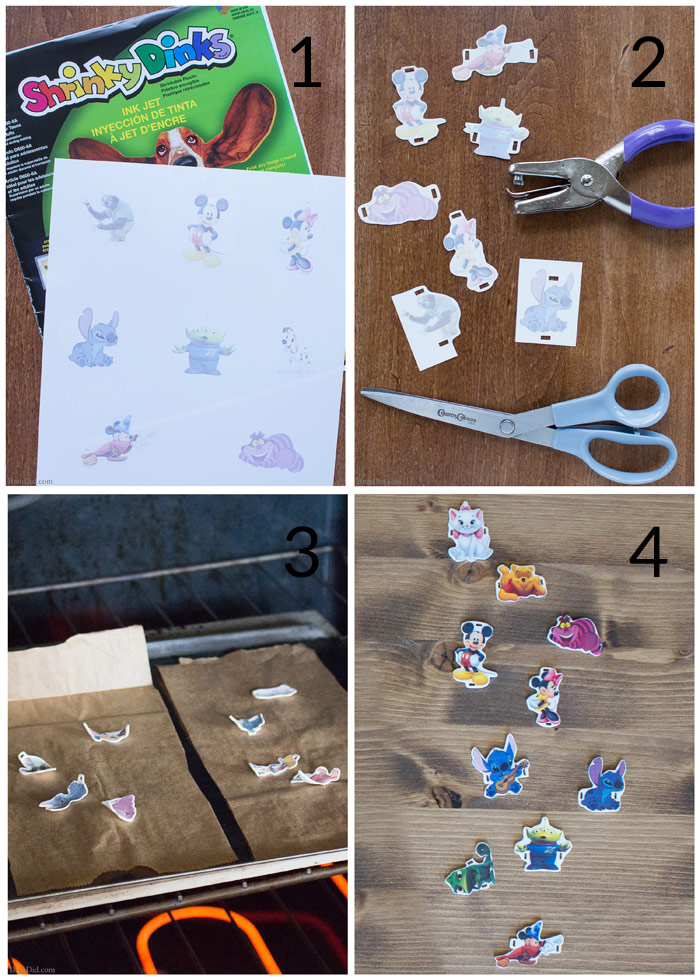 Find you favorite Disney images online and save them to your desktop. Arrange the images in an online document and follow the Shrink Dinks directions to lighten and print.

 Cut out the pictures leaving room for a thread hole, make two holes near each character using a hole punch.
Shrink the character sliders according to package directions.
Paint the characters with a bit of clear nail polish to seal in the color and allow to dry.
How to Make a Disney Friendship Bracelet
You'll now make a classic square knot friendship bracelet using your character sliders and waxed cotton cord.
Materials
Directions
Measure two 16 inch pieces of waxed cotton cord for the center of your bracelet. Measure two 36 inch pieces of waxed cotton cord for the outside of your bracelet. Tape the cord to a solid work surface as shown.
Begin your bracelet by making square knots with the outer threads. This video from SimpleDIYs is a great tutorial.
When you are halfway done with the bracelet (about two inches for kids) slide a Shrinky Dink character onto one of the center threads using one hole.
Lay the character upside down on the completed portion of the bracelet then place the thread back in the center. Continue making square knots.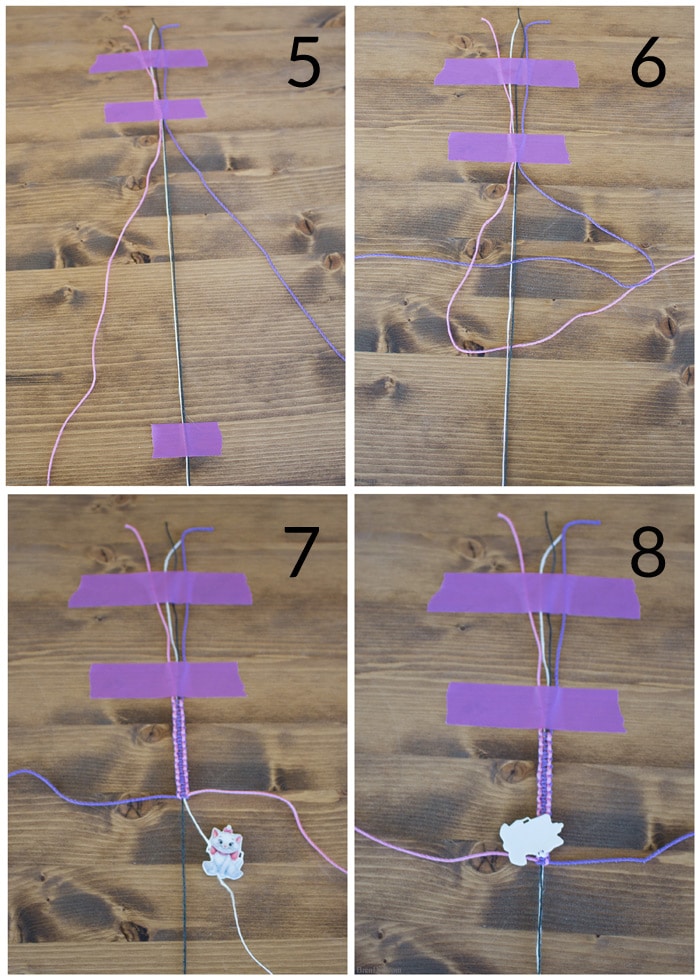 Make square knots until the section is as wide as the character.
Using the same center thread you used in step 7, thread the second whole of the slider. Lay the character flat ontop of the completed portion of the bracelet then place the thread back in the center. Continue making square knots.
When your bracelet has reached the desired length cut off the outer cords and seal the knot with a bit of nail polish.
Knot each end of the center cords and criscross to form a bracelet shape. Tape the ends to secure to the work surface. Use an 8-inch piece of cord to make  4 square knots. Cut off extra cord and seal with nail polish.  (This video from SimpleDIYs is a great tutorial.)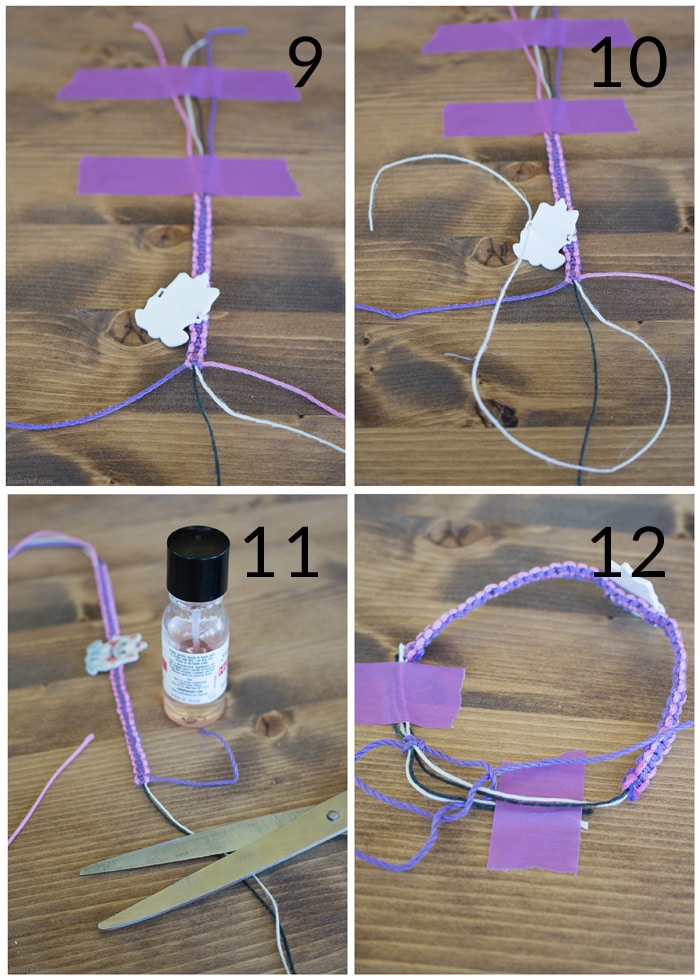 DIY Disney Bracelets
DIY Friendship Bracelets are super simple for kids to make and are a great family craft. It might take a few tries to get started but you'll be a square knot pro in no time!
Disney on Netlfix
Did you hear the great Netflix news about Disney? Starting in September 2016 Netflix will be the exclusive television home of Disney, Marvel, Lucasfilm and Pixar in the U.S.. That's right, all the latest films streaming right to your Netflix account!
Go Netflix, it's your birthday!
Don't Wait Until September
You don't have to wait until September to watch great Disney entertainment on Netflix. There are already TONS of Disney classic available to stream. Check them out today!
I hope these easy friendship bracelets and Netflix streaming will get your family in the Disney mood. Make sure to sign up for my free newsletter and never miss a project.
Like my easy crafts? Sign up for my free newsletter below and never miss a thing!