July 14 is Mac & Cheese Day! We're celebrating with a bowl of Back to Nature Mac & Cheese and fun macaroni art for kids. This back to basics macaroni art project uses dry noodles and colored paper to create a cool dimension effect.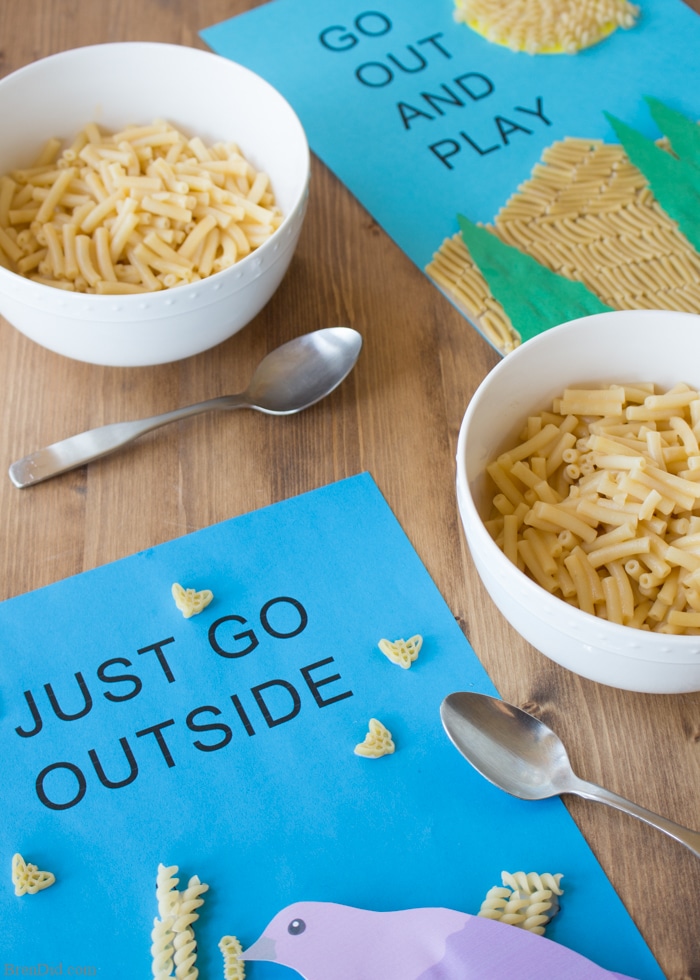 This shop has been compensated by Collective Bias, Inc. and its advertiser. All opinions are mine alone. Thank you Back to Nature Mac & Cheese for sponsoring this post.
Macaroni Art for Kids
Remember making macaroni art as a kid? Maybe you strung noodles on yarn for a Mother's Day necklace or dyed noodles for a lesson on mosaics. These classic projects are a basic rite of childhood.
Maybe it's because noodle art is simple; it requires only noodles, school glue, and paper. Or maybe it's because no two projects are ever the same. Whatever the reason, kids love making noodle art!
My macaroni art project uses basic noodles and insect noodle shapes to add multidimensional interest. I used several kinds of Back to Nature Mac & Cheese for this project including:
Organic

Crazy Bugs

Macaroni & Cheese Dinner

Made with Organic Pasta Spirals & White Cheddar Macaroni & Cheese Dinner

Organic Macaroni & Cheese Dinner
Free Printable Designs
Download the free printable designs in the free printable library for macaroni art inspiration. Both designs feature fun outdoor messages for summer (June was Get Outdoors Month and National Mac and Cheese Day is July 14th!).
This project the perfect cool down activity after kids have been playing outdoors and need to take a break from the sun or potentially dangerous heat. To complete the project, simply print  on your choice of colored paper, cut out the shapes and then glue on the noodles.
Supplies
Colored paper (thick paper works great)

Printer

Scissors

School glue

Dry macaroni noodle in a variety of shapes
Directions
1 – Print selected design on colored paper and cut out shapes.
2 – Attach background shapes using school glue.
3 – Glue macaroni noodles onto colored shapes. .
Vary noodle shapes and sizes to add interest.
4 – Attach top shapes (bird or trees). Glue noodle underneath shapes for stability if needed.
5 – Add fun noodle shapes to your design.
6 – Air dry and enjoy!
Back to Nature Mac & Cheese
Let's face it, kids love mac & cheese and moms love enjoy the convenience of having a quick dinner option on hand. You can make a better mac & cheese choice for your family with Back to Nature:
It contains no artificial flavors, preservatives, or synthetic colors

It is made with Non-GMO ingredients

It is made with organic pasta

It has the classic, cheesy taste kids love
Back to Nature Mac & Cheese is available at your local Target in the pasta aisle.
More Easy Craft Projects
Like my free printables and easy crafts? Sign up for my free newsletter and never miss a thing! Check out Back to Nature Mac & Cheese for more great mac & cheese options.

Bren Did Newsletter Subscribers Get Access!