Let your Valentine know they are "A Real Gem" with a sweet DIY Gift Box and Free Printable Valentine Cards. These Tiffany & Co. inspired Valentine's hold a precious trinket of your choice and are a great substitute for candy.
I love giving non-candy treats on Valentine's Day since many elementary school classrooms host parties and Valentine exchanges that feature lots and lots of sugar! I think that many other parents are happy to have one less piece of candy coming home from school in the backpack!
Having all that candy is waiting in the pantry to be doled out one piece at a time can create such a fight… and it seems like there is a never-ending stream of parties (with sugary treats and candy) from Halloween through Valentine's Day. Unfortunately, many kids long for the sugar rush and are disappointed with a toy that is affordable enough to purchase for an entire classroom!
Luckily, with a little colored paper and an adorable design you can elevate children's playthings into priceless gems!
I was brainstorming non-candy Valentine's with my kiddos when I started thinking about REALLY expensive Valentine's gifts. Shiny gifts that can come in tiny boxes. Tiny boxes in a certain blue hue, a patented shade of robin's egg blue that was a custom commissioned from Pantone.
It's named Tiffany Blue for, of course, that iconic jewelry store…. Tiffany & Co. Tiffany started using those beautiful little blue boxes in 1906. I love Tiffany boxes for their lovely color and the clean, timeless design. I decided to use my crafting skills to produce my own little blue boxes that could be used to dress up party favor rings for Valentine Day gifts.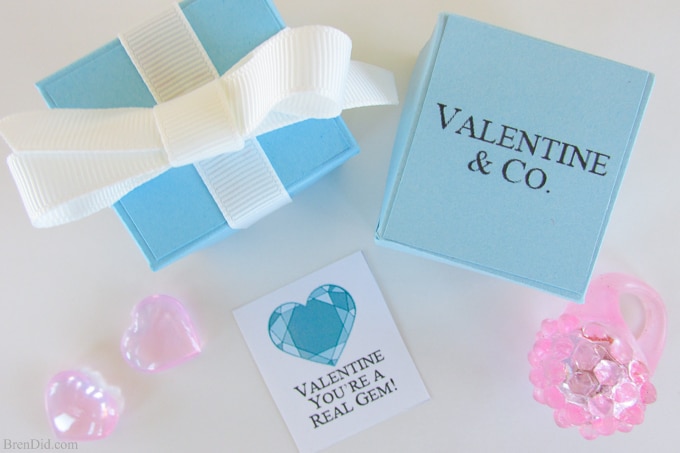 I created cute clam shell boxes that conveniently hold both a tiny, printable Valentine card and a "precious" gift.The cards declare, "Valentine, You're a Real Gem" because friends are the true jewels of our life. I've also included a set of free printable gift tags that you can tie onto the outside of the boxes.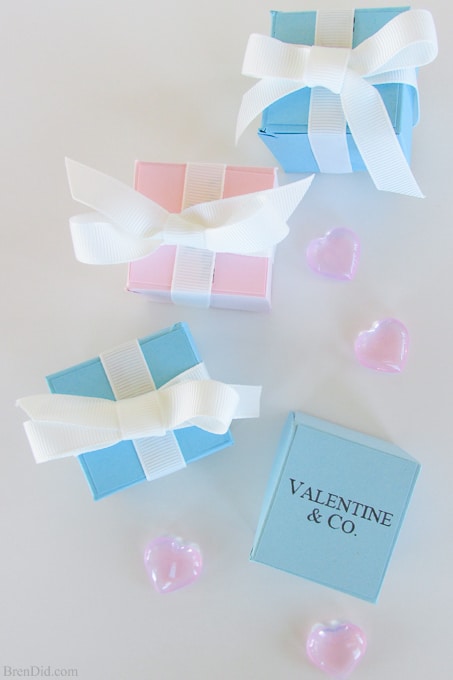 Personalize this craft by selecting  your favorite color of card-stock to make these adorable DIY Valentine crafts. I chose a lovely pale blue and precious pink. I accented the boxes with grosgrain ribbon bows in a very pale cream. You can also choose your own rings to make these favors more personal. Simply adjust the slit you cut in the ring insert to ensure that they fit securely in the box. I used light up "gel" rings for my gem boxes, they cost $0.99 each. The other rings featured are from the cake decorating section of you local craft store. They are Wilton Favor Accent Rings and cost about $3 for 12 or $0.25 each.
DIY Gift Box Supplies:
1 – 8.5 x 11 piece of card stock per gem box
1 – 8.5-11 piece of contrasting card stock per gem box (makes several ring inserts and cards)
Glue or double stick tape
Scissors
Ribbon – 24 inches per box
1 – Ring for each box
DIY Gift Box and Free Printable Valentines Instructions:
I hope you try making my DIY Gem boxes for your favorite Valentine! Download the full instructions and free printable pattern.
Like my free printables? Sign up for my free weekly emails and never miss a project.

Bren Did Newsletter Subscribers Get Access!