Fruit leather is a delicious kid-pleasing treat that is easy to make from your favorite fruits. Learn how to make fruit leather using no refined sugar and avoid store-bought fruit leathers containing artificial ingredients.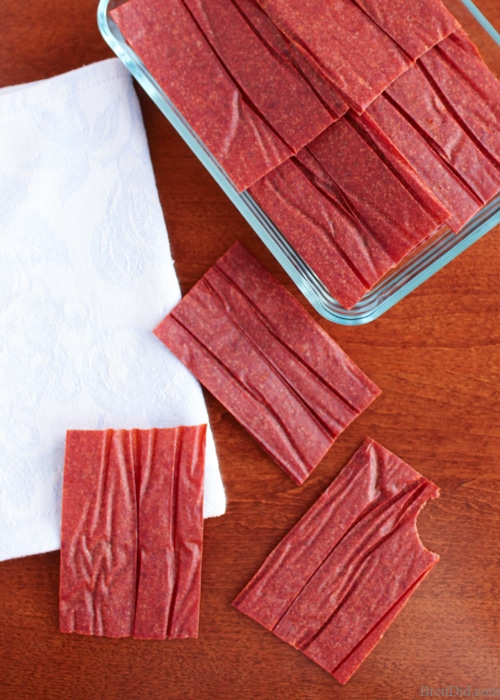 Traditional Fruit Leather
Fruit leather was invented as a traditional food storage method. Ancient people preserved ripe fruit by mashing or pureeing fruit and drying it in the sun. This easy recipe produced a healthy and tasty food that could be easily stored and transported even without refrigeration.
Today's mass-manufactured fruit leathers have little in common with this ancient treat. First, they contain lots of ingredients: fruit from concentrate, corn syrup, partially hydrogenated oils, malto-dextrin, artificial colors, and added flavors. The ingredients vary by the brand, but most are basically candy disguised as healthy eating.
Plum Fruit Leather
Natural fruit leather is simply pureed dried fruit. It is naturally low in fat, high in fiber, and contains the vitamins and minerals from the fruit solids. My homemade fruit leather uses plums and apples to make delicious fruit treat that contains no refined sugar.
I use wild plums to make this recipe. You can substitute domestically raised plums, peaches, pears, or even apples if you do not have access to wild plums. Never heard of wild plums? They may be available in your area! Learn more about these tasty fruits in my post about picking wild plums. You can make easy plum jelly from the same ingredients as the fruit leather.
Natural Fruit Leather Ingredients
1 cup wild plum pulp (learn to make plum pulp ) or 1 ¼ cup domestic plums washed, pitted and diced (leave on the skin)
1 ¼ cup diced apple, washed, cored, and diced (leave on the skin)
½ cup water or unsweetened apple juice (I use water, you can use apple juice if you like sweeter fruit leather)
How to Make Fruit Leather with No Refined Sugar
1.Combine plums or plum pulp, apples, and water or juice in a saucepan. Heat and stir over medium heat until apples are easy to mash with the back of a spoon. Approximately 15 minutes.
2. Puree mixture until smooth with a food processor or stick blender.
3. Line baking sheet with parchment paper.
4. Spread pureed fruit on the parchment paper until it is about ¼ inch thick.
5. Place the fruit leather in a 180 degree oven for 8-10 hours. The fruit leather is done when it is no longer sticky to the touch and easily peels away from the parchment paper. (If you have a convection setting on your oven or a dehydrator, you can use it to speed up the drying process.) I generally put mine in the oven at night and take it out in the morning.
6. Cool the fruit leather to room temperature. Peel from paper and slice into 2×4 inch pieces.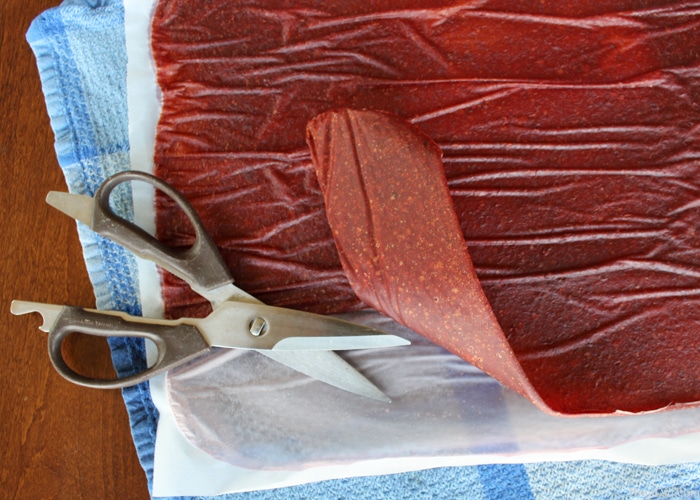 7. Store your fruit leather at room temperature or in the refrigerator in an air tight container.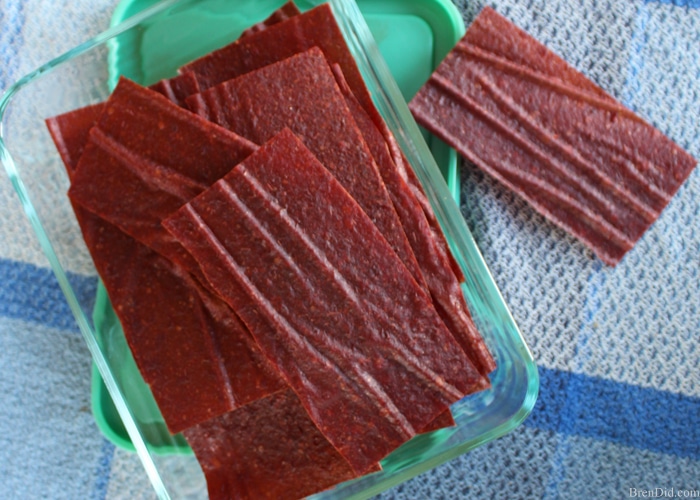 Like my easy recipes? Sign up for my newsletter below and never miss a thing!