The best blog photography tips come from Lindsay Ostrom at Pinch of Yum & Food Blogger Pro. Learn more about these valuable blogger resources in this Food Blogger Pro and Tasty Food Photography review (bonus: Learn more about Pinch of Yum's photography workshops).
This post uses affiliate links. They don't cost you a thing and help us bring you blogging information. Read more in Policies & Disclosures.
Dear readers, let me take a moment to apologize.
If you're here for natural cleaning tips, an easy recipe, or a simple craft this post won't appeal to you. BUT you can bop right over to the homepage and fill up on my other projects.
If you're one of my lovely blogger friends, hello. This one is for you!
—
We've got to face it, peeps, the homemaking blog market is saturated.
Stuffed full to the top with amazing recipe, cleaning, and craft bloggers. Your chances of rising to the top and becoming one of the HUGE names are TINY.
I know, HARSH.
This doesn't mean you can't make an income blogging, it simply means you have to work harder to get ahead of the pack.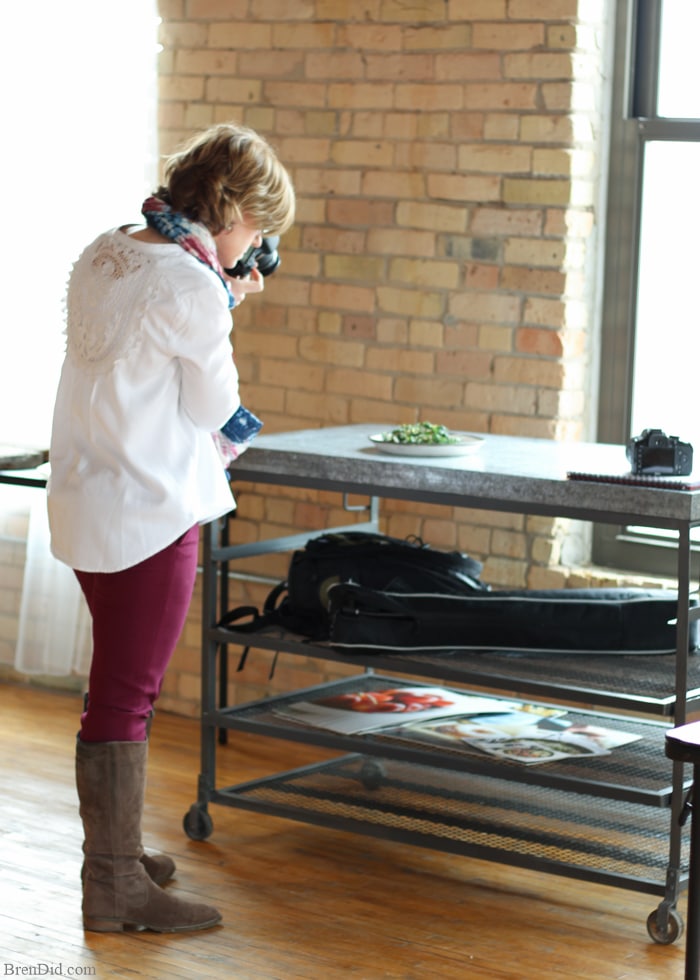 Set Your Blog Apart
One blogging habit we all need to kick to the curb? Stock photography.
This doesn't mean you can't create a decent blog using stock photography, it simply makes it harder to get ahead.
Don't believe me? Scroll through the Pinterest feed for awhile and you'll see the same images used again and again.
Start Taking Your Own Photos Today
The easiest way to set your blog apart? Take your own photos and make them great.
Easier said than done, right?
Learning DSLR Photography
When I got my first beginner DSLR camera it stayed in its box for a VERY long time.
I was terrified to use it and I had absolutely no idea what I was doing.
I would take hundreds of photos and spend hours & hours editing them only to end up with a few halfway decent shots.
I saw the amazing photos on my favorite blogs and wanted my photos to look just as good.
I simply couldn't make it happen. It was torture.
Become a Better Photographer
During my photography struggles, I discovered an ebook that walks you through aperture, shutter speed, ISO, lighting, food styling, props, and all the photography tips you need to produce great blog photos.
The book is called Tasty Food Photography. It is written by the Lindsay Ostrom, the talented photographer and blogger behind Pinch of Yum!
In the ebook, Lindsay breaks down each photography concept into small, easy-to-understand tips. (She's a former 4th-grade teacher, so the book is crystal clear and easy to comprehend!)
#1 Blog Photography Tip
This one little ebook changed my photos overnight. I recommend it to ALL bloggers in the food, craft, homemaking, and lifestyle niche. (It's my #1 blog photography tip!)
Learn More in a Photography Workshop
After finishing the easy lessons in Tasty Food Photography I was sailing along taking some pretty nice photos. Then I saw an announcement for a hands-on photography workshop at Pinch of Yum's Minneapolis studio.
I signed up immediately. It is one of best blogging decisions I've EVER made!
Magical Teaching Powers
Have you ever had a magical teacher? One who helped you learn a topic that seemed otherwise impossible?
I had a wizard of a calculus professor who would bring a cereal box to class and use it to explain mathematical concepts that otherwise baffled me.
I had another miracle-working teacher when I was forced to take statistics. She used pizza delivery times to illustrate statistical analysis in a way my brain easily understood.
Lindsay is that kind of spellbinding instructor. She breaks down each photography concept into tiny digestible tidbits. (Maybe it's because she's a former 4th grade teacher!) Her patient method and encouraging personality gave me a huge boost of confidence.
Workshop Bonuses

Photography instruction is the main reason to attend the workshop but there are other bonuses:
The studio space is amazing! The studio is in a converted warehouse that has amazing brick walls, huge windows, and gorgeous natural light. I would have a bed delivered and move right in. It's that beautiful!
The workshop was chock full of food bloggers! There were 12 students in the class, some were seasoned bloggers and some were just thinking about starting a blog. We had lots of opportunities to meet and interact with other bloggers in the food/homemaking space.
Lindsay Ostrom, Pinch of Yum, and Food Blogger Pro! Let me just say it again →Lindsay Ostrom → Pinch of Yum → and Food Blogger Pro! With more than 5 million page views a month Pinch of Yum is a MAJOR player in the food blog world. Lindsay sprinkles wonderful blogging advice throughout the workshop. The main focus of the workshop is photography, but I also walked away with some real gems of blogger knowledge. Lindsay is generous with her time and encouraged us to all ask any question we wanted.
It was like talking to Elvis. (If Elvis was beautiful and Midwest nice.)
Should I Take a Food Photography Workshop?
The Pinch of Yum Photography Workshop is definitely an investment. I spent the money because my blog is my business. And I got value for every single dollar.
If you are on a budget or just stating your blogging journey I recommend starting out with the Tasty Food Photography ebook or subscribe to Food Blogger Pro (read more about FBP below). Both offer Lindsay's wisdom in a very affordable way.
If you're ready to invest in your hobby or business, be on the lookout for Lindsay's workshops. No hesitation! (Information about upcoming workshops can be found here.)
The Icing on the Cake
Lindsay and her husband Bjork are amazing sources of blogging knowledge. The Food Blogger Pro podcast, Bjork's weekly podcast, is STUFFED with great information for all bloggers (whether you are in the food & lifestyle niche or not). The free podcast covers topics from blog security to getting a book deal. If you are a blogger you should be listening to it…. if only to discover what "The Resistance" is (hint, it keeps creative people from doing their best work).
Food Blogger Pro also offers a membership site that includes an online community of bloggers, education videos on everything from food photography and site back-ups to best practices for SEO and monetization tips. (use my link to get 10% off -> Food Blogger Pro)
Tips I learned on the Food Blogger Pro membership site helped me increase my page views 89.36% in the last year. I also learned to how to better monetize my site and quadrupled my income in one month. (I went from making around $200 a month to $1,638.15 in ONE month.)
Seriously!
Food Blogger Pro limits their yearly memberships to keep the community strong. Get on the waiting list TODAY if you are considering joining. You will have the opportunity to enroll when registration opens in the spring and won't have to wait another year.
Get Off the Fence
If you are serious about making an income as a food or lifestyle blogger you need to get ahead of the pack. Check out Tasty Food Photography from Pinch of Yum and all the Food Blogger Pro resources.  I have used each and every resource outlined today and I have benefited greatly.
Want more blogging tips? Sign up for my blogging newsletter below!