This tasty Shredded Brussels Sprouts Salad Recipe pairs fresh Brussels sprouts with three kinds of Italian peppers and Parmesan cheese in a creamy avocado dressing. While this might sound like an odd flavor profile, I assure you the delicious avocado dressing is complimented by a bit of spicy zing from the peppers and the crunchy goodness of shaved Brussels sprouts.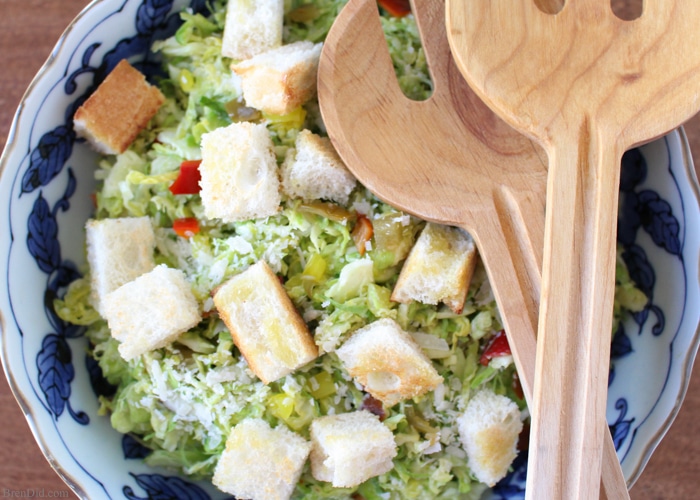 Brussels Sprouts Forever
Are you a Brussels sprouts lover? Or maybe you have recently been seeing a lot of recipes that feature this tiny, cabbage like vegetable? According to the U.S. vegetable packing industry, Brussels sprouts are enjoying a surge in popularity due to their growing popularity with TV chefs and restaurant owners.
Maybe we're all just getting sick of kale after its recent rise in popularity (or dare I say it… overexposure). Brussels sprouts, like kale, belong to the Brassica family of vegetables which also includes cabbage, broccoli, cauliflower, turnips, and radishes and is related to wild cabbage. The name comes from their supposed place of origin, the area around Brussels, Belgium. Please don't call them "Brussel sprouts" or "brussels sprouts", the Grammarist points out that these are common errors but that "Brussels sprouts" is correct.
I'll admit I'm a bit of a latecomer to the Brussels sprouts craze. I did not grow up eating Brussels sprouts since my mother hates them. I can't really blame her, as the popular preparation method in her childhood called for boiling the sprouts. Yum, yum, yum boiled cabbage for dinner anyone?
I have always found their little cabbage-head-looking buds adorable and began cooking them as a young adult. I first tried them frozen and quickly realized that buying fresh Brussels sprouts is the only the way to go. They are the perfect side dish for fall and winter celebrations. I love them roasted with garlic and cranberries or caramelized in a cast iron skillet with onions.
Italian Inspiration
I had my first raw Brussels sprouts on a weekend trip to Chicago and it was love at first bite! I was traveling with a group of my college friends for our annual girls' weekend. We decided to visit the windy city and made a reservation at RPM Italian the restaurant owned by Bill and Giuliani Rancic (of The Apprentice, E! News, and reality television fame).
We enjoyed our meal immensely (after a few chuckles wondering how the slender E! News host could possibly eat the decadent Italian entrees offered).  Everyone at the table (five in all) agreed that the "Shredded Brussels Sprouts" starter salad was the star of the meal followed closely by "Bill's Chocolate Budino" for dessert (which sounds oh so wrong, but is actually a rich salted caramel pudding/flan that is oh so right and perfect for sharing). If you're in Chicago I recommend visiting RPM Italian for a meal and a cocktail (be sure to get reservations, it was packed).
Shredded Brussels Sprouts Salad Recipe
As the experimental cook and recipe-crazy member of our Chicago entourage I was sent home with a mission, recreate the Shredded Brussels Sprout Salad. I started with this recipe from Authentic Suburban Gourmet and made a few adjustments to make the salad and my taste-bud memory match.
Print
Shredded Brussels Sprouts Salad Recipe
Author:

Prep Time:

10 minutes

Cook Time:

15 minutes

Total Time:

25 minutes

Yield:

8 cups

1

x

Category:

Salad

Cuisine:

Italian
---
Description
This tasty salad recipe inspired by RPM Italian pares fresh Brussels sprouts with Italian peppers and parmesan cheese in a creamy avocado dressing. It's a delicious new way to enjoy Brussels sprouts.
---
Salad
1

lb Brussels sprouts (ends trimmed and chopped to a fine shred)

2

hot chili peppers (diced, about

1

inch each)

2

sweet hot peppadew peppers (diced, about

1

inch each, you can also use sweet cherry peppers)

3

banana pepper rings (hot, diced, about

1

–

1.5

diameter)

1/3

–

1/2

cup Parmesan cheese (freshly grated)
Dressing
1

ripe avocado

2 tbsp

olive oil

½ tsp

salt

1 tbsp

lemon juice

¾ tsp

minced fresh garlic

1 tbsp

hot chili pepper brine

1 tbsp

sweet cherry chili pepper or peppadew brine (optional)

4 tbsp

water (use less for a thicker dressing)
Croutons
2 cups

cubes of stale baguette or Italian bread (sliced into

½

inch cubes)

1 tbsp

olive oil

½

–

1

tsp garlic powder
---
Instructions
Make the croutons by tossing together 2 cups of cubed baguette or Italian bread with 1 tbsp olive oil and garlic powder to taste (I used ½ tsp). If you have an oil mister it works great to evenly coat the bread. Broil on low for 5 minutes and stir, repeat until the croutons are golden brown and crisp. Set aside to cool.
Wash and trim the Brussels spouts. Use a mandolin or thin slicer blade on a food processor to shave the Brussels sprouts (you want thin coleslaw like pieces, not diced sprouts) and place in a large serving bowl (check the bowl and break up any solid pieces of the sliced sprout that stuck together).
De-stem and dice the peppers (I used the seeds but you can remove them if desired).
Add parmesan cheese and diced peppers to the bowl of shredded sprouts.
Make the dressing. Combine avocado, olive oil, lemon juice garlic, chili pepper juice, and water in a large jar or food processor. Use an immersion blender (or your food processor to puree until creamy). This is a very thick, mayonnaise like dressing. Taste the dressing then add salt and pepper and optional peppadew juice (or extra chili pepper brine if you like more zing).
Toss the dressing with the salad.
Top each plate with croutons. Serve immediately. You may also add a light sprinkle of crushed red pepper flakes to the top of each plate to turn up the heat. The original salad was cool and creamy with a chili pepper kick at the end.
To store any extra salad pack it tightly in a small container and press a piece of plastic wrap onto the surface. This keeps the air away from the salad and prevents it from browning quickly. Use any leftovers in the next day or two. Store the croutons separately in an airtight container.
---
---
Nutrition
Serving Size:

1 1/2 cups

Calories:

294
Keywords: Brussels sprouts, Brussels sprouts salad
Recipe Card powered by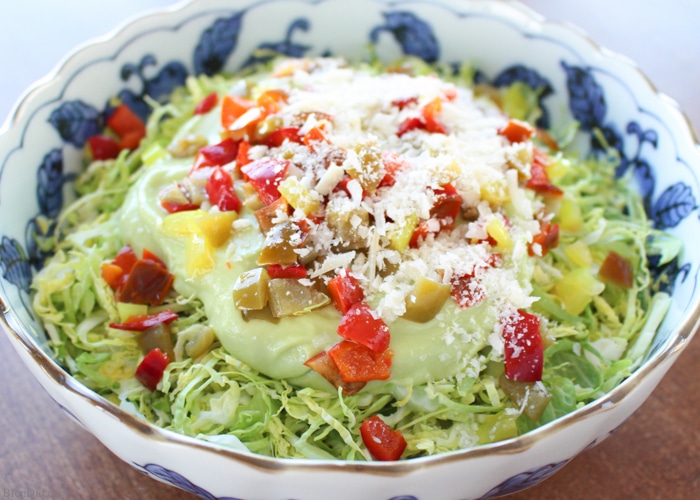 I hope you try my version of RPM's Shredded Brussels Sprouts Salad and let me know how you like it.
Like my easy recipes? Sign up for my newsletter below and never miss a thing!