Did you know that Saturday morning cartoons are DEAD, GONE, RIP?!?! We held a family Saturday Morning Cartoons party to mark the end of the cartoons of my youth AND celebrate the fact that we can still watch some of our favorites as online cartoons.
Disclosure: Netflix provided me with a streaming device and service in return for writing about their service. The opinions and free printables in this post are my own. #StreamTeam This post uses affiliate links. They don't cost you a thing and help us bring you creative projects. Read more in Policies & Disclosures.
Good Bye Cartoons
October 2014 was the first month with no animated cartoons shown each Saturday mornings on a broadcast television network. According to the Washington Post, the CW was the final network to cut cartoons.
When I heard the news it felt like a piece of my childhood had disappeared when I wasn't paying attention.
I grew up in a house with no cable, so Saturday mornings were our only chance to binge watch shows that were meant for kids. I wished that my kids had that experience of waking up early to hang out in pajamas watching tv.
I decided to honor the unfortunate demise of Saturday morning cartoons by setting up a profile dedicated to animated kids shows and throwing our family a Saturday morning cartoon viewing party!
The night before the big day I made invitations for the event and placed them on our kid's beds. They were so delighted! You can download a free printable PDF version!
After everyone was in bed I went through the Netflix library and selected shows that our kids enjoy (and we approve of them watching) and added them to a profile I titled, "Saturday Morning Cartoons." It's a high-tech reboot of the Saturday mornings of my youth.
The Cartoon Line Up
Here's our lineup (in case you are interested in exploring some new shows (or old favorites) on Netflix:
Today's Favorites (current shows kids love)
Ever After High – This animated series follows Raven Queen, Apple White, Madeline Hatter and their friends (the sons and daughters of fairy tale characters) as they decide whether to follow in their parents' footsteps. Their motto is Rewrite Your Own Destiny. It's popular with pre-teen girls, expect to see a few Halloween costumes this year.
LEGO Ninjago: Masters of Spinjitzu – A team of ninja warriors (Kai, Jay, Cole and Zane) have to master their elemental powers and Spinjitzu weapons to protect the land of Ninjago from the skeleton warriors of the Underworld. You can also find Lego Chima, Lego Atlantis, Lego Clutch Powers, Lego Friends, Lego Hero Factory and Lego Marvel Super Heroes on Netflix (yeah, we LOVE Lego in this house).
My Little Pony Friendship is Magic – Your favorite My Little Ponies have adventures and learn valuable lessons about friendship in the enchanted land of Equestria with their unicorn friend Twilight Sparkle.
Scooby-Doo!: Mystery Incorporated –  Drats those kids! They're back in a slightly creepier version of the original series. Scooby-Doo, Shaggy and the crew drive around in their van solving spooky mysteries. One creepy parrot is a key player that ties all the episodes together.
Throwbacks (old school Saturday morning fun)
The Smurfs and the Magic Flute – No live action Neal Patrick Harris here, this is the The Smurfs of the 1980s. The tiny blue guys (and one Smurfette) live in the forest and are always battling the evil wizard Gargamel.
Garfield and Friends – The lazy, fat, wisecracking, lasagna loving cat is still harassing his owner Jon and dog Odie. My kids love it as much as I loved reading the cartoons in the Sunday paper. Make sure you have a teddy bear to snuggle.
Ninja Turtles: The Next Mutation – Who doesn't love pizza eating crimefighters who live in a sewer? Your favorite teenage mutants are back to entertain your kids with a female named Venus De Milo.
Pound Puppies –  Remember the stuffed puppies collected in the 80s? They have their own series and a secret mission! Lucky, Cookie and the rest of the dogs in Shelter 17 help every dog at the pound find a new home.
Entertaining but Educational (we love to watch & learn)
The Magic School Bus – Ms. Frizzle and her class take the Magic School Bus crazy places (such as inside the human body) to learn about science. This classic cartoon is still used in schools today and has an accompanying book series you can find at your public library. We love the gross episodes, what kid doesn't?
Fetch! With Ruff Ruffman  – Ruff Ruffman is the canine (dog) host of this partly animated game show in which real kids face wacky challenges involving science and math. My kids are totally hooked. I love that the episodes feature topics such as the electromagnetic spectrum.
Wild Kratts – Animated versions of Zoologists Martin and Chris Kratt investigate animals around the globe with Creature Power Suits and their flying tortoise ship. If you have an animal lover in the family they will be delighted.
WordGirl – This verbal superhero is disguised as a mild-mannered fifth-grader in daily life. She springs into action to fight crime while helping your kids  enrich their vocabulary. Maybe it's my college instructor side, but I feel a close connection to WordGirl…
Just Because  (cartoons should be silly)
Foster's Home for Imaginary Friends – When Mac's too old for make believe he takes Blue (his imaginary friend) to Madame Foster's Home for Imaginary Friends. They have oddly fun adventures. S2, E 7 "Mac Daddy" keeps my kids in stitches and saying, "I like chocolate milk!" over and over again. My sister got them hooked!
Saturday Morning Treats
I made an Apple Fritter Monkey Bread for our family fun morning.
In honor of the reboot idea of Saturday Morning Cartoons I decided to reboot the recipe to make it healthier than the original. Click here for all the details.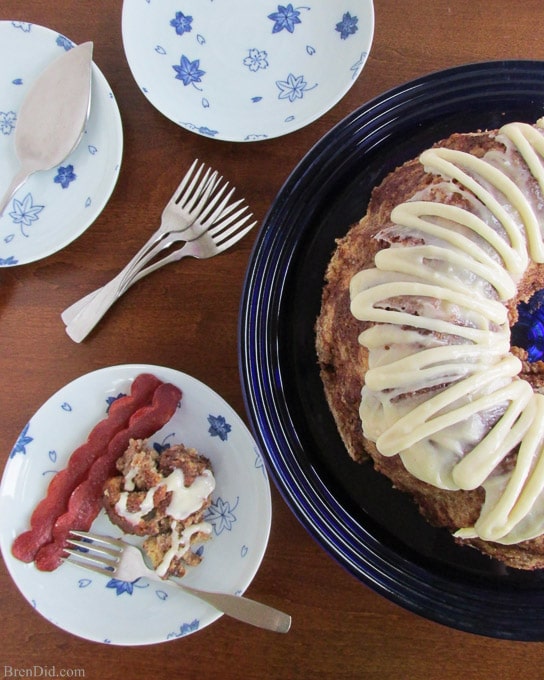 We had a great Saturday morning, spending time together as a family and enjoying fun shows on our custom Netflix "Saturday Morning Cartoon" stream. Each member of the family got to pick an episode they wanted to watch while we lounged around in our pajamas with unbrushed hair eating monkey bread. The kids are already asking when we can do it again.
Like my free printables? Sign up for my free newsletter below and never miss a thing! 

Bren Did Newsletter Subscribers Get Access!