Turn fruit cups into adorable Pot O' Gold St Patrick's Day Snacks with a few pieces of colored paper. These easy St Patrick's Day fruit cups are the perfect healthy snack for a class party or lunch box treat.
This post uses affiliate links. They don't cost you a thing and help us bring you creative projects. Read more in Policies & Disclosures.
St. Patrick's Day Snacks for Kids
I love surprising my kiddos with adorable treats… but searching Pinterest for creative ideas usually gets me lots of complicated ideas that are loaded with sugar!
While sweet treat can be fun, those gorgeous sugary ideas don't work for my kids' school parties for 3 reasons:
Sugar overload! Our school is trying to reign in the sweet treats. Healthy snack alternatives are a must.
Food allergies! A surge in food allergies means no homemade treats allowed. Cute ideas that keep foods in their original container are needed.
Time commitment! I love making crafts but there is a limit to the hours in my day. I need fun treats that can be made in a few minutes.

Easy Fruit Cups for Kids
These festive Pot O' Gold fruit cups meet all 3 of my requirements (have nutritional value, are in the original container, and are easy to make). Score one for mom!
How to Make Pot O' Gold Fruit Cups
It's simple to make these St. Patrick's Day snacks. All you need is paper, scissors and a glue stick!
Trace the top of a fruit cup to use as a pattern. (Use peach, mandarin orange, or pineapple fruit cups with a clear plastic lid to look like "gold.")
Cut a piece of colored paper or craft foam to make the lower cauldron/pot shape then cut a piece of colored paper or craft foam to make the lip of the pot.
Use a permanent glue stick to attach the shapes to the fruit cup.
Add a shamrock or heart shaped sticker to decorate the pot.
No class party? Add the St. Patrick's Day fruit cups to your kids' sack lunch or serve them for an after-school snack. Your kids will love the silly surprise, you'll love the healthy ingredients!

More St. Patrick's Day Treats
You kids will love these St. Patrick's Day Joke Tellers! They are free to print and full of silly Saint Patrick's Day jokes.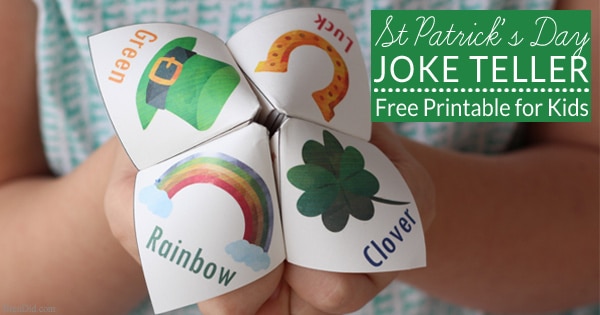 (Pssst… if you want more healthy snack ideas check out my healthy Christmas snack ideas and healthy Valentine treat ideas!)
Holiday Fruit Cups for Kids
Check out these fun and festive fruit cup ideas for the whole year!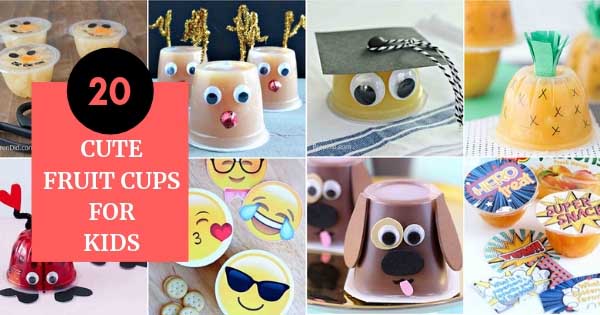 Like my easy recipes and free printables? Sign up for my newsletter below and never miss a thing!