Looking for a fun and easy way to spruce up your office or hall for Valentine's Day? This sweet burlap bulletin board spells LOVE (in Scrabble style letters). Get some Pottery Barn inspired style at a fraction of the price (77% off) with this easy project from BrenDid.
This post uses affiliate links. They don't cost you a thing and help us bring you creative projects. Read more in Policies & Disclosures.
I love Pottery Barn! Their decorations are simple yet stylish. They add a little bit of flair to everything they do, even a simple bulletin board. This year they are adding a bit of love to their simple black bulletin board by dressing it up with burlap and scrabble tiles.
I love the look of this the small bulletin board (approximately 14 x 12 inches), but was surprised at its price…. $79! I knew that I could make a very similar burlap bulletin board using a frame, cork liner and fabric for a lot less than $80.
I had most of the supplies on hand, including a Ribba frame from Ikea. (My frame is larger than the Pottery Barn bulletin board at approximately 19×27. I love how the larger size looks. You can also get a Ribba frame in a similar size for $6.99.)
I found a set of faux Scrabble tiles at my local craft store for $0.99. They were meant for scrapbooks; they spell "Live, Love, Laugh." Order a complete Scrabble tile set from Etsy and you can use the frame as a casual Scrabble board! You can order individual tiles to spell "Love" for $0.20 each on Etsy.
The DIY part of this project is very easy! If you can put together a frame you can make this project! Simply stick cork on some foam core, wrap it in burlap and put it in your frame. Glue your Scrabble tiles to some thumbtacks and you are done!
Burlap Bulletin Board
Supplies
A black, rectangle frame
Foam core board or the back of the frame, if completely removable
Cork roll or tiles to fill the frame
Natural colored burlap, 2-4 inches larger than the frame on each side
Hot glue or super glue
Duck Tape
Scrabble tiles or faux Scrabble-style tiles that spell "love"
Thumbtacks
Instructions
1. Take apart the frame and discard the glass and any mat board. Cut a piece of foam core to fit the frame. It is available at Dollar Tree for $1. The Ribba frame comes with a foam core back which I used for this project.
2. Cover the foam core with cork roll or tiles Make sure the cork meets with no large gaps. You may have to glue the cork to stay flat. The self adhesive roll needed glue in a few places. I used my hot glue gun.
3. Cut the burlap so that it is 2-4 inches larger than the foam core on each side. If you're new to working with burlap, here's a tutorial that shows you make this step easy.
4. Starch and iron the burlap so that it is completely flat. I used my non-toxic homemade spray starch mixed extra strong.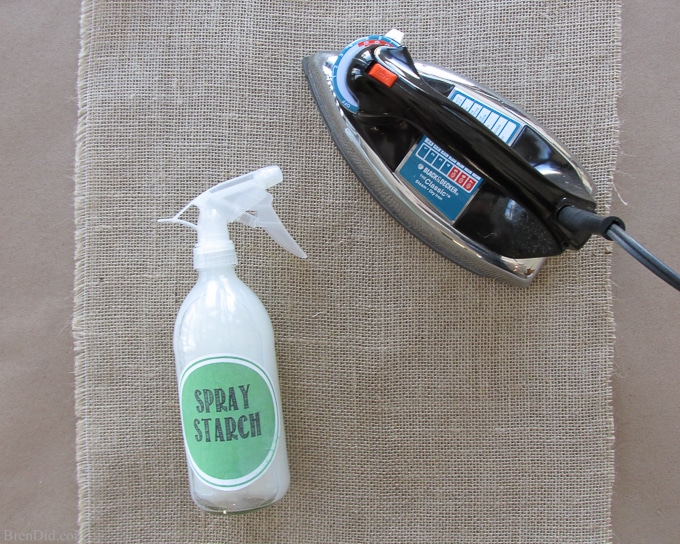 5. Place the burlap right side down on a table. Place the foam core with the cork side down on top. Fold and glue the corners of the burlap to the foam core board.
6. Glue each side of the burlap to the foam core, make sure the burlap is snug and flat on the front, but not pulled too tight. You do not want the weave to be distorted.
7. Cover the edges of the burlap with tape. This is not completely necessary but it keeps the burlap flatter in the frame.
8. Place the canvas in the frame and secure tightly with the metal tabs/nails.
9. Glue the Scrabble tiles to thumbtacks using hot glue or super glue.
10. Attach the tiles to the center top of the frame.
Hang your frame and enjoy.  It's a great place for kid's artwork.
Cost Breakdown
Black frame (Ribba or similar), $6.99
Foam core board, it comes free with the Ribba frame (buy it for $1 at Dollar Tree)
Cork liner or cork tiles, $7.00
Natural or tan burlap – ½ – 1 yard at $2.99 a yard, $2.24
"LOVE" Scrabble tiles, $0.80
Glue sticks, 1 used for $0.50
Duck Tape, $3.37 for 20 yards, 3 yards used for $0.50
Metal thumbtacks, Brass thumbtacks, Dollar Tree 300 for $1.00, 4 for $0.01
Total price= $18.04 (mine was $11.05 since I already owned the broken frame)
That's a $61.00 savings (more than 77% off). I LOVE the savings even more than my new cork board.
Check out my Knock Off Decor page for more great ideas including this DIY glitter heart banner.
Like my easy crafts? Sign up for my newsletter below and never miss a thing!